Nowadays, the best video editing apps are extremely powerful, this means we no longer have to use our desktop computers to produce creative video editing. With the perfect video editing app, it is possible to create picture-perfect clips that are ready to share to any social media platform like YouTube, Facebook, Instagram or more, without watermarks or time limits.
There are Android and iOS video editing apps for all types of level and all types of budgets. So whether you need to edit social media media, YouTube clips, short films, commercials, TV shows or movies, there's an app which can be helpful to improve the quality of your content.
We've categorized the best video editing apps available today, both paid-for and free, on Android and iOS.
Adobe Premiere Rush (cross-platform)
Adobe Premiere Rush is the best video editing app that works across platforms.
Premiere Rush makes it easy to process your clips rapidly and upload them to social media platforms. Most importantly, the app automatically converts your videos to the specific aspect ratios and quality levels required by each platform.
If you're a professional video editor, you'll be able to take content you've been working on in Premiere Pro, and make further tweaks on your phone or tablet. You can then upload that content to the cloud, continue working on it in Premiere Pro.
Price: AU$14.29 a month (also check our Adobe Creative Cloud discounts). Free trial plan of 7 days. 
If you're a subscriber to the Creative Cloud, you'll already have Premiere Rush.
If you're interested in photo edits, designing tools then it is worth taking the Adobe Creative Cloud as it includes numerous apps that would make your editing perfect (7 days free trial). All in one (Video, Photo) includes Photoshop, Lightroom, Premier Pro and many more for 58.29 AUD on going sale (annual plan) per month.
LumaFusion (iOS)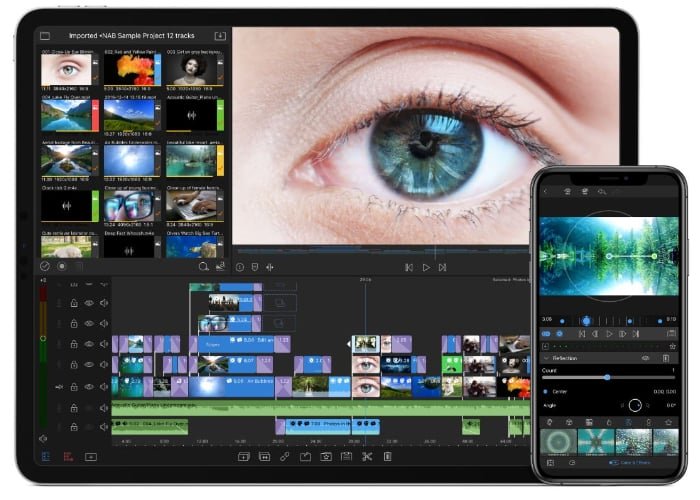 LumaFusion is the best video editing app for iOS.
This professional app for iPhone and iPad gives you six video/audio tracks for photos, videos, titles and graphics, along with an extra six audio tracks for narration, music and sound effects. No subscription is needed.
The interface is pretty similar to Final Cut Pro X, with its magnetic timeline, and the advanced tools include insert and overwrite capability, colour correction, keyframing and many more.
There are numerous sharing and exporting options like exporting at different resolutions, qualities and framerates, but also exporting audio and video separately.
Price: $AU46.99
Available on: iOS
KineMaster (Android, iOS)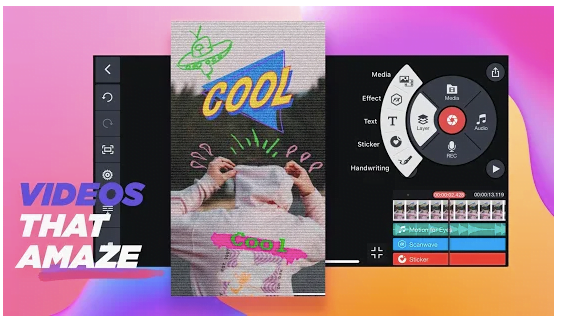 KineMaster is the best video editing app for Android.
Used by professionals, numerous advanced features, like blending modes, and audio mixing, allow you to shoot, edit and export your footage on your phone.
It is possible to trim video clips and layers precisely at frame-by-frame granularity. Audio clip timing can be adjusted with sub-frame accuracy.
The app lets you upload multiple layers of video (on supported devices), images and text, as well as multi-track audio.
Price: Free (with watermarks)
FilmoraGo (Android, iOS)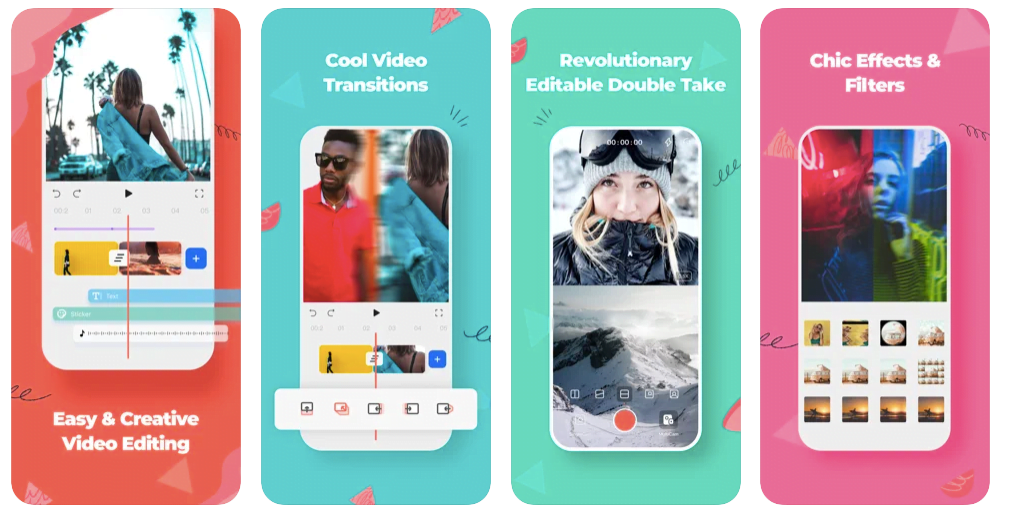 FilmoraGo is the best free option for both Android and iOS.
FilmaraGo offers a simple and practical way to edit online videos that doesn't involve a steep learning curve. It's perfect for beginners, and with its themed filters and effects, it can help make your videos look professional.
Unlike the desktop version, it's free to download and without watermarks to your clips.
Price: Free