TRILL Travel is the first global brand to convert influencers' digital content into bookable experiences using AI technology. It does this by analysing pictures and automatically creating links to booking sites. This allows users to book a hotel, experience, or table at a restaurant by simply touching a picture.
So it's no surprise that Lonely Planet recently acquired the company so they could bridge the gap between those wander lusting and those on the road by streamlining the booking process through a powerful visual search mechanism.
Recognising the significance of influencers in today's world, Lonely Planet continues to transform its platform through continued collaboration with expert voices and curators. "We are looking at this acquisition from an asset perspective – we want to incorporate TRILL´s tech and capabilities into our digital products and soon reimagine our Pathfinders program,'' says Lonely Planet President and CEO, Luis Cabrera.
"TRILL is another example of how we strive to enable a seamless user journey and interaction between influencers posting content, consumers looking for adventure, and our travel partners."
To attract and incentivise influencers, Lonely Planet will also adopt TRILL´s revenue share model, which automatically pays out commissions for confirmed bookings tied to each individual post.
"This dual-sided marketplace helps travel brands drive direct bookings through organic social content, and acts as a monetisation platform for content creators," said Cabrera. By combining Lonely Planet´s Pathfinders with TRILL´s current tastemakers, Lonely Planet is poised to have one of the largest influencer networks in the market.
"About 70% of Instagram content is travel related, and consumers are constantly looking to recreate these experiences. I also saw a large movement in socially driven commerce, especially in the fashion space, and thought, why can't this be done in travel? Let's put these pieces together,'' says TRILL's Founder & CEO, Eric Shepard.
Trill's CEO and Founder Eric Shepard comes from a background of music, tech and travel companies. He was recently named one of Phocuswright's 35 under 35 for most influential people in travel technology.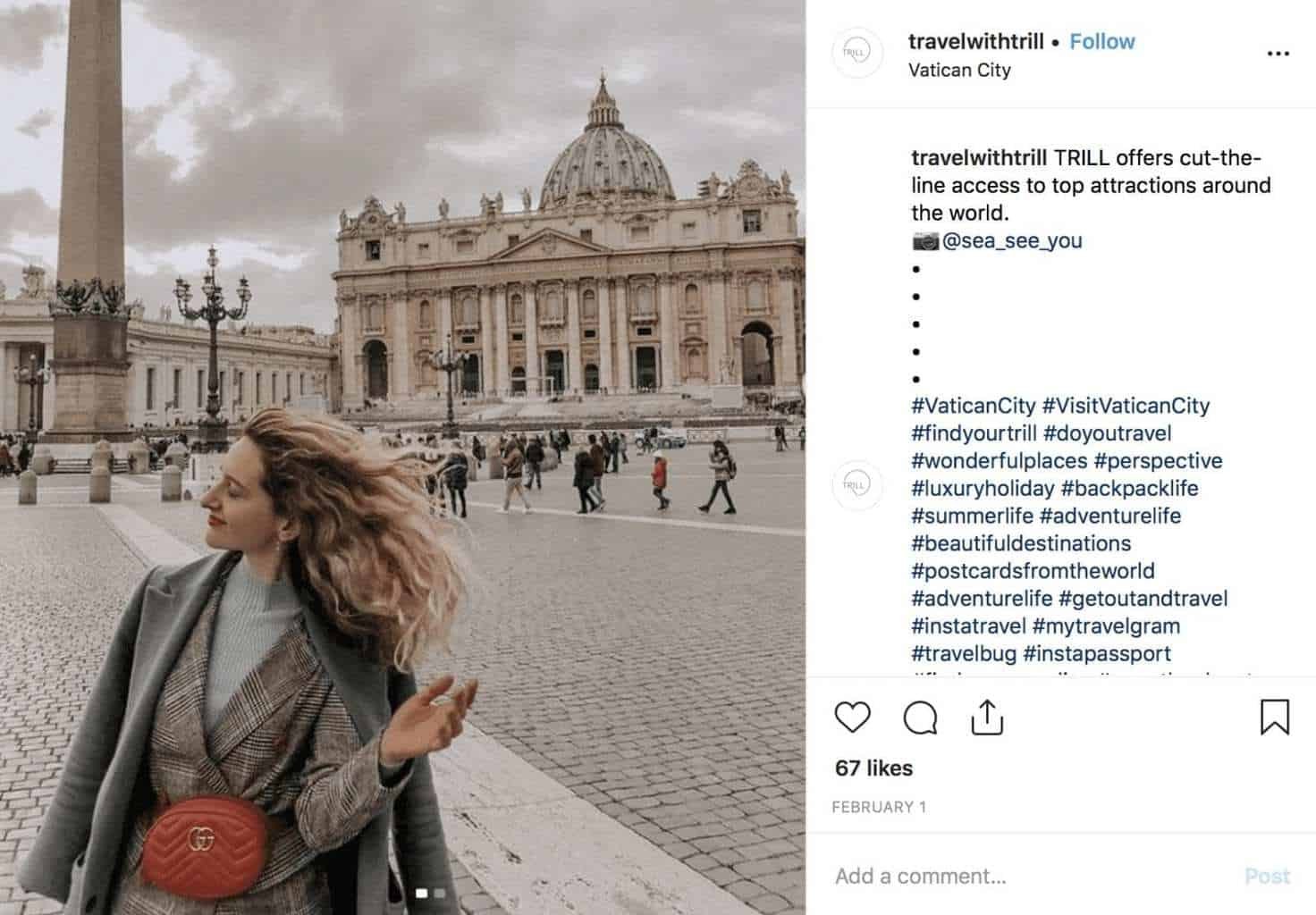 About Lonely Planet
Lonely Planet is a leading travel media company and the world's number one travel guidebook brand, providing both inspiring and trustworthy information for every kind of traveller since 1973. Over the past four decades, they've printed over 145 million guidebooks and grown a dedicated, passionate global community of travellers. Lonely Planet can be found on lonelyplanet.com, mobile, video and in 14 languages, nine international magazines, armchair and lifestyle books, ebooks and more.
About TRILL Travel
TRILL is the next generation travel marketplace that converts content creators' Instagram posts into bookable travel experiences. TRILL's platform rewards content creators with cash every time users book a hotel from their content. Users can search by destination, hashtag, and experience, build actionable itineraries and book hotels, activities and restaurants directly from creators' Instagram content.