I'm the type of person who wears her 'heart on her sleeve' and I can't resist a good slogan t-shirt. Here are some of the great casual t-shirts I have found to express yourself:
Eye in the Sky
Eye in the Sky is an online shop created by Dan, a Brisbane based drone and tech reviewer. Here you'll find hoodies and t-shirts in bright colours and modern designs. The range is a drone inspired clothing line from DansTube.TV. www.eyeintheskyclothing.com #EyeInTheSkyClothing
Owns It
Owns It by Anna is a Melbourne based online shop selling bright tees with 'Females to the Front', 'Girls Support Girls', 'Strong Female Lead'. You can also find sweaters, jackets, vests, accessories and jewellery.
It promises to deliver run and fierce apparel from the waist up for the fashion-conscious girl gang. The clothes are ethically designed by Anna Owens and handmade in Melbourne. https://www.ownsit.com.au/
ThreadHeads
ThreadHeads have a great range of tees, hoodies, long sleeves and tanks for adults and kids.
There are designs to suit everyone and the collections include funny, geek, film and tv, dark, anime, slogan, retro, dog, popular, music, parody, cat, rude, 80s themed, Steven Rhodes, cute, Aussie, space, Christmas and trending. Foodies can be tempted by coffee, beer and food themed designs.
Gamers will love binary, I went outside once, I don't get older I level up, cyberpurr, RIP floppy, Apple PI, the modern hierarchy of needs, Commodore 64, frogger, user friendly, game over, controller evolution, donkey thrones, classically trained and cube fight. https://threadheads.com.au/
Dangerous Females
Dangerous Females is a collective of women fed up with the incidents of men's violence against women in this country. They are united in a mission to raise awareness and much-needed funding for organisations dedicated to supporting victims of violence or abuse with 100% of the profits going to their charity. https://www.dangerousfemales.com.au/
TimesUp
100% of the net profits fund Time's Up Legal Defence Fund and other initiatives to achieve safe, fair and dignified work for women of all kinds. Think silicon bracelets, pin badges, tees, hoodies, cups and bags. https://store.timesupnow.com/
ART LOVERS
Women in Technology Artist Shop showcases phone cases, bags, T-shirts, hoodies, stickers, mugs, home decor and other accessories with designs that promote women in technology and diversity and inclusion. Buy your favourites to wear, frame them or display them.
It's my hope that the more we come together as a community and supporters of women in technology, the more we can contribute to making a positive difference in gender equity and inclusion in the technology industry. https://womenintechnology.threadless.com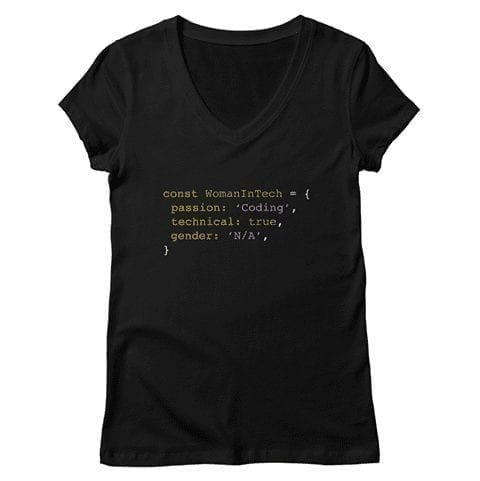 TechLadies
With catchy slogans like 'hack the patriarchy', 'femmes in STEM', 'breaker of hearts and glass ceilings' The online shops stocks bags, t-shirts, phone cases and gift cards. 10% of your purchase goes to nonprofits that support women, non-binary, and underrepresented people in tech. https://tech-ladies.myshopify.com/
Please leave a comment about the shops where you like to buy your tech-themed and weekend wear.