The Xiaomi Mi Watch Lite recently arrived in Australia via its new distributor, Panmi, so now you can buy this smart watch online and get all the features you're after for high tech fitness – including 24 hour heart rate monitoring; 11 different fitness modes; GPS tracking; plus alerts for your phone notifications.
The Xiaomi Mi Watch Lite was priced at $99.95 but right now it's been further reduced to $69.95. So if you want to get fit but you don't want the high price tag, this could be the watch for you.
The Mi Watch Lite has GPS tracking – something you wouldn't normally expect in this price range. When we used this feature we found it was extremely accurate and again this is a pleasant surprise for a smart watch without a hefty price tag.
As the Chief Operating Officer at Panmi, George Saad says: "The Mi Watch Lite is a smart watch that helps you to get fit. It's an affordable smart watch with great features."
Yes, this watch allows you to set goals to help improve your fitness. It can accurately track trajectory speed, distance walked or swam and calories burnt. It also measures your heart rate during your workouts and will notify you if your heart rate rises above the normal rate – as well as monitor any long term heart rate changes.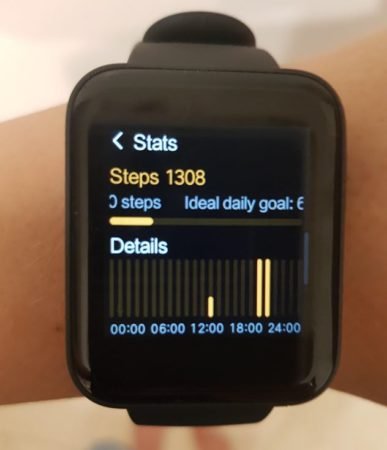 The Mi Watch Lite has an amazing nine days of battery life and it's fully charged in two hours. It will count your steps and the number of times you stand. You'll be able to instantly view calls, texts and app notifications.
As well it has over 120 different watch faces to choose from so you can keep modifying your look for quite some time.
More features…
The Mi Watch Lite lets you to control your music easily via the easy to use smartphone app. Other features include find your phone, weather alerts, an alarm, a stopwatch, a flashlight and a timer.
It's not too big at 1.4 inches and the TFT screen is sharp. With a 320 by 320 pixel display, the colour is also clear and its user interface and touch response are all goo.
"The Mi Watch Lite ensures you live a a healthy lifestyle with a reliable fitness tracker and guarantees you to never miss a call or important notifications, making it a perfect accessory for work," adds Saad.

Here's a list of specs for the Xiaomi Mi Watch Lite Black:
Screen Type: TFT
Battery: 230 mAh
Supported Exercises: Outdoor running, treadmill, outdoor cycling, indoor cycling, freestyle, walking, trekking, trail run, pool swimming, open water swimming and cricket.
Satellite Positioning: GPS/ A-GPS/ GLONASS
Backlight: Min 250Nits (Typ)
6-axis sensor: 3-axis accelerometer and 3-axis gyroscope
Health & Daily Life: Heart rate monitoring, sleep monitoring, breathing, notifications, weather, clock, alarm, flashlight and music control.
Weight: 35g (with strap) 21g (without strap)
Strap material: TPU
Dimensions: 41mm x 35mm x 10.9mm
Water Resistance: 5 ATM
More about Xiaomi Corporation
Xiaomi Corporation was founded in 2010 and listed on the Hong Kong Stock Exchange in 2018. Xiaomi is an Internet company with smartphones and smart hardware connected by an IoT platform at its core. Now, Xiaomi is the world's third-largest smartphone brand and has established the world's leading consumer AIoT (AI+IoT) platform with 289.5 million smart devices connected to its platform, excluding smartphones and laptops. In 2020, the company made the Fortune Global 500 list for the second time, ranking 422nd, up 46 places compared to the previous year. Xiaomi also ranked 7th among internet companies on the list.
More about Panmi
Panmi is the sole promotional and business development partner for Xiaomi in Australia. Panmi is dedicated to bringing Xiaomi's new generation of smart products into Australia. Major products include Smart Home, Smartphone and Smart sports (electronic bike, electronic scooter, fitness tracker). Panmi will ensure compliance with Australian Standards for all products introduced here.
For more information on the Xiaomi Mi Watch Lite Black, visit here.
For more from Women Love Tech on smartwatches, visit here.