Everyone's talking about Apple's latest headset saying it's a technological leap into the future of spatial computing and when you hear what these headsets can do, it does sound like they're are a major step forward.
The hype about the new headset was so strong last week, Apple's shares hit their highest price in the stock's 43-year history just before the Vision Pro was launched. But in another twist – the stock prices slid back down when Apple announced a hefty price tag for its biggest product launch in years. Want to know just how much we're talking? Let's say $3,499 in US dollars so that's roughly $5,000 in Australian dollars – so this headset is NOT coming cheap.
Apple describes the Vision Pro headset as a 'spatial computer' because it blends digital content with the real world. Basically, the headset is an augmented reality headset and can be used as such.
The computer giant's CEO, Tim Cook, said at the launch of the headset: "Today marks the beginning of a new era for computing. Just as the Mac introduced us to personal computing, and iPhone introduced us to mobile computing, Apple Vision Pro introduces us to spatial computing."
The Vision Pro headset uses visionOS – Apple's first-ever spatial operating system. Apple claims that using this system, the Vision Pro can turn any space into a personal movie theatre with a screen that feels as large as one you'd find in a cinema.

The headset can play movies, TV shows and even three-dimensional movies. Take a look at the video above and you'll see what is possible. The Vision Pro can also play immersive videos in 180-degree recordings which will transport viewers to new places. Apple Arcade games are also available on the Vision Pro with immersive audio and support for gaming controllers.

It does look compelling and if this headset actually achieves everything they say it can, then the price tag doesn't look quite so hefty after all.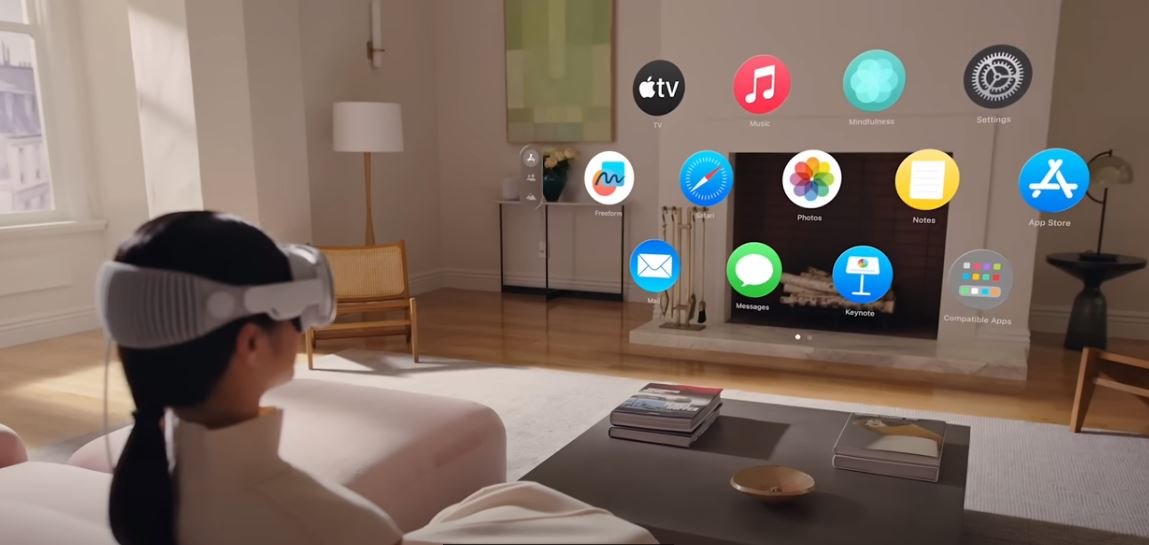 The headset uses a new Apple silicon chip called the R1 which process input from 12 cameras, five sensors and six microphones. This chip powers two micro-OLED displays and the headset has Spatial audio and eye-tracking capabilities.
From the overall look, the Vision Pro headset has similarities with other VR headsets – such as the Meta Quest 2 etc. But Apple claims the Vision Pro has a huge amount of technology built into its compact design. As well, it's lighter because it has an external battery pack which gives you two hours before you'll need to charge it.
The headset has an aluminium alloy frame and uses laminated glass for the screen. The seal is made of soft textile which comes in a range of shapes and sizes and the head band has lots of cushioning and stretch.
Apple's main apps are incorporated
Some of Apple's main apps are incorporated into this headset. For example, you'll be able to make FaceTime calls with video tiles appearing life-size in the room and with spatial audio. Whoever is wearing the headset will appear as an avatar of themselves which is able to reflect face and hand moments in real-time – all while the person is still wearing the headset. This will be a good one to try out and see how it looks.
The Vision Pro also lets you bring memories to life. The three-dimensional camera in the headset allows you to capture, relive and immerse yourself in your favourite memories – using spatial photos and videos. You can access your photo library on iCloud and view photos and videos on a life-size scale.
So far there's no release date set for Australia
The main thing is not to get too excited about these Vision Pro headsets because there's no release date set for Australia yet. And they're only going to be available in the US early next year so basically, this is one to be aware of but it's not going to be here any time too soon.
For more about Apple's Vision Pro headset, visit here.
For more from Women Love Tech on Apple products, visit here.