The inaugural SXSW Sydney is now a wrap, and as the Editor of Women Love Tech, I was proud to be part of the exchange of ideas and launches from the best of our arts, gaming, music and technology industry from here in Australia and across the globe.
Women Love Tech's amazing two panels were among a bonanza of 1,100 events including 500 plus conference sessions, an extensive music line-up across iconic Sydney venues, over 80 feature films and TV screenings, and the launch of new games and tech.
But as the SXSW MD Colin Daniels said it was the people who participated on stage and off that made it so special.
"It's the participants that make an event like SXSW Sydney so incredible. Thank you to each and every one of you for bringing the SXSW spirit to Sydney. We really hope you loved being a part of the first ever #SXSWSydney as much as we did."

SXSW Sydney Managing Director, Colin Daniels
Reflecting on my highlights of the week, Nicole Kidman was high on my list with her captivating talk about her film production company Blossom Films which she founded in 2010. In her interview with Ch9 TV News Presenter Peter Overton, Nicole shared insights about how to make your mark as a screenwriter, the importance of kindness, and hard work. Her passion and give it a go attitude had the audience wanting more.
Other big line ups included Chance The Rapper, Naomi Watts and Charlie Brooker and Baz Luhrman who launched Faraway Downs, a TV remake of his film Australia which launched 15 years ago. Back then, Nicole and her costar Hugh Jackman had graced the cover of The Australian Women's Weekly. I was editor in chief of the iconic magazine and the issue celebrated its 75th birthday. I can thank my friend Wendy Day, who has been Nicole's Publicist since the early 1980s, for helping me pulling that one off.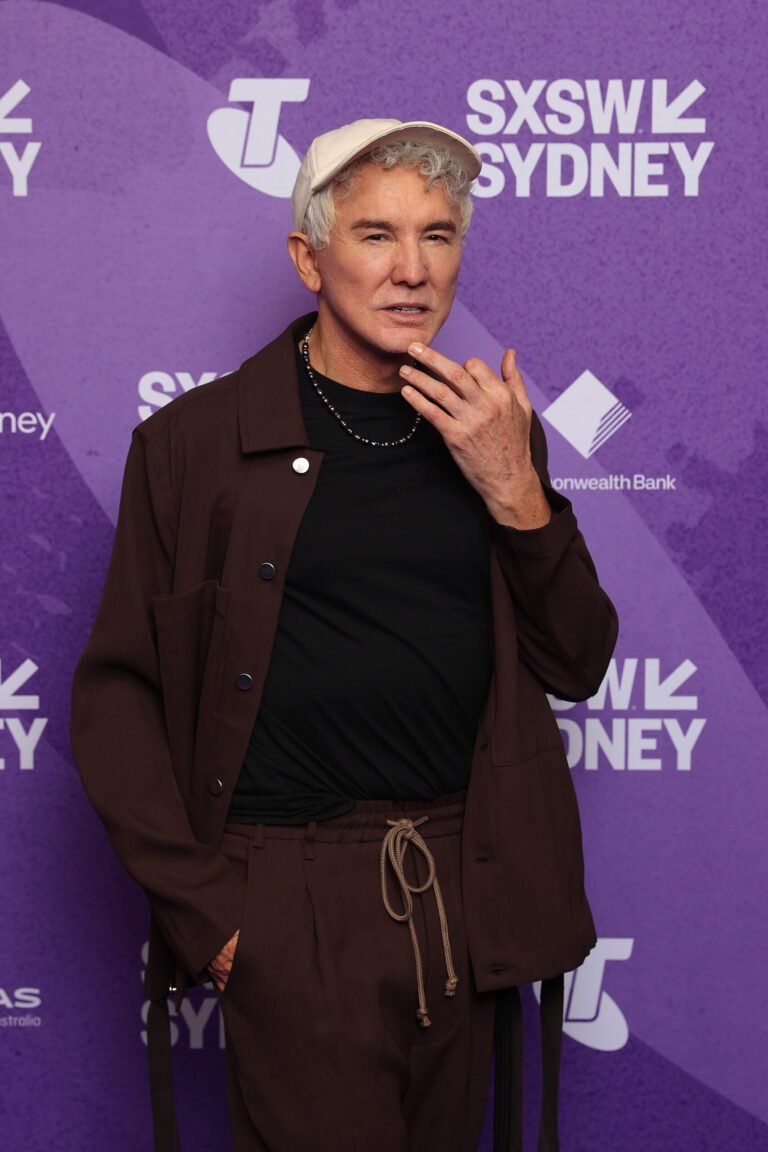 From the outset, I was excited to be part of the event especially given Sydney was the first city outside of Austin, Texas, to host SXSW. So earlier this year, I competed against up to 3,000 people and put forward two submissions to be a speaker. I chose topics close to my heart – AI and Unconscious Bias and the need for more diversity and inclusion in the tech sector. As fortune would have it, my two panels were selected and much of this, I believe, was because of the great panellists who agreed to take part with me for which I was immensely grateful.
My first panel about AI and bias was on Tuesday, October 17 and included three brilliant women whom I have long admired and have been role models for me: Dr Catriona Wallace, author of Checkmate Humanity: the how and why of responsible AI, Tracey Spicer, author of How the bias of the past is being built into the future and Shivani Gopal, founder and CEO of Elladex.
My second panel included three more outstanding women: Luli Adeyemo, the executive director of Tech Diversity, Megan Dalla-Camina, the CEO and founder of Women Rising and Camille Goldstone-Henry, the CEO and founder of Xylo Systems and the sustainability category winner of the SXSW Sydney Pitch Event.
It also included a video from Hannah Diviney, which you can watch here.
If I am honest, I was nervous. Public speaking doesn't come easily to me, and I was pleased to be standing behind the podium because it meant you couldn't see my hands shaking. But once we got going the nerves abated and I enjoyed sharing the stage at such a big event with these incredible women on issues that truly matter to me. A really awesome audience on both occasions helped, too.
At the first event, tech entrepreneur Zacahary Zeus from PyxGlobal was invited on the stage to talk about 'Trust Architects'. The video interview with him that I'd prepared didn't play quickly enough and given he was sitting in the audience, I invited him on stage in a totally impromptu moment and fortunately he was up for the challenge of explaining how people can take up a new role to put right 'unconscious bias' in AI, which is something we've covered on Women Love Tech here.
Next, given our second panel came three days after the disappointing 'No' vote in the Referendum in Australia, I decided to invite everyone in the audience to read the Welcome To Country with me as a show of solidarity to our First Nation community – 'Always Was, Always Will Be' – and when they did, it set the tone for the panel discussion and was a truly memorable moment.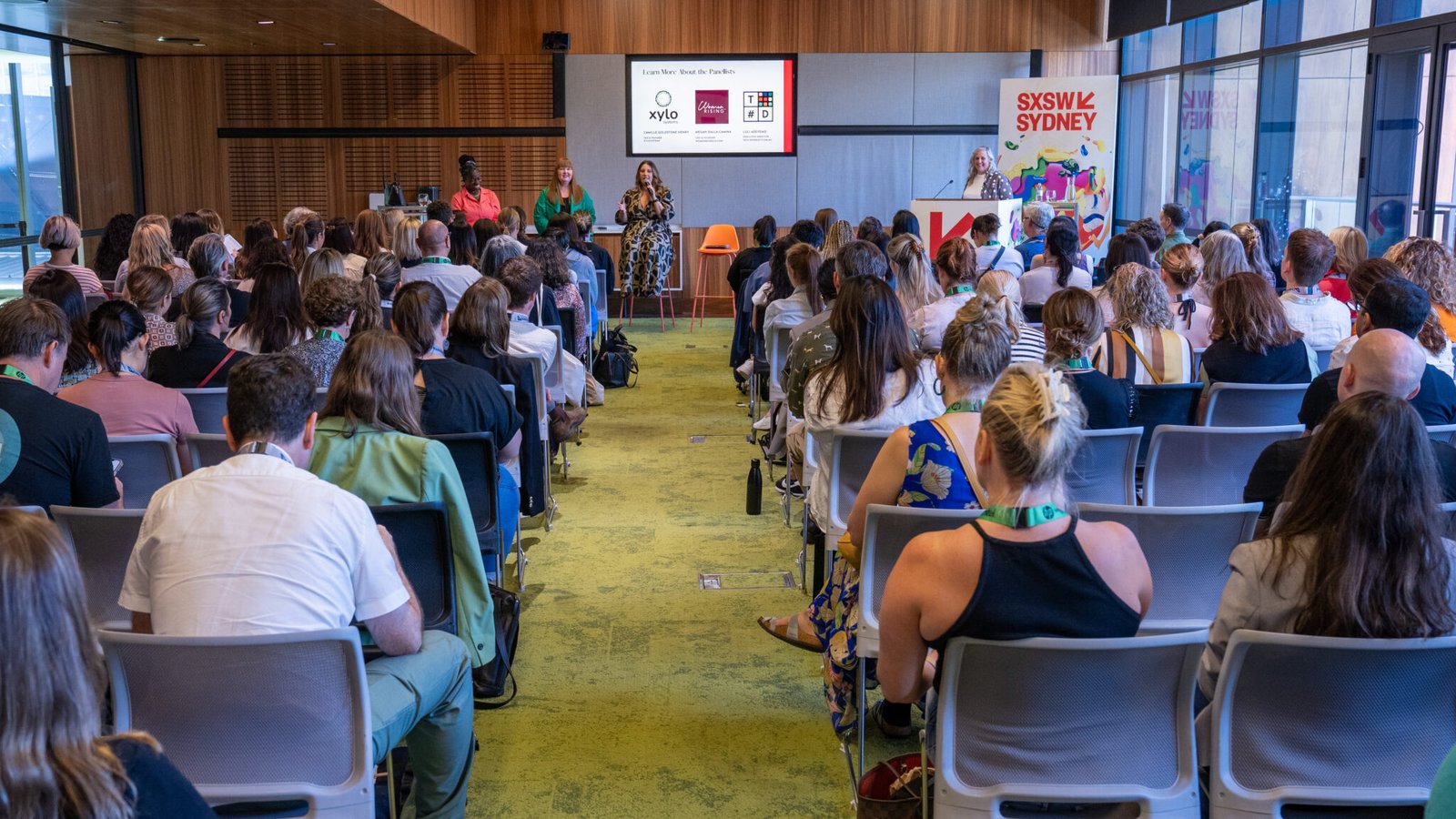 At both events, I also made an announcement – my plan to write a book called "Game Changers: 100 Women Disrupting Tech" and invited female disruptors to put themselves forward or recommend women who they believe fit the bill.
After thirty years of working in print, TV and now digital media, the experience of being part of SXSW Sydney was a career highlight. I am now bursting to take part again next year, and hopefully launch my book at the same time.
Having two Women Love Tech panels being among the 400 sessions and personally being one of the 700 plus speakers from Australia and around the world is something I'm thankful for and grateful to the hardworking organisers at SXSW Sydney and Destination NSW for making it happen.
So for those of you who missed the event or want to reminisce, here are the highlights:
SXSW Sydney Highlights
Charlie Brooker in Conversation with Julia Zemiro
It was a full house at Charlie Brooker's conversation with Julia Zemiro, discussing his diverse catalogue and his Black Mirror crystal ball. The pair reviewed show highlights and fielded questions from an enthusiastic audience. 
Nicole Kidman and Per Saari in Conversation – Spotlight on Blossom Films
Nicole and Per reflected on their friendship and business partnership and the content they have produced together under Blossom Films. They also discussed upcoming projects, their hopes for future works and the future of industry.
50th Anniversary of Hip Hop ft Chance the Rapper
With the Darling Harbour Theatre nearly full to the brim, Chance the Rapper spoke with Rolling Stone Australia's Poppy Reid, about his incredible career and the celebration of 50 years of Hip Hop. They also discussed Chance's personal experiences and how they have impacted his work and his incredible charity SocialWorks. 
Naomi Watts & Mia Freedman – Menopause and Midlife
The UTS Great Hall was filled with intrigued listeners for a panel hosted by Mia Freedman, with Naomi Watts, Dr Ginni Mansberg and Alison Brahe Daddo to talk about the "second act" – life pre-, mid-, and post-menopause.
Troy Baker in Conversation 
Following his performance at the Games Festival Opening Party, this conversation was a deep dive into Troy's illustrious career spanning screen, games, and music and how his process for creating characters is impacted by the medium in which he is creating. 
Dodo De-Extinction And Other Lost Animals – Ben Lamm And Andrew Pask In Conversation
In an illuminating session, Ben Lamm, CEO of Colossal Biosciences, and Professor Andrew Pask, leader of the Thylacine Integrated Genetic Restoration Research (TIGRR) Lab at the University of Melbourne, discussed their work trying to bring back the Tasmanian tiger, or thylacine.
Coachella Co-Founder Paul Tollett & Michael Harrison, AEG In Conversation
Music lovers united at this comprehensive conversation between two industry stalwarts – Coachella Co-Founder / Goldenvoice President Paul Tollett and AEG's Global Touring SVP Michael "Harry" Harrison. The pair also delved into the success of emerging music genres and Michael's journey from Australian promoter to global industry leader.
Screen Festival Highlights
A culmination of emerging talent productions and diversified reimaginings of iconic works, the Screen Festival gave voices to stories that have previously been untold. Attendees enjoyed an eclectic mix of features, documentaries, and short films, covering a broad spectrum of themes. Panel discussions and conversations with filmmakers provided unique insights into the world of cinema, storytelling, and the challenges and opportunities that lie ahead.
Screen Festival Opening Night: The Royal Hotel
SXSW Sydney 2023 Screen Festival's Opening Night film, The Royal Hotel had attendees on the edge of their seats. After the screening, attendees headed to Tumbalong Park for the official Opening Party of the SXSW Sydney Screen Festival. 
Hot Potato: The Story of The Wiggles 
Australian icons, The Wiggles, known for bringing a smile to children around the world, premiered Hot Potato: The Story of the Wiggles, providing a behind the scenes look at the lives of the four men who started it all and the powerful legacy they've built. 
Saltburn Premiere
The Australian premiere of Saltburn, by Academy Award winning filmmaker Emerald Fennell (Promising Young Woman), took place with a gala screening at the Darling Harbour Theatre.  Fennell's beautifully wicked tale of privilege and desire had a truly captivated audience exclaiming at her twisted scenes.
Screen Festival Closing Night: Faraway Downs
The world premiere of Baz Luhrmann's, Faraway Downs, closed the Screen Festival on Saturday night at the ICC's Darling Harbour Theatre. The inspiring epic adventure is a reimagined, extended version of his 2008 film, Australia, told in six chapters. Alongside performances from Electric Fields and Budjerah, Luhrmann rounded out the session with a Q+A that gave us incredible insight into the mind of a screen legend!
Screen Awards
The Screen Awards were created to celebrate the most outstanding projects at the SXSW Sydney 2023 Screen Festival:
· Best Short: A Never-Ending Comedy. Honourable Mention: Hyperconnect
· Best Feature: You'll Never Find Me. Honourable Mention: All Ears
· Best XR: LIBERTAS, VERITAS, Badfaith Studio. Honourable Mention: 444.2, Anatomy Studio
MUSIC FESTIVAL HIGHLIGHTS
The Music Festival showcased an incredible range of talent from across the world in all genres playing in iconic locations in Sydney including the Hollywood Hotel, the Landsdowne and Lord Gladstone. With over 250 artists and over 300 performances, the SXSW Sydney Music Festival was one to remember.
Accenture Music Festival Opening Party
SXSW Sydney music fans enjoyed a lineup of fresh new music talent at the SXSW Sydney Music Festival launch event at The Starship, presented by Accenture. The Music festivities began with a night of discovery featuring performances from Flyanna Boss and Ekkstacy,  with music industry leaders, creatives and marketers meeting those behind the ideas, trends and innovations that will shape the business in years to come.
SXSW Sydney And 3% Present Our People
Proud First Nations artists, Nooky, Dallas Woods and Angus Field celebrated their first single as Blak collective 3%, at their live debut and SXSW Sydney showcase at The Lord Gladstone. Featuring a surprise visit from Chance The Rapper introducing 11-year-old rap sensation, Inkabee, The "OUR PEOPLE" showcase featured an incredible lineup of First Nations artists such as Moss, Barkaa, Dobby, Yung Brother, Bars Of Steel legends – Inkabee and FLEWNT, and was headlined by 3%. 
Justin Cosby Music Prize
SXSW Sydney is thrilled to announce the winners of the inaugural Justin Cosby Music Prize, named in memory of an Australian music industry legend, Justin Cosby, who passed away in June 2021. Justin was the founder of Inertia Music, a passionate supporter and defender of independent music and new talent with an encyclopaedic, genre-defying knowledge of music. He was a regular attendee at SXSW and his meticulously organised spreadsheet planner was shared widely among Australian industry making the journey to Austin each year.

· Best Emerging Artist: Miss Kannina
· Best Performance: Otoboke Beaver
The Prize was judged by the SXSW Sydney Music team and a range of local and international media and industry.
Games Festival Highlights
With events across eight unique locations, this year's Games Festival saw the inclusion of over 180 games, conversations with 100 international speakers, investors and developers, and the incredible Intel Extreme Masters Competition which came to an electrifying conclusion on Sunday Night.
Games Festival Opening Night Party – Stray Gods In Concert Feat. Troy Baker, Anjali Bhimani and Montaigne
At Fortress Sydney, attendees immersed themselves in a night of pure magic as music and gaming intertwined on the stage of the Games Opening Night. Bringing together headliners Troy Baker and Anjali Bhimani to perform songs from the newly released game, Stray Gods and the sensational Australian artist and singer-songwriter, Montaigne to open the night, alongside a mesmerising performance from musical artist Sarah Wolfe.
Intel Extreme Masters 
The biggest esports tournament in the world returned to Sydney for the first time since 2019, as top Counter-Strike teams battled it out to make it to Sunday's Grand Finalfor a prize pool of $250,000 USD. After an intense, extended match, FaZe were crowned this year's champions.
Games Festival Awards
Presented by Suntory -196, The Games Festival Awards Night Hosted by Tom Cardy recognised the outstanding achievement of the developers and creators taking pride of place in the Games Showcase. The winners include:
· Discovery Award: Nine Sols
· Student Award: Echo Rush
· International Award: Paper Trail
· Tabletop Award: Aethermon
· People's Choice: Solium Infernum
· Game of the Year: DREDGE
Tech and Innovation Highlights
SXSW's reputation as a leading space for innovation has continued in Sydney, with attendees able to see what the future may be with innovative products and services from established companies to emerging startups. This was an opportunity for attendees to engage with new technology, discover innovative solutions, and explore exciting developments on the horizon. The Tech & Innovation Expo provided opportunities for entrepreneurs to network with potential investors and collaborators, helping them take their ideas to the next level.
Tech & Innovation Expo
The highly anticipated Tech & Innovation Expo opened mid-week, transporting attendees to the future. The Discovery Stage, hosted by HP in partnership with Intel, opened with the first global in person reveal of Intel's new Intel® Core™ 14th Generation desktop processor family.
Startup Village
Startup Village and the daily Startup Hour on the Discovery Stage saw the introduction of many new and emerging technologies and companies set to change the world. Providing opportunities for companies to connect with investors, the Startup Village became a hub for new technology.
SXSW Sydney Pitch Grand Final
The six category winners from across the Tech & Innovation Festival came together on Thursday afternoon to crown a winner, Lisa Milani, Co-Founder of Nanocube Health.  Lisa and Nanocube Health now have the potential to join the winners from SXSW Pitch in Austin who are currently worth a cumulative value of over $9 billion dollars.
SXSW Sydney Pitch winners
· Generative AI and Robotics: Lisa Milani, co-founder of Nanocube Health
· Sustainability, Circular Economy & Urban Innovation: Camille Goldstone-Henry, CEO and co-founder of Xylo Systems.
· Healthcare, Biotech, Future of Medicine, Augmenting Humans: Dr Chris Bladen, CEO and Cofounder of Zymedyne Therapeutics
· Space Habitation, Travel and Transport: Kiriti Rambhatla, CEO and Founder of Metakosmos
· Law and Order in Cyberspace, Security and Fintech: Sajid Bokhari, Founder and CEO of Geniepay
· Game On, Let's Play: Nilu Kulasingham, Founder and CEO of Stori