The internet is rejoicing as the infinitely meme-able Emily in Paris is renewed for a third and fourth season on Netflix. Why do we love it? As Emily, Lily Collins, brings a joyful romanticism and maximalism to every hair and beauty look she rocks on the show. There is no "bedhead" to be seen. Following a… less than best couple of years working from home in our pyjamas it's no surprise her often over the top office looks are striking a chord with viewers. Don't we all miss dressing up?
From hair to beauty, here's how to get Emily's bright beauty look.
Those waves:
Emily's hair is something that sets her apart from the relaxed French characters on the show. Luscious and high-shine with curls so perfectly defined and uniform they look CGI'd onto her head, Emily brings unapologetically American polish to every scene.
Set hairstylist Mike Desir told Vogue he uses Living Proof "No Frizz" shampoo and conditions and preps hair pre blow-dry with Bumble and Bumble's Heath Shield Thermal Protection Mist. He then Dysons Lily Collins' hair dry and uses the one-inch ghd Curve to create her perfect curls. How does he keep her frequently beret-ed curls frizz free? Ample servings of Oribe's Impermeable Anti-Humidity Spray.
Parisian Chic:
As Emily settles into her Parisian life in Season 2, she leaves some of her all-American girl looks behind. This Hepburn-esque look is just in time for Valentine's Day. While you may have to wait on the $1304AU Anouki Heart Dress to come back into stock – the beauty is relatively simple.
Makeup director Aurelie Payen said she was inspired by Audrey Hepburn and Bridgette Bardot for the Season 2 beauty looks, and is a fan of elegant, well-balanced makeup. She uses Chanel Vitalumiere Auqua Sunscreen Makeup as a base and sets with By Terry Hualuronic Hydra Powder. Payen skips the glitter when it comes to highlighter. Instead, she ops for a translucent baume like Chanel Baume Essential Multi-Use Glowstick in Printanier to give the skin a natural radiance. Finally, a crisp red lip finishes the look – her favourite brand? La Bouche Rouge Paris. While we can't confirm this ex-MUA is guessing Emily is wearing "The Red Andreea" a matte, orange-red in this scene. In the interest of balanced beauty Payen skipped adding additional pigment to Collins' full brows, instead setting them in place with Anastasia Beverly Hills Brow Freeze.
West meets French: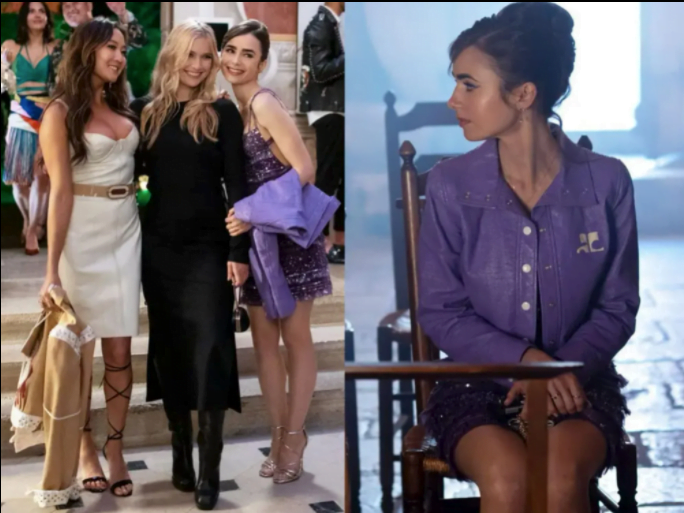 Emily's Season 2, Episode 2 party outfit has been criminally undercommented on. The lilac Valentino Tiered Tulle Mini is playfully complemented by her Courreges leather jacket had a 60s feel that hair and makeup perfectly complimented, adding an undone French polish to a retro-Americana look. Rather than crisp liquid liner the cat-eye was gently smoked out, a perfect complement to her masterful deconstructed beehive. This soft touch keeps the look a nod to the 60s, rather than a costume. West-meets-French at its best.
Tip: Use a kohl pencil like Kester Black's "Blackout" Natural Eye Pencil to create a soft, winged out shape, then set and blend with powder.
American Girl:
After a blockbuster Season 2 it's nice to flash back to the Emily of Season 1 and see how far she's come. Makeup artist Aurelie Payen has commented to press that Emily's makeup varies with her confidence in the new city. We see a much more girl-next-door Emily in this scene from the first season, complete with loose ponytail and a Charlotte Tilbury Pillow Talk Lip Pencil with Mac Velvet Teddy Lipstick for a rosey pout.
We can't wait to see what Season 3 has in store for televisions most original dresser!