It may not come as a surprise that the virtual gaming world is dominated by men, though the tide is slowly turning.  Whilst games are still predominantly made by men, the number of women in the video game industry is slowly on the rise. Yet, we also know that almost half of online gamers are women.
So why is it so important to attract more women to the gaming industry and shift the pendulum?
Women of today, trail blaze for the women of tomorrow
Facebook this month has launched their Women in Gaming initiative, a global community designed for women to celebrate their successes and talk about their challenges.  Their mission is to champion diversity in games, encourage more women into leadership positions and work together to inspire change. We know that all industries benefit from gender diversity, and gaming is no exception. We all have a role to play in inspiring young women to realise their full potential, encourage them put their stamp on the future of this industry and empower and celebrate women as creators and players.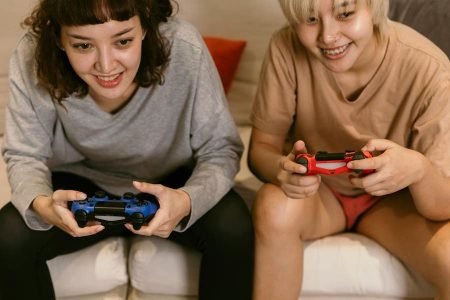 Women play games
Gaming is a connector – it brings women together and we know that half of all gamers are women. Amongst busy daily lives, women retreat to online games as relaxation, a stress reliever and a restful moment.  60% of women say that gaming makes them feel good.
Having more women in the administration and development of this growth industry, provides an opportunity to create games that resonate with a wider, more diverse audience.
 Online gaming is in growth, presenting an attractive career path
The growth of virtual gaming presents a breadth of opportunity for women within both traditional and innovative roles.Touted as a desirable place to work with a culture of openness, competitive salaries, great offices and a focus on personal growth, it's creating a name for itself amongst jobseekers.
Women Love Tech would like to thank Nigel Blythe Tinker for his story.
About Nigel Blythe-Tinker
With extensive international, corporate experience spanning 30 years, responsible for notable acquisitions, divestments and AIM/FTSE 100 flotations, Nigel Blythe-Tinker has paved the way for technology within the gaming sector. Blythe-Tinker is now on West Australian shores as the Executive Chairman of VGW Holdings, and is passionate about social gaming.
 Responsible for the successful floating of William Hill on the London Stock Exchange and also GVC on AIM in London.