Yes we've had our issues with Facebook this year but in good news, last year, Australian women contributed 63% of the total amount fund-raised on Facebook. Facebook CEO Mark Zuckerberg announced yesterday the global Facebook and Instagram community has raised over USD $5bn for nonprofits and personal causes, via the platform's fundraising tools around the world.

It seems women are very active on Facebook with women creating 70% of groups on Facebook last year. Women also took the lead on creating supportive communities and rallying resources when COVID hit last year. 
In Australia, women created 66% of the COVID groups and 71% of the members of the group are women. The top COVID-19 support groups (by number of members) created by women in Australia are mostly focused on neighbourly support.
Facebook Fundraisers were launched in Australia in 2018 and since then, 2.3 million Australians have donated using this tool. We've seen Australians give overwhelming support for important causes or natural disasters which shows how much we can do for our community if we all work together.
Facebook Fundraiser pages are already helping with the floods
Already, in response to the devastating floods of last week, we've already seen Fundraiser pages appearing on Facebook to help those communities affected including:
Here's some more data on Facebook Fundraising:
Globally, most donations are less than $25 USD (about $32 AUD).
Globally, there are more than 85 million organisers and donors who have made a difference with Fundraisers.
Here are some examples of Facebook Fundraising:
Debbie Sage-Morison, Gold Coast QLD – Creator of:
Debbie's bday fundraiser for The Currumbin Wildlife Hospital
Debbie works as a solicitor but has a passion for supporting wildlife. Last year she started a birthday Fundraiser to support the Currumbin Wildlife Hospital and help the NFP continue their critical work of treating injured wildlife.
Fundraisers like Debbie's are critical as The Currumbin Wildlife Hospital normally gains donations from tourists, which have been down since COVID.
The Wildlife Hospital is particularly invested in saving native Koalas, which have been affected by chlamydia and other wildlife which have injected plastics.
Rob Pisto, Sydney NSW – Creator of:
FITSOMS fundraiser for Juvenile Arthritis
Rob is a long-standing member of the Sydney, Northern Beaches community and for the last 5 years has worked with friends to support local foundations and causes.
For the last two years, Rob has been using Facebook Fundraisers, supporting the Juvenile Arthritis Foundation of Australia. So far online he has raised $14k via Facebook Fundraiser, and over $20k from a local community event. He will combine the proceeds from the additional Fundraising event with the Facebook Fundraiser, so all profits go to the Foundation.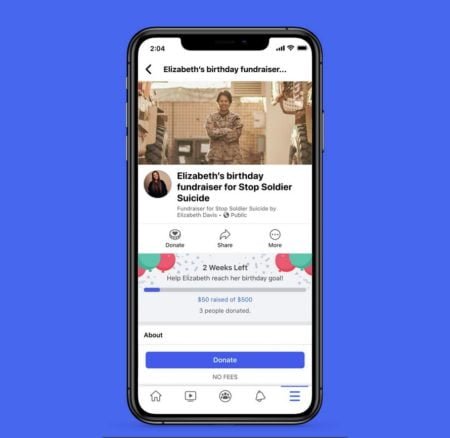 Here are some tips in this video below on how to create a Facebook Fundraiser:

For more from Women Love Tech, visit here.