Nanoleaf has released their wood look hexagon smart lights from their Elements range.
These modular ambient lights were inspired by nature and designed to add a sleek aesthetic to your home. The lights are designed to look beautiful on and off.  You can create your own design with the option to buy expansion packs.
Nanoleaf Elements Starter Kit
The Nanoleaf Elements wood look hexagons smarter kit contains 7 light panels, a quick start quide, a card of layout patterns, wall stickers (mounting tape), connectors, and power plug.
Nanoleaf Elements Expansion Kit
The Nanoleaf Elements wood look hexagons expansion kit contains 3 light panels, a quick start quide, a card of layout patterns, wall stickers (mounting tape) and connectors.
Both boxes have a clever design with a cardboard handle that lifts them out of the box easily.
Nanoleaf Elements Setup
You'll need to plugin in the powerpack and turn it on, so that you can pair the lights with the app.
Take note that there are two QR codes – one for iOS and one for Android devices.
You'll need to make sure your router is configured with 2.4Hz enabled, as it only works with these networks.
You might want to test them out on the floor first before mounting. I placed mine on a very large flat canvas panel from the art shop. Then moved the hexagons around until I found a pattern I liked.
A couple of panels didn't light up on the first so go, so I had to turn them off. Then have another go at attaching them together with the connectors a little more firmly. The Ridge Linkers (connectors) snap on and off and are available to purchase more. You don't need to attach all adjoining sides.
I'm pleased to report you can mix and match the hexagon Elements range with the hexagons from the Shapes range. I'm not sure this the optimum way to use them though.
The light can be set with adjustable warm and cool whites (1500-4000K). They react to touch and music, with the panels dancing along to the melody. You can set them on a schedule and customize them around your sleep and activities.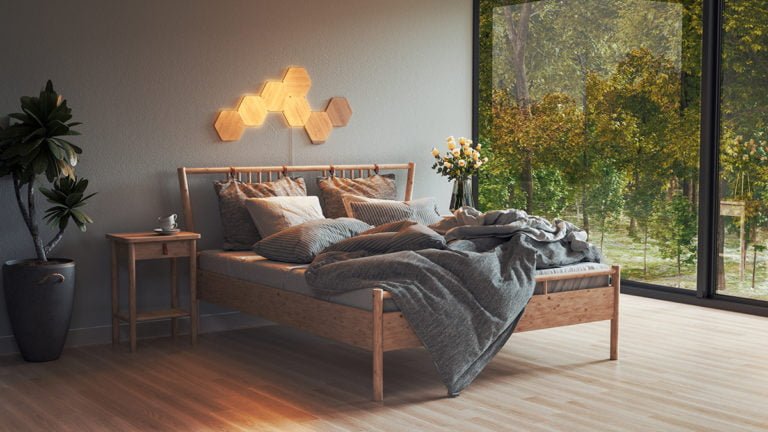 The Nanoleaf app is easy to use and it is fun to try out different pre-made patterns.
Before mounting on the wall, clean your surface to ensure it is free from dush and moisture.
If you are renting or have walls with asbestos, then you might like to consider purchasing a wood panel and mounting them on there. You can buy these from your local hardware store or art shop.
"Our goal is to break the barrier between technology and design. With Nanoleaf Elements, we want to bring the best parts of the natural elements indoors, creating those comforting experiences we all crave as human beings, all without sacrificing cutting-edge technology" states Gimmy Chu, CEO and Co-Founder of Nanoleaf."Most smart products have been made to only focus on functionality and not how it fits into a home. We're here to change that. We believe that a smart home can be innovative, forward-thinking and also welcome you warmly into a space."
Nanoleaf Elements Review
The Nanoleaf Elements range are ideal for wall spaces where you want some additional light over artwork or fancy wallpaper. These are perfect for the bedroom or living room where you want a calm subtle aesthetic.  Once you have set up them up and found a colour and lighting pattern you are happy with then you'll probably find they become a seamless part of the room.
If Nanoleaf Shapes were the life of the party, then Nanoleaf Elements are the quieter bystander.
The Nanoleaf Elements are another unique product on the market with some amazing technology behind them. If you have the budget and want to create a cozy warm ambience of a fireplace, a statement wall, or a chill out zone, then these are perfect.
Works with Apple HomeKit, Google Assistant, Alexa, IFTTT and SmartThings.
Find out more at the Nanoleaf website: https://nanoleaf.me/en-HK/products/nanoleaf-elements/
About Nanoleaf Elements Range
Control your smart decor installation with the manual controller included or by using the Nanoleaf App for more customizations. Elements also works with Apple HomeKit, Google Assistant, Amazon Alexa and Samsung SmartThings and IFTTT integrations.
The Nanoleaf Elements range is available in Smarter Kits (7 Light Panels) for AUD$429.99 and Expansion Packs (3 Light Panels) for AUD$149.99.
Nanoleaf Elements will be available from JB Hi-Fi, Amazon AU, and Kogan.com.au.
About Nanoleaf
Nanoleaf is a technology and IoT company changing the world with the most innovative smart home solutions, taking ordinary experiences and making them extraordinary. By infusing thoughtful design and technological intelligence in their products, Nanoleaf is ushering in a new era of the smart home that centres around complete personalization.
Nanoleaf was founded in 2012 by three engineers wanting to shake up the lighting industry. The company now has a global presence with offices in Shenzhen, Paris and Toronto. Made up of a diverse team of passionate out-of-the-box thinking problem-solvers, Nanoleaf strives to transform and reshape the way we experience our world. To find out more, head to the Nanoleaf website.