With World Meditation Day fast approaching this Friday May 21, there's no better time to examine the technology that can support ones' health inside and out, especially looking at the importance of mindfulness and overall health tracking! 
THE HEALTHY TECH ACCESSORY
With this in mind, here's what I find helps me. The Withings ScanWatch  is a smartwatch that helps track your steps, your sleep and your heart health and the Breathe mode gives you the option to recharge for a minute at a time.
Programmed into the watch, it's a quick and easy way to bring short breathing exercises into your daily life. Withings products can also be used to keep a record of your overall health including your weight with the addition of the Withings scales which can now tell you your more about your actual health age of your body.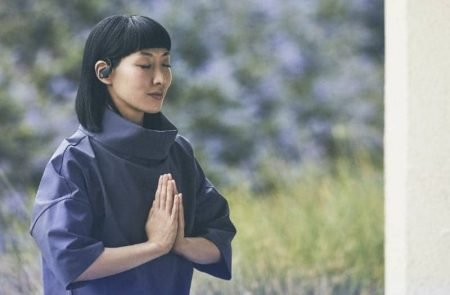 WHAT'S ON DEMAND THAT'S HEALTHY
Officially launching its Bondi Beach and Surry Hills studio classes and "On Demand" online platform today, KAAIAA is a training program to go beyond just the physical self.
Created by Australian Leah Simmons, KAAIAA is a complete workout that trains the 4 Pillars of Health (Mental, Physical, Emotional and Spiritual) to strengthen, support and enhance EVERY aspect of your life.
KAAIAA is a dynamic combination of 4 proven modalities (Breath Work, Body Work, Meditation & Integration) that focuses on cultivating energy across each of the pillars, and when performed consistently, can have profound effects in every area of your life.  
BREATH WORK (for Mental Health)
Increased oxygen intake for laser-sharp focus and a clear mind
Stimulates nervous system and activates neural pathways
Brings you into the present moment for clarity and calm
BODY WORK (for Physical Health)
Functional strength sequences for a strong, resilient body, deep core conditioning, postural alignment and increased mobility.
Aerobic and anaerobic sequences for cardiac health.
Regressions and modifications for all levels.
MEDITATION (for Emotional Health)
Balance and align the energy centres.
Guided meditations centred around self-love, compassion, gratitude and awareness.
Mindfulness practices to connect you to your centre.
INTEGRATION (for Spiritual Health)
Foster a deep connection to your true self.
Remove limiting beliefs, limiting language and old conditioning.
Understand your potential and release the behaviours that hold you back.
Through music, movement, strength and stillness, KAAIAA encourages people to go beyond the intensity of the surface, past the noise of the mind and find the strength within to truly transform their lives. Over 3,000 people have already attended a KAAIAA class including identities Pip Edwards, Danielle Cormack, Natalie Bassingthwaighte, James Magnusson, Michael Clarke, Australian Tennis Open athletes, model Montana Cox, actor Joel Edgerton and boxing legend Mike Tyson.
Leah says, "KAAIAA is the difference between working out to change your body and working out to change your life. I wanted to take everything I'd learned about the importance of energy, as well as my years as a PT, Kundalini Yoga Teacher and Pilates Instructor and create a hybrid that successfully trains not only your body… but your mind and your soul as well. Time-poor Aussies are increasingly looking for ways to incorporate meditation and mindfulness practices into their day, and KAAIAA covers it all – in one hour. I am so proud to be launching KAAIAA in my home country first, before taking it to the world."
KAAIAA On-Demand is available via www.kaaiaa.com to access a variety of 30, 45 or 60 minute classes. After an initial 7-day free trial, pricing for On Demand starts at as little as $5 per week.
THE HEALTHY APP TO SUPPORT YOUR MEDITATION 
Calm is an app that has an iPhone rating: 4.7 stars / Android rating: 4.1 stars
Price: Free with optional in-app purchases
This award-winning app has a variety of exercises and breathing techniques to help you relax. The app's guided meditations range from three to 25 minutes long. They have a feature called Sleep Stories which hosts a great mix of voice talent such as Matthew McConaughey to help lull you to sleep. If you own an Apple Watch you have access to new breathing exercises, calming exercises and even mindful walking meditation.