A young Australian surfboard maker called Emile Theau has won the inaugural HP Generation Impact Incubator award with surfboards made with 91 per cent less plastic waste than competitors. HP Australia, in partnership with start-up accelerator Ocean Impact Organisation (OIO), recently announced the winner and runners up for these awards.
Emile is the co-founder of eco-friendly surfboard manufacturer Sine Surf which produces sustainable and durable performance surfboards and surf wear through the use of biodegradable wooden materials. As the winner of the Generation Impact Incubator, he will receive access to funding, technology and mentorship from HP and Ocean Impact Organisation, which will all go towards helping Sine Surf see their idea grow and transform ocean health.
HP's Generation Impact Incubator has been set up to help solutions of passionate, determined young Australians transform ocean health and protect the next generations' future. Emile also recently took part in the Taronga Hatch Accelerator Programme which is how I met him as I am one of the mentors. Here, we asked how Emile felt about winning the award.
"When my initiative Sine Surf was announced as the winner of the OIO HP Impact Incubator I was beyond myself," he told Women Love Tech. "To have such amazing recognition and backing for Alastair Pilley's and my work makes me feel grateful and well supported, as we continue on our journey to catalyse sustainable change in the surfing industry."
"We will put the prize to good use," says Emile, who grew up in north Sydney.
When asked how he will use the money, he adds: "We will put the prize to good use of course, we've had our eyes on some machinery and R&D ideas for some time. We'll also be putting some aside to spread awareness of our products and vision. What's more valuable however, is the breadth and level of knowledge offered by OIO and HP. With their connections and expert backing, we'll be able to accelerate our growth for years into the future."
Interestingly, Sine Surf started almost by accident. "Sine Surf began in early 2020 when I snapped my brand new board on its very first surf," explains Emile. "I was curious as to why surfboards were so disposable and wasteful and so began researching how they were made. I was quickly drawn to the beauty of wooden surfboards, particularly the environmentally friendly, hollow wooden core surfboards.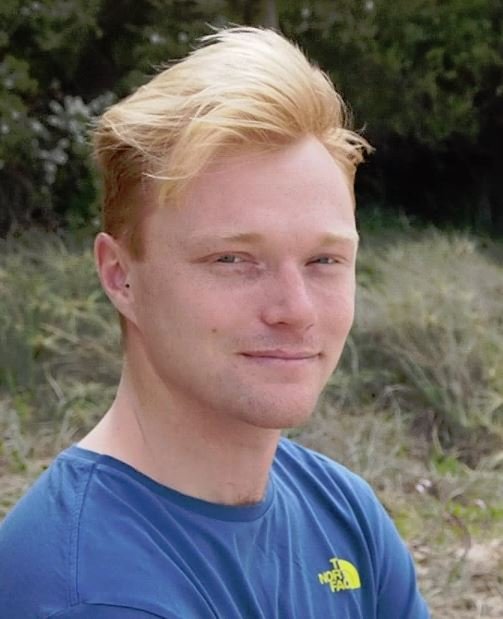 "Most wooden boards today still use foam and fibreglass with no sustainable advantage. Prompted by my engineering background and along with my co-founder, Alastair Pilley, I began prototyping to develop new manufacturing methods for hollow wooden boards to reduce the labour required, whilst minimising the waste and emissions produced in manufacturing. It's clear that we need an affordable sustainable alternate, it's been too long that sustainable alternatives come at a financial disadvantage.
"Our wooden surfboards are over 95 per cent biodegradable by volume, produce less than 0.5 kg of industrial waste during manufacturing and are better than net zero emissions. The manufacturing of a typical foam and fiberglass surfboard produces approximately twice its weight in unrecycled industrial waste. Our solution is Sine Surf."
Sine Surf has since moved into other surf products. "We're not only doing surfboards at Sine Surf but branching into other surf accessories," says Emile. "We've already completed the preliminary prototypes for a moulded cork traction pad that we'll be testing on Sydney's breaks over the next few weeks.
"We hope to grow Sine Surf to really make a difference, by replacing just one foam and fibreglass surfboard with a Sine Surfboard we stop eight kilograms of plastic EPS foam and resin waste, not to mention the emissions reduction. Hopefully our initiative can inspire others to think about sustainable alternatives too!"
"Lastly, a huge thank you to OIO and HP for selecting us as the winners of the Impact Incubator. I really admire what OIO and HP are doing for the planet and the ocean by running events like this."
HP Australia and New Zealand supports action to help the environment
Mike Boyle, Managing Director for HP Australia and New Zealand said of the awards: "Being on the judging panel for the Generation Impact Incubator was challenging, but extremely rewarding. It is inspiring to see the passion our winner and two runners-up have for not only their innovation, but to make a real difference to our climate and oceans. We are excited to provide Sine Surf with access to funding, technology, and expert mentorship from HP and Ocean Impact Organisation, to help them see their idea grow to not only transform ocean health but make surfing a more sustainable activity for all Australians to enjoy."
Nick Chiarelli, CEO and Co-Founder, Ocean Impact Organisation added: "It is fantastic to see such a diverse range of solutions take out the top three places for the inaugural Generation Impact Incubator. While the OIO Pitchfest is designed to support more established innovators as they continue to grow, it is encouraging to see the talent and ideas of the next generation be nurtured through this program. We are excited to see what each of our winners do next."
Here's some more information on the runner's up for the HP Generation Impact Incubator:
First runner up: Save water and plastic every time you clean
Sian Murray, Pleasant State, Brisbane
Everyday cleaning sprays are made up of 97 per cent water. Pleasant State has taken the 3 per cent of active ingredients and formulated a highly effective, plant-based, concentrated cleaning product range. All you need to do is add water to create either a multi-purpose; bathroom or glass cleaner. This solution stops us from transporting around litres of water, contributing to unnecessary greenhouse gas emissions and puts an end to toxic cleaning chemicals entering our waterways.
As the co-founder of Pleasant State, Sian Murray says: "We wanted a solution that would not only help Australian families to be more sustainable, but also remove some of the nasty, toxic chemicals that are commonly used in household cleaning. We created Pleasant State to change the way we clean our homes. Cleaning products are no longer a necessary evil, hidden under the kitchen sink. Instead they're beautiful, waste-free and non-toxic products that you can proudly display in your home."

Second runner up: Saving our coral with innovative technology 
Curtis Sciacca, Nurtured.Co, Brisbane
The second runner up is Curtis Sciacca, co-founder of Nurtured.Co. Nurtured.Co which develops and creates artificial coral reefs in order to rejuvenate, rehabilitate and restore reefs worldwide.
As Sciacca says: "Unfortunately, we are seeing beautiful underwater worlds, like the Great Barrier Reef, slowly demise due to the effects of climate change and coral bleaching. Nurtured.Co has developed new technology to help protect, save and rebuild the Great Barrier Reef and support the development of new, artificial reefs across Queensland."
He adds: "The Great Barrier Reef has faced devastating bleaching events which are becoming more severe and more common. To combat the effects of climate change on coral reefs, Nurtured.Co has created a new technology which directly addresses each of these issues. Nurtured.Co Artificial Reef Technology (NART) is based upon the mineral accruement process -previous studies on mineral accruement artificial reefs have demonstrated the technology can provide accelerated coral growing conditions and enhanced settlement rates along with numerous benefits to the ecosystems in which they are situated. Additionally, corals grown on these structures are far more resilient to extreme weather events and rising ocean acidification."
To find out more about HP's global sustainability goals, visit here.
To learn more about OIO Pitchfest and HP Generation Impact, visit here.
For more from Women Love Tech on innovation, visit here.