Lady Gaga has shared a sneak peek of her upcoming film, tentatively titled House of Gucci, on her Instagram account – and now it's making everyone virtually froth at the mouth. As pictured above, Lady Gaga is standing there in her outfit, playing Patrizia Reggiana. She's standing next to Adam Driver who's playing Maurizio Gucci – the murdered grandson.

Lady Gaga and Driver look amazing and they're posing in some idyllic European mountain setting. The House of Gucci is about the tumultuous Gucci family fashion dynasty and the murder of the founder, Guccio Gucci's grandson, Maurizio Gucci.
To add to all the palaver, the film is directed by – yes – Ridley Scott – and also stars a cast of screen greats including: Al Pacino, Jeremy Irons, Jared Leto and Jack Huston. What a cast! This is going to be a film to watch out for and it's due for release in Australian Cinemas on November 25th.
On her Instagram post, Lady Gaga has captioned the photo as: Signore e Signora Gucci, which translates to Mr and Mrs Gucci.
Roberto Bentivegna wrote the film's script, adapting it from Sara Gay Forden's book The House of Gucci: A Sensational Story of Murder, Madness, Glamour and Greed. 
Gaga will play his ex-wife Patrizia Reggiani, who was convicted of plotting his killing on the steps of his office building in Milan in 1995. As a result, Reggiani (IRL) served 18 years in prison before being released in 2016.
This is Gaga's first film role since A Star Is Born, which showed us she can act – and sing! We all know this film will be watched just for the pure star power because if Gaga and Driver aren't enough for you then Jared Leto, Jeremy Irons and Al Pacino will be.

The House of Gucci will be released in cinemas in Australia on November 25th…
Yes Day – the new family show starring Jennifer Garner

The Americans can't seem to get some things right but other things they simply excel at. Like family dramas which just make you feel great. Yes Day is one such movie. It's a Netflix movie and it's streaming now.
Yes Day tells the story of parents Allison (Jennifer Garner) and Carlos (Édgar Ramírez) who feel like they spend their days saying 'no' to everyone in their lives, from their colleagues to their family. 
So they decide to give their kids a 'yes day' – where for 24 hours the kids make the rules.  Of course, the kids take it a little too far and you know what happens – things get pretty exciting and it's a wild, thrilling ride all around Los Angeles.
Yes Day is streaming now on Netflix…
The new thriller on Stan – Manhunt: Deadly Games
There's nothing juicier than delving into a dramatic TV series based on a thrilling true story. Which is why many of you will be happy to know the full season of Manhunt: Deadly Games has now dropped on Stan.
Manhunt: Deadly Games is a scripted true crime anthology series, which focuses on one of the most complex manhunts that has ever taken place in the US. One which took place following a deadly terrorist attack at the 1996 Olympic Games, which were held in Atlanta. 
The series follows the true story of security guard Richard Jewell (played by Cameron Britton), who was lauded as a beloved national hero after he discovered a massive bomb at the Olympic Games, and saved hundreds of lives by acting quickly and immediately clearing people out of the area.
However, the story takes a turn when Richard's public identity as a brave hero is quickly eroded after the FBI and the media, led by top crime reporter Kathy Scruggs (played by Carla Gugino), falsely accuse him of planting the bomb.
The series then takes off down two paths, as Richard and his frantic mother fight to clear his name from the false accusations, all while the real perpetrator, Eric Rudolph, remains at large and carries out another series of bombings.
Manhunt: Deadly Games is fast-paced and intriguing enough with its storytelling so you could want to slam through all 10 episodes in one weekend, just to see how the story resolves.
If you've got a soft spot for true crime dramas featuring a brilliant cast and told in a clever way, then Manhunt: Deadly Games could be for you. 
Manhunt: Deadly Games is now streaming on Stan…
Check out the risque documentary, There is No 'I' in Threesome
The risqué HBO Max Original documentary film There Is No "I" in Threesome premiered on FOX SHOWCASE this week and is now available to watch On Demand.
Created by New Zealand-based filmmaker Jan Oliver Lucks, The New York Times called the documentary "an astute examination of perspective" and the Los Angeles Times described the final twist as "shocking."
With their wedding only a year away, filmmaker Lucks and his long-distance fiancée take a giant leap of faith and embark on a colourful adventure of sexual experimentation.
Throwing traditional rules to the wind in favour of an open relationship, they self-document their journey with great honesty – from the good, to the bad, and everything in between.
But what begins as a fun way to explore themselves and satisfy curious libidos quickly evolves into an intense examination of their relationship and how much it can withstand. Filmed primarily using phone cameras and video chats, There Is No "I" in Threesome is an intimate, surprising look at a modern-day love story – with a shocking ending you won't see coming.
There Is No "I" in Threesome is now streaming on Fox Showcase…
Laura's Choice will be featured on the ABC and iView later this month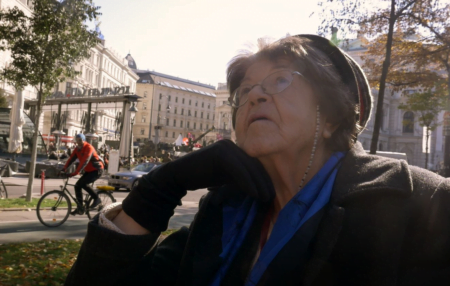 A documentary called Laura's Choice was made by Laura Henkel's  daughter – documentary filmmaker Cathy Henkel (The Burning Season, The Man who Stole my Mother's Face) and her granddaughter Sam Lar. It's a remarkable portrait of a family facing this incredibly difficult and profound decision.
The ABC is screening the film in two parts on March 17 and 24. At the sprightly age of 86, Laura Henkel decides to go on a river cruise in Europe with her granddaughter, Sam, and fulfill a childhood dream of visiting Vienna.
However, after a harrowing fall, followed by a life-threatening case of pneumonia, she returns to Australia with a transformed view of her future. She tells her daughter Cathy that she wishes to end her life on her own terms. She wants to be in control of the process, to set the time and place, and be allowed to go with dignity. 
Initially she plans on doing this in her home in Ballina, but after hearing about a clinic in Switzerland where her right to do this with her family by her side is legal, she shifts her focus. She begins the arduous process of applying to the clinic online and tells her daughter and granddaughter she'd like them to go with her and be with her in her final moments. She also asks them, both filmmakers, to make a film about it. She wants to make some noise about the right for elderly people to choose where and when they die. 
Both Cathy and Sam are opposed to the plan at first and reluctant to assist, but soon realise their only choices are to support her or walk away. They realise they have a finite number of days left with her and so they plan activities and events to create lasting memories and meaningful ways to say goodbye.  
Laura plans a farewell party a few days before her departure for Switzerland.  She wants her death to be a 'happy event' and questions why we have to make this major part of life so sombre. She wants a joyful day, like a birth or a wedding. She asks that there be 'love, good memories, but no tears'. The theme she chooses for the party is the Mad Hatters Tea Party.
As Cathy and Sam try to understand Laura's choice, and uncover a range of conflicting views on the issue in the wider community, they also have to fulfill her wish of directing a film about it. Accompanying Laura on her journey to Switzerland and her last days and moments will test them as never before.
Laura's Choice exposes and explores a lot of complex and often taboo questions as three generations of women travel into uncharted territory and navigate the legal, moral, ethical and emotional issues which arise from Laura's wish to end her life, on her own terms.
"I feel I have had enough and am quite ready to go. I do not want to wait for some debilitating disease to carry me away – and going into an aged care facility to endure pain and suffering to the bitter end is not a future I choose for myself. My choice allows me to say farewell joyfully and then go to sleep in peaceful surroundings, with my family beside me at the end, while I am still able to say thank you for all they have done for me." Laura Henkel.

Laura's Choice will stream on the ABC and iView on March 17th and 24th…
For more from Women Love Tech about what's streaming, take a look here.