Oh Apple, will you ever cease to amaze and style us, redefine and personalise your devices, and continue to make smaller and more brilliant gadgets to make our lives that little bit easier and more beautiful?
Apple has just reported a $14billion profit for the first quarter of 2015 (yes, quarter) with sales of 61million iPhones alone. If this remarkable uptake of their iconic product is any indication, we'll all be sporting Apple's latest fabulously user-friendly and surprisingly fashionable timepiece – and well, life extension, on our wrists in no time.
Apple says there's 'Innovation in every interaction' with the Apple Watch – and they're not far off. It's unlike any device they've ever created and it's also unlike any smart watch we've ever experienced. It's easy and intuitive to use, and since Apple has been teaching us a new way of technological interaction since the iPod back in the early 2000's, it's no wonder that we have a built-in knowledge of how to use the Apple Watch. Although, given the size of this little beauty, Apple did have to invent all-new ways to navigate and input that are suited to the smaller device worn on the wrist. True to their brilliance, Apple managed to do both, creating a product and experience that's both unique to Apple Watch and one that is also quintessentially Apple.
Same, Same, But Different
The Apple Watch is designed around intuitive functionality and simple gestures – such as zooming and panning – from the moment you wake the display face (with a simple raise of your wrist), you'll be super comfy using the Apple Watch. The OS feels fresh, but it's visually reminiscent of what you're used to from Apple so it comes naturally, in an Apple kind of way! Display and arrangement of Apps is simple and sensical and nav is fluid and responsive. You might wonder how you can read such a small display? Well, Apple has innovated to cater for this too (of course) with a new typeface to maximise legibility.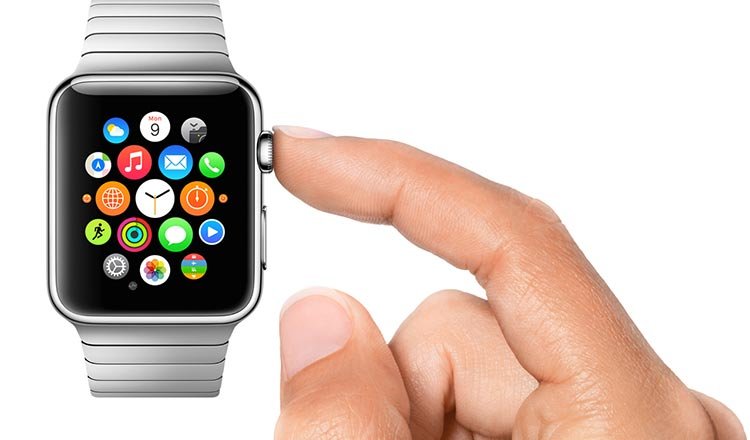 A Digital Crown: The Pièce de Résistance
While breaking all barriers of technological design and innovation, Apple has been inspired by traditional time pieces with the Digital Crown on the Apple Watch as this device's bespoke input device. On mechanical watches, the crown has historically been used to set the time and date, and to wind the mainspring. Apple has re-imagined this tiny feature as a versatile tool that answers the fundamental challenge of how to magnify content on a small display. Pinching to zoom, as you do on iPhone, is impractical. But turning the Digital Crown allows you to navigate nimbly and precisely, without obstructing your view. You can zoom in and out of photos, quickly scroll through lists, input data, or press it like a button to return to the Home screen. It might be the tiniest little characteristic, but it's integral to the experience of the Apple Watch.
Clear As Crystal
We love a good pixel density and they don't come much higher than the Retina display on the Apple Watch. It makes numbers and text crystal clear and easy to read at a glance – even when you're on the move. Pics and graphics render with intense clarity and contrast – even the hair-thin second hand on the watch face is seen in stunning clarity. But never fear, this display is also extremely energy efficient – critical obviously for a device you wear and interact with all day everyday. Then there's the sapphire – on most Apple Watch models, the display is laminated to a machined and polished single crystal of sapphire. Next to diamond, it's the hardest transparent material. On models in the Sport collection, protection is provided by strengthened Ion-X glass. Yep, impressive. 
It's a Super-Sensitive Type
All Apple products are sensitive to touch, but in addition to recognising touch, the Apple Watch senses force, adding a new dimension to the user interface. Apple Watch innovation has literally given technology a 'more human touch'. Using tiny little electrodes around the flexible Retina display, Force Touch can distinguish between a light tap and a deep press and the difference triggers a range of contextually specific controls. Pressing firmly, for example, throws up additional controls in Apps like Messages, Music and Calendar. Maybe you want to pause music, end a workout, search for an address in Maps or just see a different face? No problem, Force Touch allows this and is the most significant development in new sensing capability since Multi-Touch.
Talks To You In Touch
Not only does the Apple watch respond to you with your touch, but it touches you back. Combined with subtle audio cues from the specially engineered speaker driver, Apple Watch literally taps you on the wrist whenever you receive an alert of notification. In more geeky terms, it's called the Taptic Engine — a linear actuator inside Apple Watch that produces haptic feedback. The Taptic Engine creates a discreet, sophisticated and nuanced experience by engaging more of your senses. It also enables some entirely new, intimate ways for you to communicate with other Apple Watch wearers. You can get someone's attention with a gentle tap. Or even send something as personal as your heartbeat. Awwww, we love that.
Talks To Your Heart & Knows You Better
Apple Watch sits right next to your pulse and is in the perfect place to collect data about your physical activity, a task it performs all day, every day. On the rear of the case, a ceramic cover with sapphire lenses protects a custom designed sensor that use infrared, visible LEDs and photodiodes to detect your heart rate. Apple Watch functions as a super workout device to give you a great comprehensive view of your workouts and daily activity, suggest personal activity goals and reward you for reaching your own milestone.
At A Glance: Just the Right Amount of Info, Exactly Where You Want It
Glancing at a watch is second nature and of course Apple has taken this learned human behaviour and designed and intuitive technology to suit. Glances, is scannable summaries of the information Apps you use most frequently. To use Glances, you simply swipe up from your watch face, which is akin to the way you swipe up to access frequently used Apps on your iPhone. Instantly your can glance the weather forecast, check your calendar or your current location and you can quickly swipe through different Glances – or tap one to go directly to the corresponding App for a more in-depth look.
Alert Me (With A Tap)
The whole idea of the Apple Watch is to interact with you in a more personal way, based around your life and your schedule. With the Apple Watch, your alerts and notifications aren't just instant, they're intimate. With a gentle tap on the wrist, notifications subtly let you know when and where your next meeting starts, what current traffic conditions are like and even gives you a little nudge to let you know when it's time to leave so you get wherever you're going on time. You'll receive realtime notifications for incoming mail, messages and calls and at any point you simply swipe down to Notification Centre to check out what you've missed if you happen to go off-grid at any time.
Siri – Love Her Or Hate Her – She's More Useful Than Ever
Let's face it, you're either a Siri user, or you're not. There's really no in between. Personally, I'm not. But, having said that, with Siri on my wrist – she's more accessible and quite frankly, downright helpful. On your wrist, Siri is with you at all times and is easily accessible and allows you to be more spontaneous with your requests. Just raise your wrist and say "Hey Siri" – James Bond style – or press and hold the Digital Crown to dictate messages, get turn-by-turn directions or stay up to date with your calendar with instant responses to your verbal enquiries.
Dare I say it, but like the iPhone kind of made my iPad obsolete, the Apple Watch is fast taking over from all my other devices. And it's all about just how intimate you can get with the Apple Watch. So, until Apple develops something that is implanted into my brain, this is a pretty damn easy to use and as personal as a device can get.
What's In The Box?
Do you have an Apple Watch? Tell us how you use it and how it compares to your other devices in the comments below…