Kylie Merritt is the co-founder of ausbiz (alongside TV Presenter David Koch, who also serves as executive chairman).
With over 20 years' experience, Kylie is disrupting the world of media and finance. What's even more astounding is the former Commercial Director of Sky News and CEO of Your Money, launched the company in the midst of the global pandemic.  
Here, Kylie talks to Robyn Foyster, the owner of Women Love Tech and the new thought leadership agency InProfile, about her FinTech business and commitment to support the Australian business community and investors.
Robyn: Kylie Merritt, you started off as a journalist and now you're an entrepreneur and the MD and the co-founder of ausbiz.
Kylie: I am and still a journalist, once a journo always a journo.
Robyn: You're in partnership with TV presenter David Koch, who was my colleague when I was at Channel 7's Sunrise … he's a lovely man. But you go way back with Kochie, don't you?
Kylie: Yes. David gave me my first job in finance as a journalist 20 years ago.
Robyn: So he started as your mentor?
Kylie: Yeah in a way.
Robyn: And now he is your partner in business which is a great transition to make.
Kylie: Yes, when I had the loose idea for ausbiz, I went to him and said 'I'm thinking about doing this' and from the outset he was boots and all and said 'let's do this'.
Robyn: I love that sort of drive that Kochie's got and that's great when you've got a good idea and someone who backs you.
Kylie: I mean that's finance, right, at the heart of it and we're all finance geeks otherwise you wouldn't be doing it. 
Robyn: I'm really impressed with what you've set up. I was riveted watching ausbiz over the last few days. But first tell us about your time working with Kochie and Your Money. 
Kylie: Your Money had a very different goal to ausbiz. I guess it has broader, sort of retail finance approach. I think ausbiz is very much markets' focused. We don't do educational investing type 101 stuff, it is very much a channel and a product for people in financial markets in corporate Australia.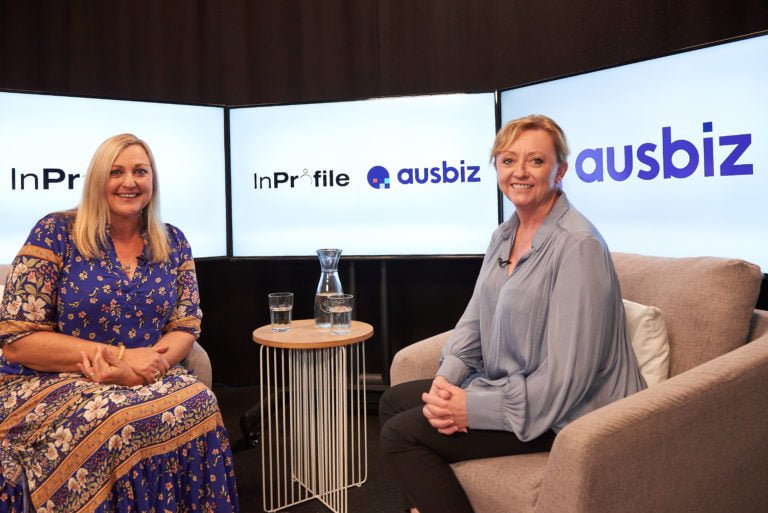 Robyn: Information is everything  and it's got to be quick and accurate.
Kylie: The great thing about it is it's a streaming business and we've been able to break away from from what traditional television dictates, where you have to do things in a certain way.  We just took a decision that really people only want to watch a finance channel when the markets are trading. So we go from 8.30am until 4.15pm live. We do between six and eight live interviews an hour, so around 50 interviews a day. 
Robyn: Fifty interviews a day is huge amount.
Kylie: We don't replay anything. In any one hour, you'll hear from fund managers, stockbrokers , analysts, economist, business owners, corporates, CEOs and then some start-up content as well in the afternoon. It doesn't really look or feel anything like a traditional sort of business network. 
Robyn: Which is what I love because when you're creating a brand from scratch you can really be the master of your destiny.  You can actually try things and then change them and you're creating a new norm with your media. It's a new format altogether. 
Kylie: We are. I really liked the discussions we had with people in the sector before we launched. We went to them and said 'Now, we've been doing this for 12 years and we've never had the time and space to sit down with people in the market and say if you were doing this from scratch what would you like to watch?'. And they told us and it was quite different to what we thought that they would like to watch and so we did make a lot of those tweaks. We get a lot of feedback over email from viewers and we incorporate a lot of that into what we do and the other great thing about running a streaming service is 50% of our viewing is actually on demand so we can see really quickly and really clearly what kind of content play we'll like and you can just react to that. That's why we look quite different now to when we launched on March 30, 2020. 
Robyn: Fantastic, so to recap, you launched your start-up in March last year and you already have 25,000 subscribers. And you did it in the midst of Covid… 
Kylie: And because we weren't around in pre-Covid, we don't really have anything to compare ourselves to. We don't know if we'd have gone better or worse than we would if everything was as per the business plan. There are a lot of technology challenges that came from Covid. There was also unprecedented market volatility which meant more people started investing or trading which meant more people were actually interested in this content. 
Robyn: The fact is you've survived in a really tough market and when the market improves you're going to thrive. Well done on that level  and for those watching, how can people get  and involved in ausbiz or from investing to advertising to sharing their stories?
Kylie: Just email [email protected]. I feel very strongly about all of the interviews that we have on the channel are editorially driven, so we don't do paid advertorial. I think it needs to be very, very black-and-white. We invite people on because we want to hear from them, not because they paid. As I said, we do 50 interviews a day and we are always looking for interesting stories. The guys who run Start Up Daily do between eight and 10 interviews in an hour largely with the Australian start-ups and that's been really well received too.
Robyn: I have to say I am a big fan of Start Up Daily myself. Well I wish you all the best. It's really exciting what you are doing. I think it'll be a huge success too, good luck. 
Kylie: Thank you, I appreciate it.