Journalist Kerry Heaney reports on the The Australian Women's Leadership Symposium held recently in Brisbane, Queensland.
If you feel that you are not part of the in-crowd and you don't fit in, you are not alone, but you may be experiencing the phenomenon of being 'othered'.
Six prominent women at The Australian Women's Leadership Symposium held in Brisbane on June 24 joined a panel to reveal their experiences of being marginalised by society as others. Their stories showed that difference was an issue for many but could be a means for change.
The 'Embracing the 'other' in others and ourselves' panel discussion saw a diverse series of 'othering' issues revealed, ranging from cultural background and sexuality to disability and profession.
Othering is a term used to describe a thought process, both conscious and unconscious, that assumes people who don't fit society's norms are less worthy of dignity and respect.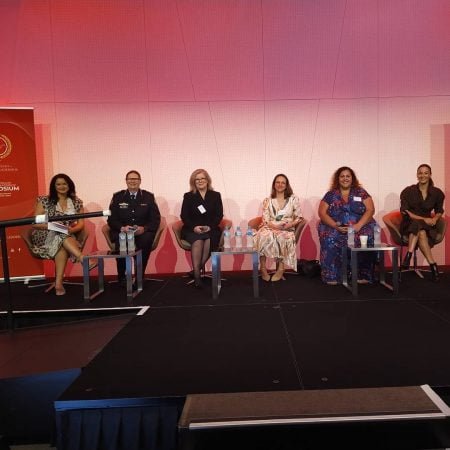 Natasha Chadwick, Founder and CEO of NewDirection Care and a pioneer in the Australian aged care industry, revealed the extent of othering in society shown by the treatment given to people with dementia or brain disease.
"We lock people up because they are different, because they are living with a disease we don't understand," said Chadwick.
Her response to the issue has been to build the world's first inclusive microtown™ aged care neighbourhood.
"We created a whole community that is incredibly inclusive. It doesn't matter what your diagnosis is. It doesn't matter what your beliefs are. It doesn't matter what your identity or culture is, you can live at our microtown™ in the way that you have always lived your life."
She also revealed that NewDirection has licensed a microtown™ model so any age care organisation can benefit from their experience.
"That's nine years of learnings so they can begin immediately without going through the many mistakes we made along the way."
"When I started out on my journey to create change, it was seen by many within my sector as 'Natasha's Foly'. However, I can tell you that the winners or the ones with the last laugh are the people that live in our microtown™ that we did create. They live a life full of joy that's not just about being in care."
Leah Cameron, Principal Solicitor and Managing Director of Marrawah Law, chose to establish her Indigenous legal practice because "People don't know how to treat an Indigenous woman in the law."
"The old pale male stale lawyers were bullying everyone, and I decided I didn't want to put up with that, so I created my own firm. Our otherness is our superpower," Cameron said.
Alexandra Kennedy-Clark, General Manager Condarbri, Talinga and Orana Asset at Origin, felt othered when her workplace couldn't supply safety boots that fitted.
"I was the first female who worked outside the administration centre on the site. I was a problem because safety boots didn't come in a size small enough for me to wear," Kennedy-Clark said.
Disability Activist Angel Dixon OAM believes the onus for inclusivity needs to be removed from the individual and put back on society with universal design so everyone can use the same facilities.
"When I encounter a barrier (stairs instead of a ramp), I am disabled," Dixon said.
Inspector for the State Intelligence Crime and Intelligence Command of the Queensland Police Service (QPS), Gai Bolderrow, is a founding member of the Lesbian, Gay, Bisexual, Transgender, Intersex+ (LDBTI+) Support Network for QPS staff. Bolderrow said she kept a very low profile for many years and tried not to be noticed.
"In 2015, we set up the internal self LDBTI+ support network," Bolderrow said. "It really helps the organisation move forward, although let's be clear, it's still got some work to do in the inclusion and diversity space. It's been empowering to see the things that the organisation is taking on from what we have suggested and be able to provide support to the LGBTI+ staff in the Queensland Police Service."
The Australian Women's Leadership Symposiums are held annually around Australia by Women & Leadership Australia (WLA). A national initiative, WLA encourages women in business and community leadership roles by offering a range of professional development programs.
About NewDirection Care
NewDirection Care Bellmere is the world's first MICROTOWN™ inclusive community that provides freedom of movement, independence, and choice for the elderly and those living with a diagnosis of dementia. NewDirection Care is a multi award-winning residential community based in Bellmere, Brisbane, for the elderly and for those living with younger onset dementia and complex care needs. It is a place where residents can enjoy fulfilling and happy lives beyond diagnosis—socialising, staying active, pursuing hobbies and continuing to play a role in the community. NewDirection Care developed a multi-skilled role that you will find nowhere else in the aged care industry called House Companion™ Support Workers.
More information available here: www.newdirectioncare.com.au