Five years after the launch of Facebook Marketplace, the social media giant is rewarding its users with a stack of new features including new ways to buy and sell, insights on what's trending now, and tips for responsible shopping.
In addition, Twitter is testing a new format for ad placement in Twitter Conversations.
Get notified about listings that may interest you
Facebook Marketplace has just become that extra bit intelligent. Now, it'll take into consideration the searches you've been making and the chosen criteria, and it will notify you when any new listings become available.
Say you're looking to buy a new fridge, and you're based in a certain area, looking for a certain price range; Marketplace will let you know when there's anything new that might interest you! That way, you'll never miss a potential purchase.
Shop from everywhere!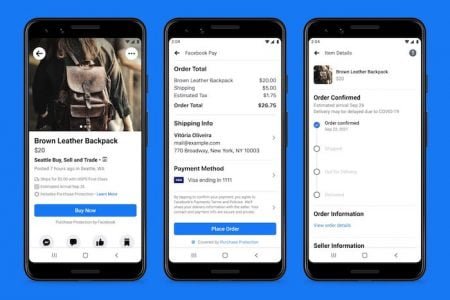 It's no longer limited to local businesses. Marketplace has expanded its shipping locations for both buyers and sellers. For the time being, UK shipping is available for person-to-person, non-professional sales (in the coming weeks), and also available for Buy and Sell groups in the US.
What's trending?
Everybody is looking for something different. But, people still have some things in common:
Top searches: As of September, the top searches on Marketplace in the US include desks, couches, patio furniture, campers and boats.
Most popular categories: And the most popular categories on Marketplace in the US include household items, furniture, baby and kids items, women's clothing and shoes, as well as cars, trucks and motorcycles.
Sustainable style: Another trend we're keeping our eyes on? The demand for clothing. Over the summer, we saw a 60% increase in interest for clothing on Marketplace in the US. Supply also increased during this time, with the number of clothing listings for sale rising by 20%.
Buy and sell responsibly
Facebook wants its users to feel comfortable using Marketplace. To ensure its trustworthiness, Facebook has added even more ways to help you buy and sell responsibly.
Create and share a meetup plan: Create a meetup plan for an in-person transaction — including location, time and date — and share it with your friends via Messenger to let them know where you're headed and encourage safer meetups. This feature is available most places Marketplace is live.
Meetup preferences: Sellers can let buyers know how they prefer to exchange an item locally, such as a public meetup or via door dropoff or pickup to minimize in-person transactions.
On your end, here are some tips you can take on board to help you feel comfortable about buying and sellingon Marketplace:
Meet in a public, well-lit area: Arrange your meeting in a public, well-lit area. If you choose to meet at someone's home, consider bringing another person with you and let others know where you're going.
Verify the item. Make sure the item is what you want before you pay for it. Beware of payment scams and avoid transactions requiring you to pay with gift cards. Understand what's covered by Purchase Protection.
Protect your personal information. Don't share personal information such as your password or bank account information to make or accept a purchase.
Report suspicious items and activity. If you think a buyer, seller or product violates Facebook's Commerce Policies, you can report them.
New Twitter Ad Placements
Recently, Twitter announced that a new ad format would be put to the test on its platform. Now, on iOS and Android, ads will appear after the first, third or eighth reply in a Conversation.
Over the coming months, Twitter will experiment with different layouts, relevant ads, and more to see how it affects users.
"As Twitter evolves and brings forward more ways for people to connect and talk, we continue to evaluate how we can extend this to our advertisers and partners," said Twitter's Revenue Product Lead Bruce Falck.
Let us know what you think of the changes in the comments below!