We all love movies, and none more so than our kids. There is no greater feeling than watching your children smile and laugh when you take them to the cinema. Let's face it, it's a great excuse for you to enjoy the latest animation through the eyes of your children. However, choosing which movies to watch can sometimes be a difficult decision. Do the kids want action, animation or a laugh out loud film? Is the content appropriate for their age group? Well, there's a brand new website to help you, called MovieKids! which is purely dedicated to kids.
Paul Maddox, MovieKids! creator said, "Magazines are expensive these days and are becoming less relevant to children who favour technology, so we have created a vibrant website in the way that you would produce a magazine. Kids can access it independently with parents safe in the knowledge that the site is packed full of age-appropriate content. Kids movies are one of the biggest box office draws, but there is no website showing kids what to watch that doesn't contain adult content. As a parent myself, this worried me, so we came up with the idea of MovieKids!"
The website is full of fun things to watch and do all in one place! Watch the latest trailer releases and soundtrack music videos, read current movie news and discover more about the actors behind your favourite characters. If your children love to draw then get them to send in their movie character art work and it will be shown on MovieKids! so they can show it to their friends. Or watch videos teaching them how to draw their favourite movie characters, drawn by the artists themselves. You can even have a go yourself! Laugh out loud at funny movie jokes or check out behind the scenes videos on how some of your favourite movies are made. Bored at the weekend?! Then print out one of the latest MovieKids! Activity sheets, filled with colouring, puzzles, games and much more, a must to keep the kids entertained.
MovieKids! has everything a young movie fan needs. Be sure to check it out and plan your next movie adventure with your kids at www.moviekids.co.uk
Watch our top 5 movie trailers we recommend for you to look out for! Coming soon to cinemas near you.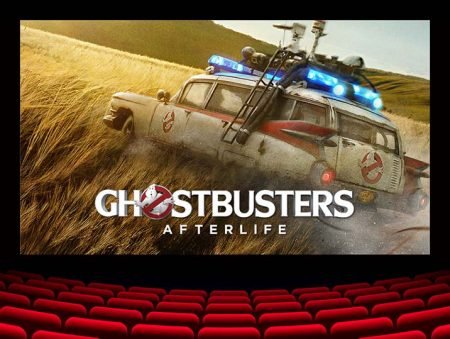 Are you ready to be spoooooooked! When a mum and her kids move into an inherited, creepy farmhouse in Oklahoma strange things start to happen. The family discover objects connected to their grandfather's ghost busting past, and the children must decide if they are ready to follow in his footsteps and become GHOSTBUSTERS!
The creepy, kooky, mysterious and spooky family return to get tangled up in more madcap adventures, and find themselves running in to all kinds of unsuspecting characters along the way.
3 Sing 2
Join Buster Moon and his all-star cast of performers as they prepare to launch their most dazzling stage extravaganza yet, all in the glittering entertainment capital of the world! There's one hitch, they have to persuade the world's most reclusive rock star to join them. What begins as a dream of big-time success, becomes a reminder of the power of music to heal even the most broken heart.
'I feel the need, the need for speed!' The beloved '80s fighter pilot classic is gearing up for Top Gun 2, yes Maverick is finally back. After more than thirty years away of service as one of the Navy's top aviators, Pete Mitchell (Tom Cruise) is where he belongs as a courageous test pilot and dodging the advancement in rank that would ground him.
Ron's Gone Wrong is the story of awkward school kid Barney, and Ron, his walking and talking digitally connected Robot, and new best friend! Ron goes, yes you've guessed it, wrong. These malfunctions lead them on an action packed journey and a path to true friendship.