The Post-it Notes App is great to use for jotting down notes during meetings and brainstorming sessions.
It can capture your handwriting or drawings. You can scan paper versions of notes into the app. You can capture up to 200 notes and then easily digitize them so you can cut down on the time you used to spend transcribing them.
But I prefer to type straight into the app. You can change the font to simple, scribble (handwritten), old school (typewriter) and marker (felt-tipped pen). You can align your text left, centre and right. The formatting options are limited to changing the paragraph text to a numbered list, dots or dashes. The pen colour options are black, red, green, blue and an eraser.
Until you get the hang of the app, it's handy to use the undo button and eraser as needed.
Then you can select your favourite colour for the note. You can also change the shape from square to rectangle and size. Then you can move the notes around and organise them into groups.
I've used the  Post-it Notes App to keep track of my daily to-do list, groceries and my current goals. I enjoy being able to colour-code the notes. Just click on the box in the left-hand corner and select from one of the 15 colours.
Then you can share your brainstorming sessions with your colleagues, family or friends on one central group board.
"Millions of people use Post-it App on all their devices to capture and share their physical and digital Post-it Notes," said Heather Green, Global Business Vice President, of Post-it Brand. "Brainstorming Session mimics the free-flowing, in-person collaboration experience that allows for uninterrupted idea exchange – all within one platform and on one shared canvas. Notes are added to the shared canvas when the creator deems [the timing] is right or the thought is complete to help simulate the in-person experience."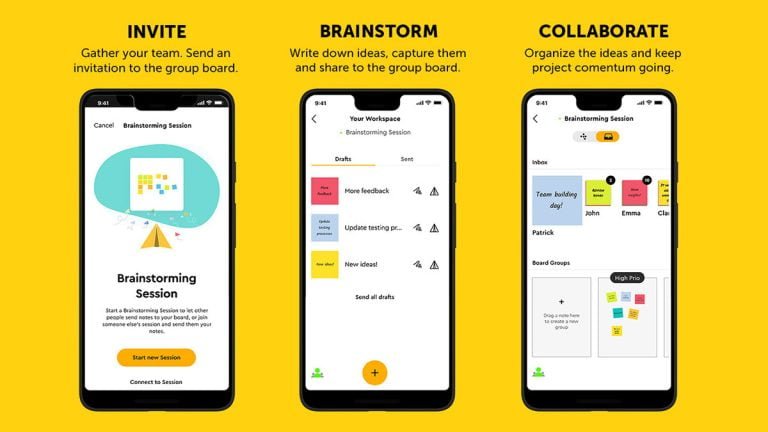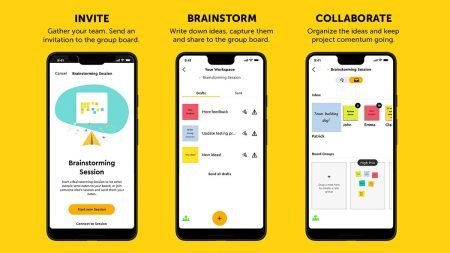 "Working together, even when apart, is made a lot easier with the Post-it Notes App, providing a seamless way for millions of users to digitally capture physical notes and share with teams without delays," said Heather Green, Global Portfolio Director, Post-it Brand. "With the new integration with Miro, teams can extend the possibilities of remote collaboration to grow and achieve their ideas from start to finish."
There is a handy shop icon in the top right-hand corner, where you'll be tempted with purchasing colourful paper stickies. You won't be using just yellow stickies anymore.
The Post-it Notes App keeps your options simple – so it's easy to learn and perfect for small notes.
The  Post-it Notes App is available for free download in the Google Play store for Android, Apple App Store for iOS and Mac App Store for macOS Catalina.
About 3M
3M applies science in collaborative ways to improve lives daily. Learn more about 3M's creative solutions to global challenges at the official 3M website.
About Miro
Miro is a collaborative whiteboard platform used by 15 million people around the globe for a visual representation of thought and innovation. With more than 70 app integrations, the platform serves as one central workspace for remote and distributed teams to collaborate seamlessly. Miro was recently ranked the second-fastest growing business app by Okta and is currently used by 95% of the Fortune 100.
Miro is available for free on the web, desktop, mobile and tablet across Mac, Windows, iOS, and Android. For more information visit the Miro website.