The Nanoleaf Shapes Hexagon Starter Kit is a fun way to jazz up your gaming or entertainment room.
The Shapes range promises users will have ultimate design freedom to create everything from abstract geometric layouts to true lighting mosaics.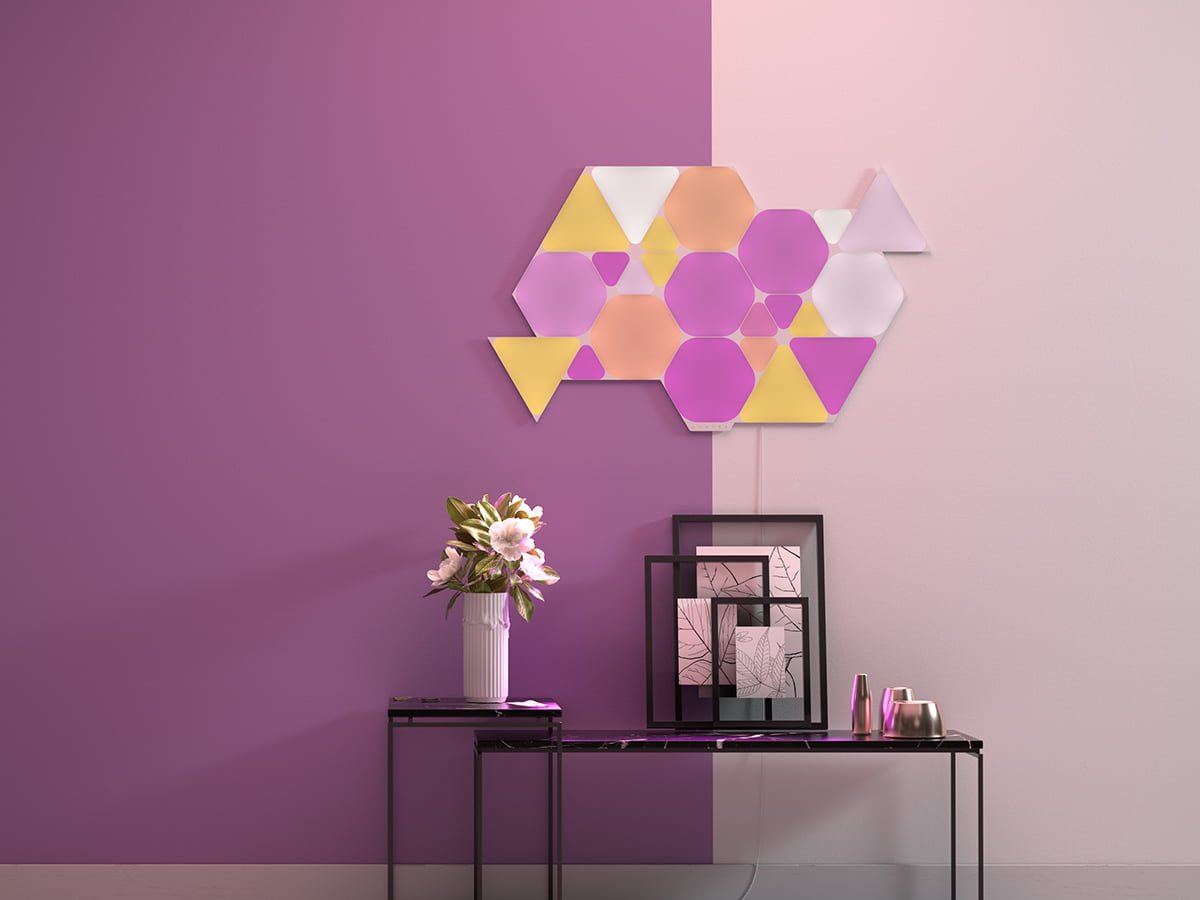 The lights are designed to be installed indoors and on a flat surface. It's best to avoid placing them on textured, porous, popcorn or ceilings, like brick walls and wallpaper.
Shapes Hexagon Starter Kit Features
A modular lighting system which allows you to add extra shapes from the Connect + range
Lights display 16M+ colours with 1200K to 6400K white light temperature range
Brightness control
The light panels respond to touch or play interactive games
The rhythm scenes coordinate to your favourite songs in real time
The technology detects your layout and adapts the flow
Easy to set up with mounting tape and clip on attachment
"At Nanoleaf, we're constantly pushing the boundaries of what is possible with lighting. The smart home should provide limitless options for users, creating experiences that are unique to each person," said Gimmy Chu, CEO and co-founder of Nanoleaf. "With our new Shapes Hexagons leading the Smart Decor category, we're fusing technology and design to bring to life the intelligence of smart lighting while encouraging creativity through flexible, unified capabilities. We believe the future of smart lighting truly has no limits."
Nanoleaf Shapes Hexagon Setup
The box contains a QR code, nine hexagon shapes, a quick start quide, a card of layout patterns, power cord, remote controller, wall stickers (mounting tape) and connectors.
You'll need to plugin in the powerpack and turn it on, so that you can pair with the app.
Take note that there are two QR codes – one for iOS and one for Android devices.
This was the hardest of all three Nanoleaf products to set up. You'll need to make sure your router is configured with 2.4Hz enabled, as it only works with these networks.
You might want to test them out on the floor first before mounting. I placed mine on a very large flat canvas panel from the art shop. Then moved the hexagons around until I found a pattern I liked.
A couple of panels didn't light up on the first so go, so I had to turn them off. Then have another go at attaching them together with the connectors a little more firmly. The Ridge Linkers (connectors) snap on and off and are available to purchase more. You don't need to attach all adjoining sides.
The Nanoleaf app is easy to use and it's fun to try out different pre-made patterns.
Before mounting on the wall, clean your surface to ensure it is free from dush and moisture.
If you are renting or have walls with asbestos, then you might like to consider purchasing a wood panel and mounting them on there. You can buy these from your local hardware store or art shop.
Nanoleaf Shapes Hexagon Review
The Nanoleaf Shapes Hexagon are a unique product on the market with some amazing technology behind them. If you have the budget and want to create a show-stopping gaming or entertainment room lighting, then these are perfect.
Nanoleaf Shapes Hexagon works with the Shapes line, but it is not compatible with Rhythm Light Panels or Canvas. The light panels currently come in squares, triangles and expansion packs.
Works with Apple HomeKit, Google Assistant, Alexa, IFTTT and SmartThings.
https://nanoleaf.me/en-AU/products/nanoleaf-shapes/
About Nanoleaf Shapes Range
The Nanoleaf Shapes Range currently consist of Hexagons, Triangles, and Mini Triangles. As opposed to previous instalments of the Nanoleaf Range, these various shapes interconnect with each other, allowing full control over design and size. Reminiscent of mosaics or stained-glass windows, these lights function as the perfect addition to any setting from the living room to the bedroom. #nanoleaf #shapes #hexagons
Retailers: Nanoleaf AU Store, JB Hi-Fi, Officeworks;
RRP: Starting from AUD$199.99
About Nanoleaf
Nanoleaf is a technology and IoT company changing the world with the most innovative smart home solutions, taking ordinary experiences and making them extraordinary. By infusing thoughtful design and technological intelligence in their products, Nanoleaf is ushering in a new era of the smart home that centres around complete personalization.
Nanoleaf was founded in 2012 by three engineers wanting to shake up the lighting industry. The company now has a global presence with offices in Shenzhen, Paris and Toronto. Made up of a diverse team of passionate out-of-the-box thinking problem-solvers, Nanoleaf strives to transform and reshape the way we experience our world. To find out more, head to the Nanoleaf website.