It wasn't too long ago we saw Sophie Monk on our television screens as the star of The Bachelorette Australia. Right now you can catch her in a much different role but she still looks pretty glam. She's cooking up a storm with different celebrities as part of a promotion for HelloFresh on Dish The Delish on Instagram and Facebook.
It's all part of the new HelloFresh campaign where Monk is "the hostess with the leastest" as she says herself – because she's never hosted a cooking show before! But she's having a lot of fun with guests like Julia Morris. They roll out the box from HelloFresh and voila – with a recipe card and all the right ingredients, away they go.
The always-funny Julia Morris joins Monk in the first episode and the two talk pop music, comedy and spray tans – all while rustling up a delicious meal. Monk takes to the format easily and while she's clearly out of her depth in the kitchen – she can spar with Morris and it's all a lot of fun.
We caught up with Sophie Monk and asked her how she came to find herself hosting a cooking show and lots of other stuff. Here's what she said:
On the Dish The Delish. it looks like you're really enjoying yourself. Are you finding you're actually having a good time as you chat to these celebs and both cook up a meal?
This is my first time ever hosting a cooking show so I'm very excited to work alongside HelloFresh as it's the perfect opportunity to catch up with friends and have a giggle.
Do you enjoy doing a bit of cooking for yourself?
I'm not the world's best cook, but I am starting to feel more confident in the kitchen. Josh and I have had more time at home lately and we've enjoyed getting back into fresh home cooked meals. Everything we've cooked has been absolutely delicious – we are obsessed.
One of the benefits of HelloFresh is there's less food wastage because they give customers the exact amount they need for everything. Do you feel strongly about this aspect of the product?
Yes, absolutely! Being able to plate up a delicious dinner and reduce my food waste is great. When I buy from the supermarket, I always end up with excessive ingredients like nuts, herbs, spices…. it just goes to waste!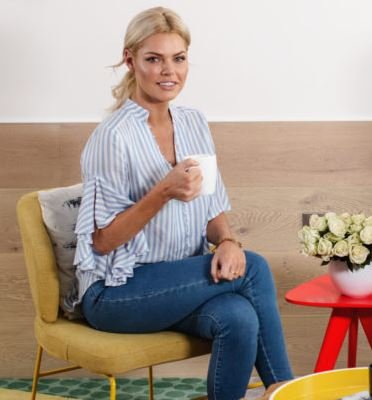 We've seen your next guest on Episode 2 is Peter Helliar. This one's very funny as well. When looking at the episodes you've shot so far, are there any particularly funny parts we should watch out for?
The entire episode with Julia Morris is hilarious, she's just so funny! I'd love to pursue a career in comedy so getting to cook alongside her was awesome…. I even share some of my comedy material with her…. consider it my mini debut as a stand-up comedian. And the fun continues with Peter which is live now on our Facebook and Instagram accounts.
Can you let us know who some of the other guests are?
I can't give away too much just yet, but you can expect some of Australia's favourite celebrities.
How long can we expect to be served up these great episodes of Dish The Delish?
As long as people keep watching and as long as my friends want to join me!
Is there anything else exciting you have in the pipeline you can tell us about?
2020 has been a confusing year so I'm lucky enough to be working on some fun projects.
For our Women Love Tech readers, what are your favourite Apps?
I love Instagram and Youtube 90 Day Fiance and Kyle and Jackie O.
What are you watching right now?
The Amber Heard and Johnny Depp saga unfolding plus all the crime documentaries.