The Tokyo 2020 Olympics is finally at its close. And even though this year, nothing quite operated in the same fashion, these two special weeks have had it all! Records have been broken, dreams have become reality, tears have been wept, and most importantly…there was unity. In the midst of highly unprecedented circumstances, the Tokyo 2020 Olympics will go down as one of the most historically pertinent games of our time.
Here, Women Love Tech takes a look at the final leaderboard, world records, our favourite moments, and everything in between.
Tokyo 2020 Olympics Standings (Top 10)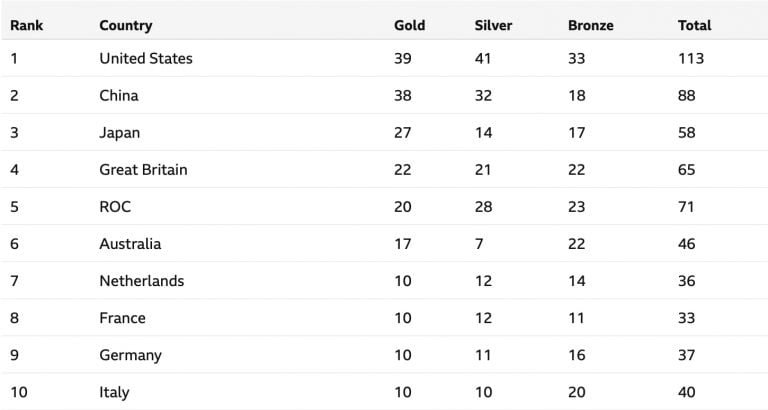 For the third time in a row, the United States finished in first place with 39 Gold medals and 113 in total. Just behind, China with 38 Gold medals, also had a strong Olympics but couldn't hold onto the lead. Japan, in third, will have no regrets, producing a performance to be proud of on home turf. Elsewhere, our Aussies finished strong, too. After finishing 6th in 2008, they dropped down a few ranks in both 2012 and 2016, only to climb back up in 2020. Onwards and upwards for the green and gold!
Moments that made us smile
A spectacular opening ceremony
As expected, Tokyo delivered an opening ceremony to remember. Full of colour, lights and excitement, the opening ceremony provided the perfect starter for the games ahead.
And who better to light the Olympic cauldron than the beloved Naomi Osaka  (in the above feature image) of Japan!
Olympic passion
Despite empty stadiums, the passion for the Olympics truly remained. In one of the most heartwarming moments, Italy's Tamberi and Qatar's Barshim shared the Gold medal for Men's high jump.
New events
For the first time ever, the Olympics introduced Skateboarding as an official event.
Mental Health
(Photo credit: Hello Magazine)
Mental health was a big theme during these Olympic Games, and rightfully so. Some big athletes stepped up and spoke out about the importance of taking care of themselves during these highly stressful times. Simone Biles, for one, stepped down from an event to prioritise her own health and to not put the team at risk of missing out on a medal. In the end, she came fighting back to win Bronze in the Beam final.
Noah Lyles also kept the mental health conversation well and truly alive when he broke down into tears at the guilt of not being at the Olympics with his brother, Josephus, an elite sprinter whose dream was to qualify for the Olympic team. He also spoke of the challenges of being on and off antidepressants and gave us one of the realest quotes of the entire Olympics:
"I am not defined by being an Olympic bronze medalist, or a world champion, or the high schooler that went pro," he said. "That's not who I am. I'm Noah Lyles. I'm not Usain Bolt's successor. I'm not Andre de Grasse's successor. I'm nobody's successor. I am me. And that's who I'll always be."
World Records
'Superman' Karsten Warholm smashes the 400m hurdles world record at a time of 45.94 seconds, having previously set the world record of 46.70 in Oslo back in July.
Yulimar Rojas of Venezuela broke the triple jump world record – a record that had stood for up to 26 years!
China alone broke world records in five events: Weightlifting (Men's 161 lbs. (Total), Women's 4×200m Freestyle Relay, Mixed Team 10m Air Rifle Qualification, Men's 50m Rifle 3 Positions Final, and Women's Team Sprint.
Australia also broke a record in the Women's 4×100m Freestyle Relay!
Here's a list of all the world records that were broken at the Tokyo 2020 Olympics:
Event

Competitor

New

Previous

Cycling – Track

Men's Team Pursuit

Italy

3:42.032
3:44.672

2020

Cycling – Track

Women's Team Pursuit

Germany

4:04.242
4:10.236

2016

Cycling – Track

Women's Team Sprint

China

31.804s
32.034s

2015

Shooting

Men's 50m Rifle 3 Positions Final

China

466.0pts
465.3pts

2018

Shooting

Women's Trap Qualification

Slovakia

125pts
123pts

2019

Shooting

Mixed Team 10m Air Rifle Qualification

China

633.2pts
631.7pts

2020

Sport Climbing

Women's Speed

Poland

6.84s
6.96s

2020

Swimming

Men's 4×100m Medley Relay

United States

3:26.78
3:27.28

2009

Swimming

Mixed 4×100m Medley Relay

Britain

3:37.58
3:38.41

2020

Swimming

Men's 100m Butterfly

United States

49.45s
49.50s

2019

Swimming

Women's 200m Breaststroke

South Africa

2:18.95
2:19.11

2013

Swimming

Women's 4×200m Freestyle Relay

China

7:40.33
7:41.50

2019

Swimming

Women's 4×100m Freestyle Relay

Australia

3:29.69
3:30.05

2018

Track and Field

Women's 400m Hurdles

United States

51.46s
51.90s

2021

Track and Field

Men's 400m Hurdles

Norway

45.94s
46.70s

2021

Track and Field

Women's Triple Jump

Venezuela

15.67m
15.50m

1995

Weightlifting

Men's over 240 lbs. (Total)

Georgia

488kg
485kg

2021

Weightlifting

Men's over 240 lbs. (Clean and jerk)

Georgia

265kg
264kg

2019

Weightlifting

Men's over 240 lbs. (Snatch)

Georgia

223kg
222kg

2021

Weightlifting

Men's 161 lbs. (Total)

China

364kg
363kg

2019
Youth takes home the women's 800m crown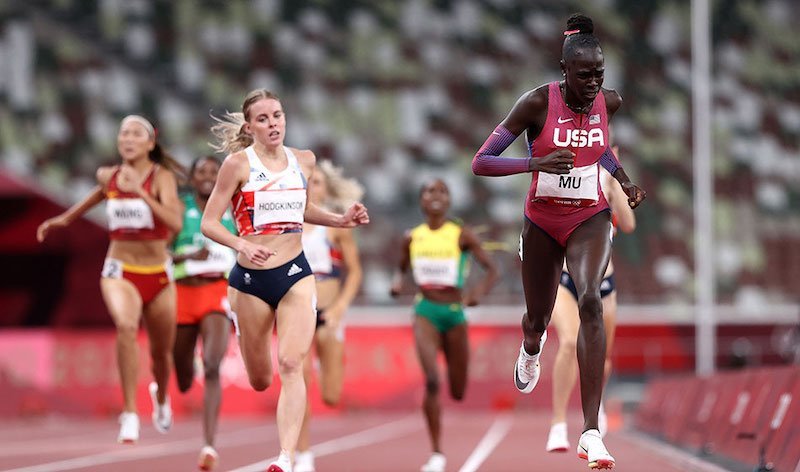 The first and second-placed runners were both only 19 years old! Athing Mu, who won Gold, smashed the US record with 1:55.21 and Silver medallist, Keely Hodgkinson bettered the British best to 1:55.88.
The future is very bright indeed!
Domination on the big stage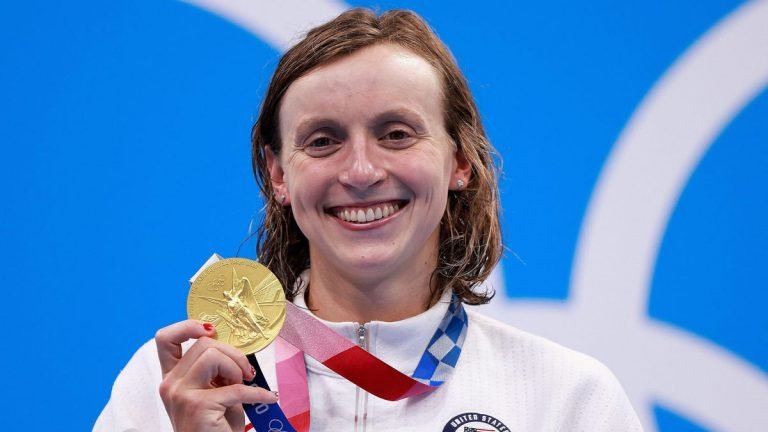 Katie Ledecky, months before the start of the Olympics had been touted as a likely winner of another gold – and she achieved just that. However, this was no ordinary win, in fact, Ledecky won gold at the 2021 Olympics first-ever women's 1500m event in swimming. Bravo!
An equally enthralling closing ceremony
And with that, we wave goodbye to another year of Olympic magic. It has been such a tough year and a half, and everyone associated with the Olympics really pulled off a magnificent event. Now, we look forward to Paris 2024!