It's that time of the year again. You know what I'm talking about, yes, that's right, Apple have released another line of products, and no matter how used to the event we are, it never ceases to excite us.
So what's new, Apple?
iPhone 11 Pro and iPhone 11 Pro Max
Apple's posterboy since 2006 is back with even more features and a slight twist to its design.
Watch out Trypophobes – It has a triple-camera!
Apple is bringing a new meaning to photography in iPhones with their new triple-camera system. Now with a Wide camera (at the top), an Ultra Wide camera (on the right), and a Telephoto camera (at the bottom), image and video quality has never been higher.
Whether you're taking pictures of your fluffy dog, or the sun sinking into the ocean's horizon, it's a camera for everyone and everything. And a new expanded field of view lets you zoom in an out of all three cameras, essentially giving you three layers to your photos. That's three levels of fluffy dog, what more can you ask for?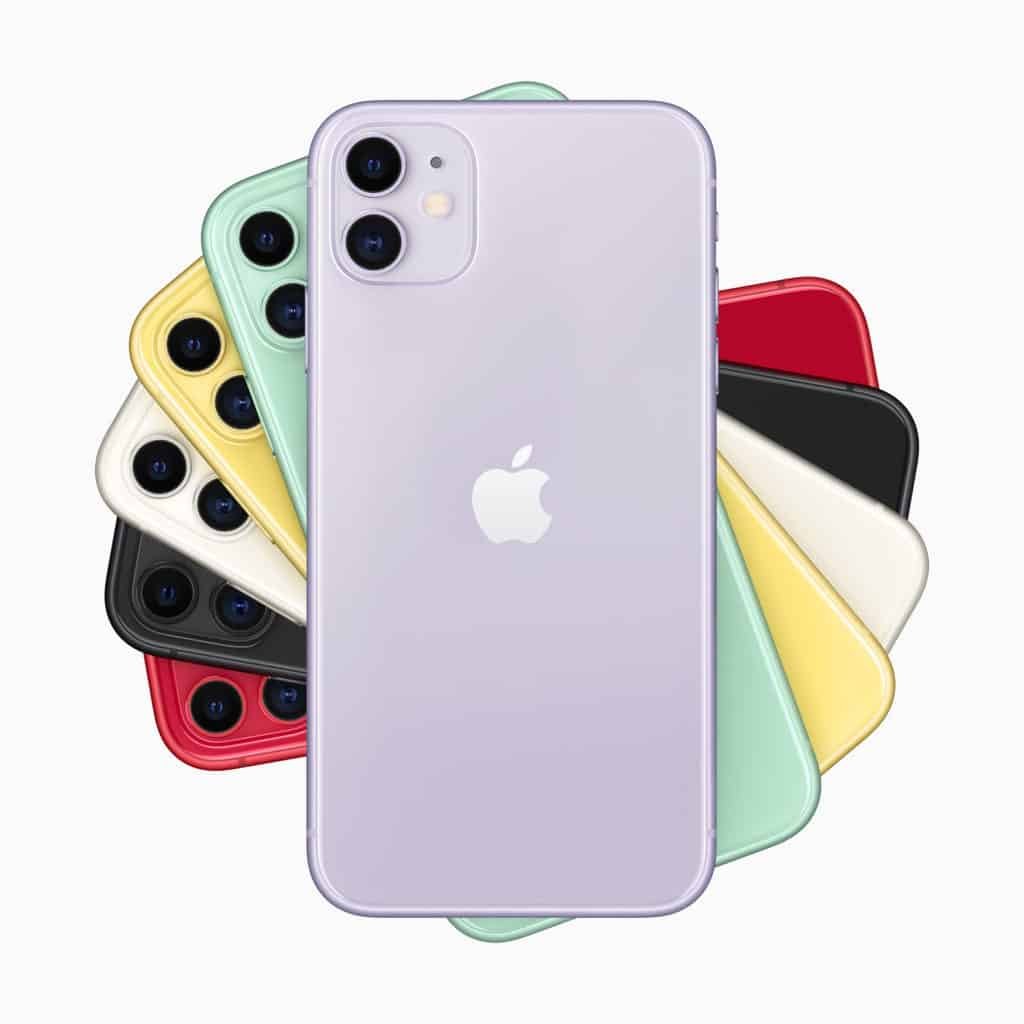 The standard edition of the iPhone 11 has dual-camera system instead of the Pro model's triple-camera system, but has all the below features.
4K Video
Videos will be smoother, crisper and all in 60fps. With up to four times more scene, and the added editing tools, you can create a masterpiece from the palm of your hands.
We can FINALLY crop, rotate and edit our videos!
Nightmode
No the new iPhone does NOT come with night-vision goggles…but that would've been cool.
Instead, Nightmode makes your photos clearer and brings out more colour in the ones that are snapped in low-light environments. That sunset won't look so disappointing next time, because we've all experienced that, and it's heart-breaking.
Portrait Mode
Have you ever taken a not-so-flattering selfie? We all have. Portrait mode lets you tweak lighting to suit the subject, just like you would in a studio. And no matter where you are, High-Key Light Mono can transform any regular photo to a beautifully simple portrait. You can become an art piece at an exhibition, literally.
Smart HDR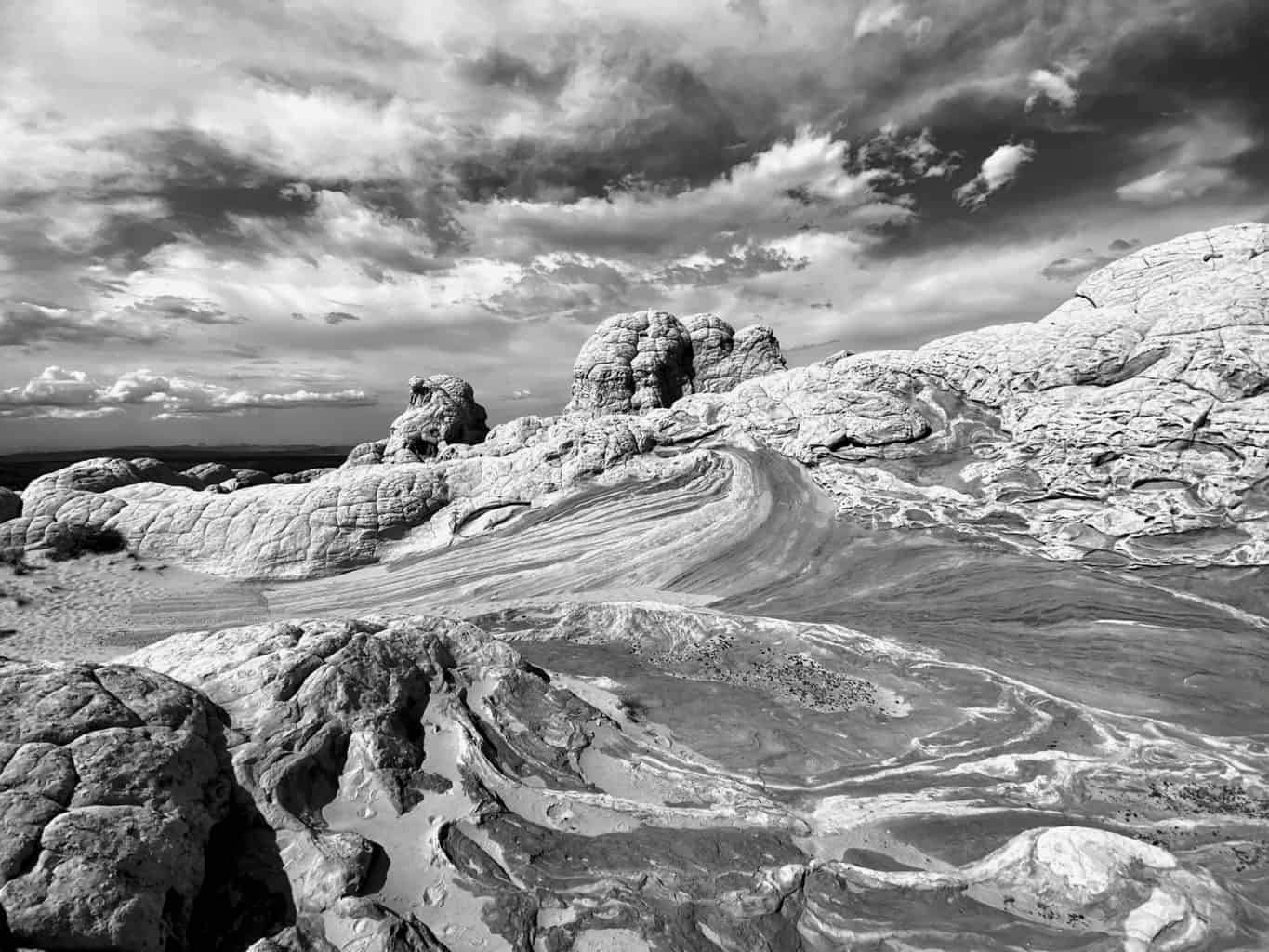 With this, colours pop even more, and the details are even sharper than before.
Photo to Video
Users can now switch from a photo to a video instantly just by holding the photo button, which can be locked into place by swiping right onto the lock symbol, just like snapchat.
Faster Performance and Better Battery Life
It handles and features up to 20% faster CPU and GPU than A12, the A13 Bionic chip is the fastest chip in a smartphone to date. The standard edition of the iPhone 11 has 17 hours of video playback time, compared to the Pro and Pro Max's 18 and 20 hours, respectively. Overall, we have more time for the things that we need and love.
So what's the difference between the three models?
Here are the most important differences:
| | | | |
| --- | --- | --- | --- |
| | iPhone 11 | iPhone 11 Pro | iPhone 11 Pro Max |
| Screen Size | 6.1-inch Liquid Retina LCD | 5.8-inch Super Retina XDR OLED | 6.5-inch Super Retina XDR OLED |
| Screen Resolution | 1,792 x 828 pixels (326 pixels per inch) | 2,436 x 1,125 pixels (458 pixels per inch) | 2,688 x 1,242 pixels (458 pixels per inch) |
| Storage Space | 64GB, 128GB, 256GB | 64GB, 256GB, 512GB | 64GB, 256GB, 512GB |
| RAM | 4GB | 6GB | 6GB |
| Camera | Dual lens | Triple lens | Triple lens |
| Battery | 17hrs video playback | 18hrs video playback | 20hrs video playback |
| Colours | Purple, White, Yellow, Green, Black, Red | Midnight Green, Space Grey, Silver, Gold | Midnight Green, Space Grey, Silver, Gold |
iPhone 11 Pro and iPhone 11 Pro Max will be available in 64GB, 256GB and 512GB models in midnight green, space gray, silver and gold starting at $999 and $1,099, respectively.
Apple Watch Series 5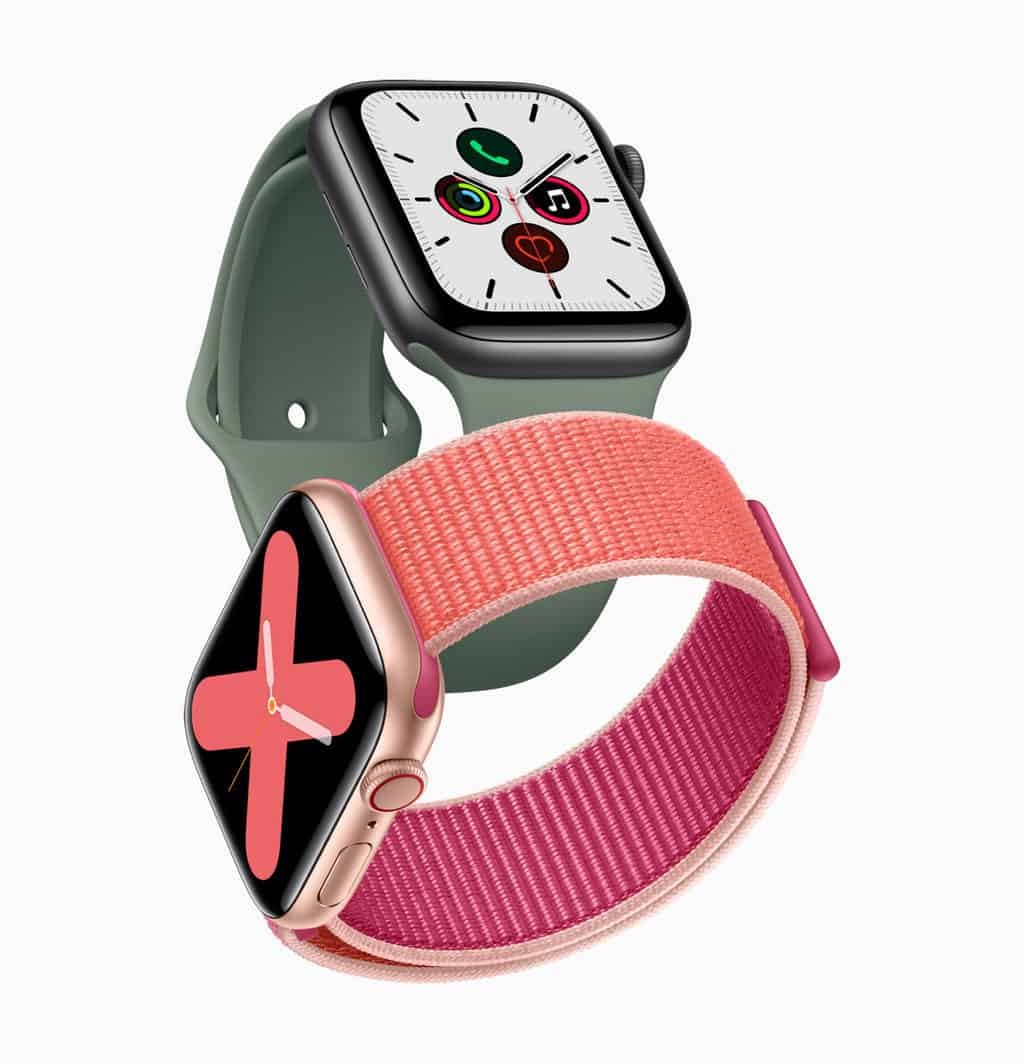 This is a watch that tells the time…well, that's kind of obvious, but it does a lot of other things too.
The seamless integration of new hardware and software delivers an enhanced experience that makes it even easier to stay active and connected to the people and information users care about." said Jeff Williams, Apple's chief operating officer.
Always-On Retina Display
Each watch face has been optimised to preserve the battery life, it will automatically dim or increase its brightness depending on the user's wrist position. The combination of the new hardware innovation and the new software design allows the watch to have and 18-hour battery life.
Navigation
"This compass does not point north (…) it points to the thing you want most in the world" said Jack Sparrow. Just kidding, this is not a cursed watch with a dodgy compass, it works fine.
Now with updated maps and a built-in compass (not cursed), users can see which way they're facing when following directions. They can also see heading, incline, latitude, longitude and current elevation. You won't get lost with this.
It Keeps A Close Eye On Your Vitals
It'll notify you if your heart rate is a bit fast or too slow, either way your watch is going to know about a heart attack before even you do.
WatchOS 6
Comes with additions to its health and fitness capabilities, notably a Cycle tracking app that lets you log information about your menstrual cycle, and see predicted timing for your period and fertile windows. The Noise app alerts you when you're in an area where it's too loud to the point of it negatively affecting your hearing
Personalise It
Choose your case, and the colour and type of band that suits you. It's in your hands, literally.
Hermès
Apple's partnership with Hermès remains strong as they released 4 new band types with 3 new backgrounds.
Apple Watch Series 5 (GPS) starts at $649 (US) and Apple Watch Series 5 (GPS + Cellular) starts at $799.
Apple Watch Hermès is available to order today from apple.com and in the Apple Store app, with availability beginning Friday, September 20 in the US and more than 14 other countries and regions. For more information, visit apple.com/apple-watch-hermes or hermes.com/applewatchhermes.
iPad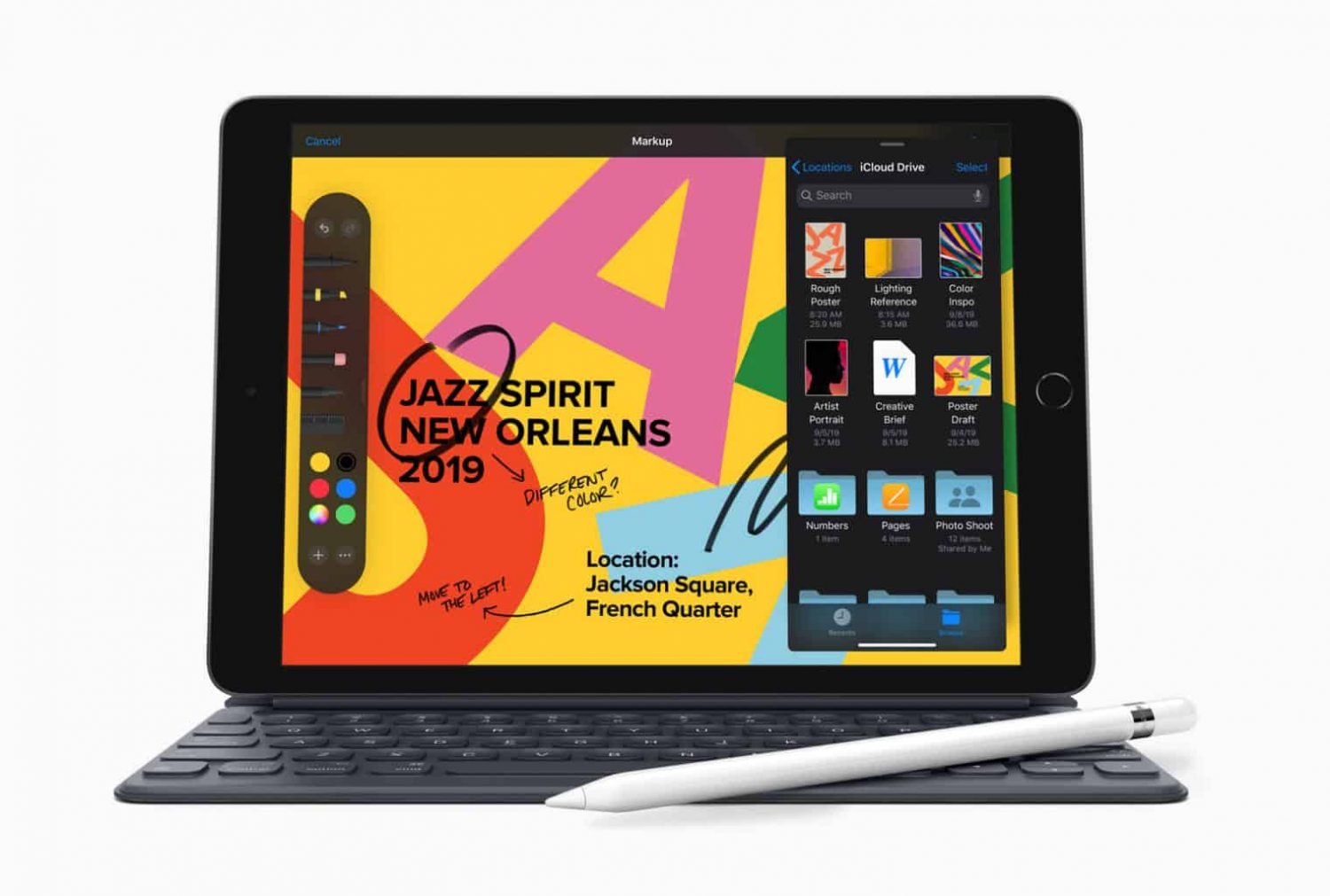 Bigger Display
The 10.2 inch Retina display, support for the Apple Pencil, and a full size keyboard, it makes for the complete iPad experience. Like a computer, but at the same, nothing like one.
You can sketch an idea, or paint a watercolour, there are plenty of apps that are compatible with the Apple Pencil. You can bring all your designs to life, pixel-perfect, 3.5 million pixels to be exact.
Durable and Portable
For the first time, it's enclosed by 100% recycled aluminium, but it's still lightweight at around 450 grams.
iPad OS
Building iOS, the new features part of iPad OS make the iPad easier to use and more powerful than ever before. You can quickly switch between apps with Slide Over, or you can slide across the bottom to get between multiple spaces, and even pair notes with different apps to enhance your projects.
USB Port
We can now connect our USB drives to access and transfer files, like photos or documents straight from the drive to the iPad.
The most incredible part about this iPad has to be the price. The new seventh-generation iPad comes in silver, space gray and gold finishes in 32GB and 128GB configurations. iPad starts at $529 (AU) for the Wi-Fi model and $729 (AU) for the Wi-Fi + Cellular model from apple.com, in the Apple Store app and Apple Stores, and is also available through Apple Authorized Resellers and select carriers (prices may vary).
Apple TV+
Apple have launched Apple TV+ which will allow user to subscribe on a monthly basis to access the best movies, series, not to mention the lineup of original series by Apple, some of which include:
The Morning Show
For All Mankind
Dickinson
See
And many many more. Apple TV+ will be available on the Apple TV app for $4.99 (US) per month with a seven-day free trial starting November 1 on iPhone, iPad, Apple TV 4K, Apple TV HD, Apple TV (3rd generation), iPod touch and Mac. To subscribe to Apple TV+, customers must update to iOS 12.3 or later, tvOS 12.3 or later and macOS Catalina. The subscription will automatically renew at $4.99 per month at the end of the seven-day free trial.
Apple Arcade
The world's first gaming subscription for mobile, desktop, and TV.
Here you're given unlimited access to over 100 new and exclusive games. All you have to do is pay for the monthly subscription, and you're instantly given the access to download and play any game Apple Arcade game from the App Store.
Apple Arcade will be available via a new tab on the App Store for $7.99 (AU) per month and is launching with a one-month free trial in more than 150 countries and regions.
Which Apple products are you most excited for?