Social media platforms are louder than ever. Many users are getting frustrated at the waves of ads crowding their feed these days—and with more than 500 million tweets, 293 billion emails, and 95 million Instagram posts posted every single day, we're getting bombarded with visual content. Add that to the scrupulously optimized social feeds, the tribalistic followings of different groups, and the short attention span of users, and it's no wonder real, authentic conversation has taken a backseat. (Or perhaps left the vehicle entirely.) 
Clubhouse hopes to change that and create an app that values authentic connections and valuable conversations over cheap "gotchas" and flashy pictures and videos. 
Clubhouse has been all over the news lately. Elon Musk talking with Robinhood CEO about the recent "Gamestonk" controversy on the app definitely brought the platform front and centre. After all, who doesn't want to listen in on that conversation? But what exactly is this new platform that has celebs, CEOs, and thought leaders flocking to it? 
What Is Clubhouse?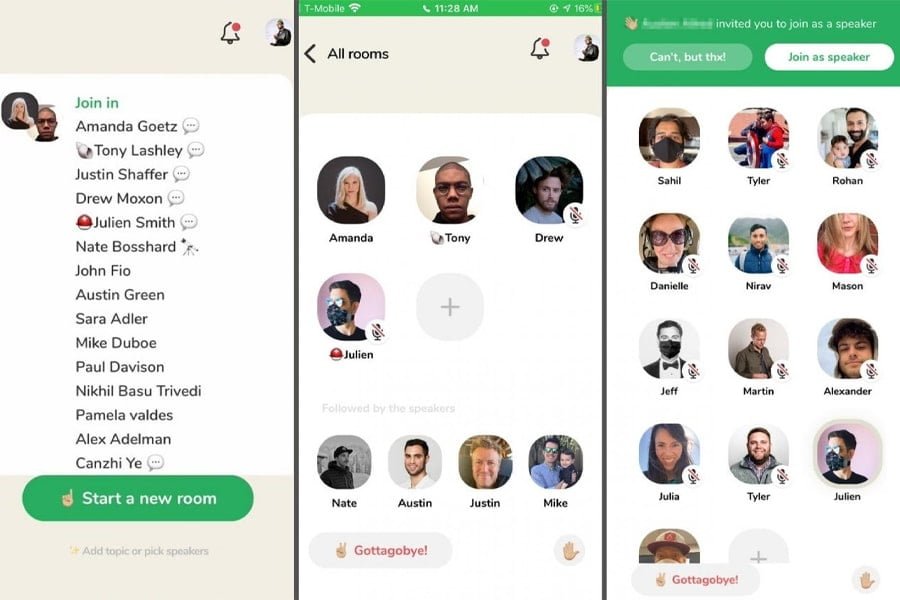 Clubhouse is an audio-chat social platform that allows users to listen in on other people's live conversations—and even join the chat. Instead of curating a feed, they create live rooms where groups of people can talk about different topics. 
Anyone can listen in on the live conversation, leave the room whenever, and join in with their thoughts if invited. Some rooms are limited to only a few speakers, while others allow large group discussions. And since the conversations aren't recorded, people feel freer to talk and be themselves. As many as 5,000 people can listen in on a single Clubhouse room – and even more if high-profile people like Musk leading a conversation. 
How to Get a Clubhouse Invitation
Since Clubhouse is still an invite-only platform, you can only join if an existing Clubhouse user sends you an invitation. If you're lucky enough to snag one, a link will be texted to your phone number and direct you to a sign-up page within the app. Existing users only have two invites available to send out at first, so getting one can be difficult if you don't know someone already on the platform. Another limiting factor is it's also only available on iOS.
But there's good news on the horizon—Clubhouse creators are hoping in 2021 to complete the app's beta stage and open up Clubhouse to the whole world, no invite necessary. . Since the app's current exclusivity is part of its draw for many creators and thought leaders, it will be interesting to watch how it develops once the floodgates are opened. We'll see if it has the same draw as before.