After working from home for most of last year, many of us are returning to work for at least a few days a week. Some are finding this transition difficult and recent research shows 77% of workers in Australia experienced burnout in 2020. So if companies are looking for a new way to build team morale and avoid the dreaded 'Zoom Fatigue' then Swimply could be the solution – it's the 'Airbnb for pools'! 
Using a platform like Swimply, you can swap your fake Zoom pool background for a real one and work poolside for a small amount per hour. As summer fades here in Australia, it would be nice to catch the last of the warm weather while having a work meeting courtesy of Swimply.
The 'Airbnb' for pools…
With a pool around you and the perfect lunchtime break of swimming a few laps, hiring your own swimming pool offers both a change of scenery for burned out workers and a quiet place where you can do some team building and future planning for the office. 
Women Love Tech spoke to the US Chief Experience Officer for Swimply, Ha Nguyen, about how our work-life is changing and how we can use a platform like Swimply. 
WLT: When you first set up Swimply you may have meant it mainly for parties and social gatherings but after 2020 and the fact that we now work from anywhere, it opens it up to other possibilities for work functions. Is this how Swimply has evolved?
Swimply was founded by Bunim Laskin in 2019. As the eldest of 12 siblings and lacking resources for his family to escape the heat, Bunim thought of offering his neighbours payment in exchange for some pool time. Before long, others in the community were cutting similar deals and some were creating handsome profits of their own, creating the foundation for Swimply.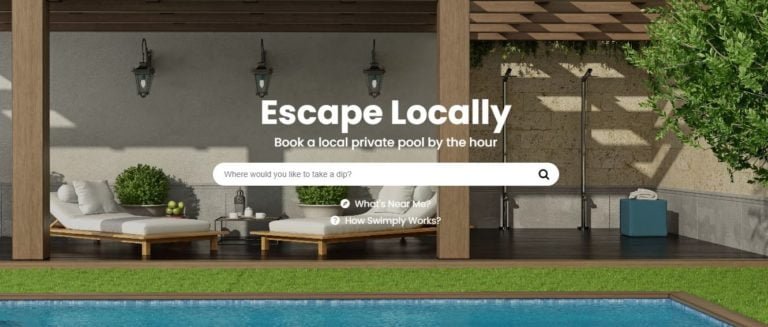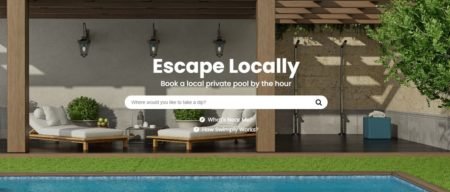 Swimply was conceived around the idea of sharing  access to beautiful, private spaces by the hour. Swimply is so much more than a new way to host gatherings or enjoy a dip in a pool. Swimply's spaces have been used for model photography shoots, weddings, adult and kid birthday parties, scientists testing underwater drones, music videos, and corporate work functions.
What are some of the most memorable work functions you've had booked on Swimply so far?
We had a host recently tell us that a founder of a technology company booked a Swimply pool and gathered a group of VCs and angel investors together. This founder then went on to pitch the company idea, and ended up getting funded as a result! How awesome is that?
With our warm climate and large number of pools in homes here in Australia, Swimply is an ideal service. Have you had a lot of interest from the Australian public?
We've had such a warm and favourable reception in Australia! There's been great feedback from Aussies regarding the chance to monetise their unused spaces specifically – pools can feel like a money pit if it goes idle for longer periods of time. There's also a sense of joy and connection felt in local communities as a result of sharing assets with neighbours.
This summer, as much of Australia adapted to a new Covid-normal, people were looking for fun, alternative ways to enjoy the season while staying local. Swimply has been able to offer exactly that for its users this summer, providing the perfect daycation option, while remaining Covid safe this season. 
We are excited to evolve and grow our presence in Australia in 2021 and beyond.
With last year being a difficult year, having a day at work around a pool sounds like a rejuvenating experience. Have you had feedback that this has worked for team bonding for companies etc?
Being around pools is indeed a rejuvenating experience! Who doesn't love to be outdoors, in the sun, by a beautiful private space, enjoying connections with friends and colleagues? 
We have heard of a few cases where companies have turned to Swimply to help elevate their corporate experience. One that comes to mind is an accounting firm that booked a Swimply pool to hold their annual strategic offsite for their leadership team. Given how much safer it is to be outdoors, in the warm sun, as opposed to a not-so-well ventilated conference room – this decision was a no-brainer for them, and the staff very much enjoyed the change!
We look forward to welcoming even more corporate teams to Swimply for all sorts of work functions including team meetings, happy hours, and team-building.
For more information about how you can book a pool on Swimply visit the website here.
And if you'd like to register your pool on Swimply, visit here.
For more from Women Love Tech on how to work efficiently from home, take a look here.