Once there was a time when as a magazine editor, we would send images to our pre-press department to retouch and correct the colour balance of photographs. I used to call it the Harry Potter Department because the team were wizards when it came to turning a dull image into something that shone. Suddenly, the eyes were clearer and the picture would jump from the page.
Now, this happens in seconds by simply using the right apps – and you can be your own wizard when it comes to changing pictures, enhancing them and having fun using a variety of filters.
To take some of the hard work out of this, we've curated 15 image-changing apps so you can do wondrous things like add makeup, perfect your makeup up and even change your shape. Not that I personally subscribe to that one unless of course it is done in the name of harmless fun.
B612 Beauty and Filter Camera:
This app provides high-quality filters, beauty effects, easy editing of images and also adding in music, compatible with the Apple AR feature, which enables the user to create collages all on one platform.
It has a 4.7-star rating on the Apple app store and a 4.3-star rating on the Google Play store
This app looks great, it has multiple functions on one platform making it convenient as well. The reviews from the app users are all quite high on the app functionality and even reviews from photographers who praise the app. This gives validation to the beauty app.
FaceU – Inspire your Beauty:
This app has its origins in Japan and Korea and includes retouching of photos, filters, makeup-enhancing features, stickers, and music options.
It has a 4.8-star review on the Apple Store, and 4.5 star review on the Google Play Store.
This app is fabulous as it allows the user to not only retouch photos of themselves and other people but also allows them to retouch scenic photos. So you can fix any imperfections you see and create the perfect image.
Soda – Natural Beauty:
This app enhances the natural essence of photos through multiple filters and additional editing options. It also has reshaping options available.
Google Play review 4.5, 4.8-star review on Apple.
This seems like an easy app to navigate with simple features for those looking to improve the quality of their images, smooth out their features and enhance their overall look.
BeautyPlus
Beauty Plus provides a selfie camera to take images through the app with set filters as well as editing features to upload your own images and enhance them. The app provides over 30 features, including beauty editing through filters, resizing, and smoothing out the edges of your image.
4.8 star review on Apple & 4.3 on Google Play store.
Good reviews showcase that their current platform users both appreciate and would recommend the app. Along with multiple features available on one platform, the app succeeds in making it easier for users to edit and export their images.
Airbrush
This app allows the user to smooth out imperfections, enhance a picture, and have the option of automatic retouches which users can use as recommendations or even manually edit pictures as they choose. 
Apple store review 4.8 stars and 4.7-star review on Google Play store.
This app is great for brightening up photos, removing any blemishes that are quite obvious as well and overall enhancing an image to a smoother and cleaner look. 
Fotogenic:
This app is stated to be for entry-level photographers and users making it easy to use. Their features include tools for fixing the image specs, enhancing beauty factors, colour adjustments, textures and paint. 
Apple review 4.9 stars & Google Play review 4.9 stars.
As it is for entry-level editors and does come with a range of features, it should be easy for all types of users to use. Their reviews and ratings are also quite high which gives the validation of the app itself. 
YouCam Makeup:
This app helps you transform your images through the enhancement features available. It allows you to retouch your face through airbrushes, filters, and hair enhancement features.
It has a 4.7-star review on Apple, and a 4.5-star review on the Google Play store
A versatile app, this one allows the user to enhance and add makeup to their images. It gives a range of options and is an easy app to navigate.
Kiki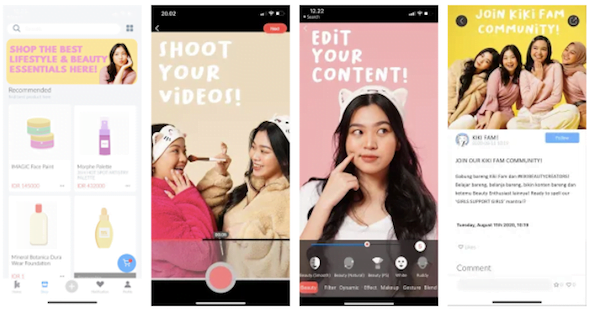 Allows you to add filters, edit your photos, read blogs and add to a community that supports one another. They also have a shopping feature for beauty products and recommendations.
3.7 stars on Google Play.
It is more than an editing app for photos, it is also a supportive community with advice, blogs and guidance.
Available on Android.
Candy Camera
This app, like the others, provides beauty filters for selfies, beauty functions such as adding makeup to photos, stickers, a silent camera function for taking photos and videos through the app as well as the ability to create collages.
This app has a 4.4-star rating on the Google Play store.
It's a superb app given its vast range of functions and features and the reviews also praise it which is a good sign. 
Available on Android.
Bestie: Camera360 Beauty Cam
It allows you to take pictures and edit photos of retouching and adjusting natural beauty, filters which can be applied at different angles, animated stickers, all-in-one selfie camera with night mode camera, auto filter options and airbrush features.
4.4 star rating on Google Play
Great reviews which make you want to try out the app and see if the features actually live up to their reviews and sample pictures
Available on Android.
Perfect365
Advertised as one of the top makeover apps. It is free to use with over 200 pre-sets, 20 makeup sets, and daily tips on fashion and makeup. It is easy to save and share on social platforms.
4.3 star rating on Google Play.
Looks easy to use and has great features for quick touch-ups for those days when you need to smoothen your features or add a touch of makeup to enhance your look.
Available on Android.
Makeup Camera-Selfie Beauty Filter Photo Editor
This app allows its user to add motion stickers along with editing the quality of their images, retouch images in real-time, enhance existing makeup and add makeup, retouch skin tone and smooth with other great features. 
4.2 star rating on Google Play
Similar to the Facetune app with its features, but the difference here is the features are free to access through this app, unlike Facetune which requires payment.
Available on Android.
PerfectMe
This app allows you to reshape, filter, enhance and retouch your image to your desire. It's free and that's what most of its users love about it as well as the fact it gives you access to a range of features at no additional cost.
It has a 4.5-star rating.
From the user comments, it seems like a great app, particularly for being an easy-to-use app for users of all ages.
Available on Android.
MakeupPlus
This app allows you to try on beauty products virtually before purchasing the product to ensure the tone matches your complexion. It also gives you the feature to change your hair colour with dyeing features along with the makeup. It gives the user the opportunity to test out new makeup looks and style looks.
This app has a 4.4-star rating on the Google Play store.
Available on Android.
Beauty Sweet Plus
This app has filters, effects, stickers, makeover tools and the ability to use these features to take photos on the app as well.
4.0 star rating on the Google Play store.
This app although has a 4-star rating. It does have ads which can become irritating when trying to edit photos. 
Available on Android.