Today, Apple announced eight recipients of the Apple Design Award for showing innovative ingenuity, stylistic brilliance, and demonstrating "deep mastery of Apple technology." From photography-enhancing apps to kingdom-exploring games, here are eight developers and the creations that won them the prestigious Apple Design Award.
Apps
The Darkroom app, created by Bergen Co., is an interface for photo and video that brings users a whole new level of capabilities when it comes to editing.
Some of the technologies included in the app are: photo and camera APIs, Home Screen quick actions, contextual menus, and haptics.
Developed by iorama.studio, Looom is a funky digital canvas for animations that take inspiration from music creation tools. Whether you want one of your hand-drawn designs to loop, or create your own stop-motion, Looom is for the pros and the creatives alike.
This app uses iPadOS' Apple Pencil and Dark Mode functionalities to the max.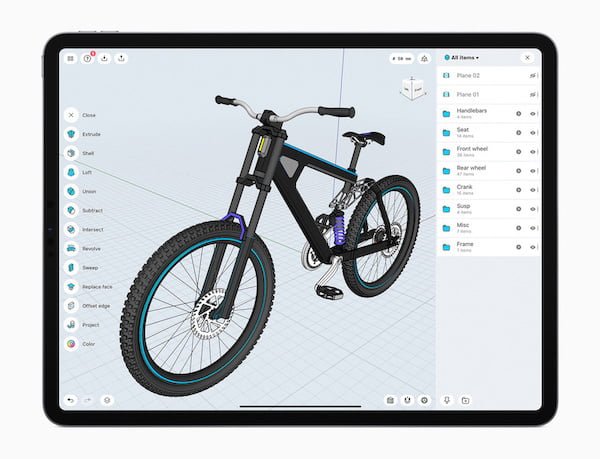 Shapr 3D is an extremely powerful tool for the architects that are on the move. No need for a desk, with only the Apple Pencil and an iPad, designers can make the most of Shapr 3D's features like ARKit and drag and drop to create amazing 3D models. The app is planning to expand even further with the release of 2D floor plans and 3D model of rooms which could change the renovation game.
Designed for avid musicians and future composers, StaffPad conveniently and accurately translates handwritten musical notations into slick digital sheet music. For those who want to work in one, simple space and even on the go, StaffPad makes use of the Apple Pencil, drag and drop, and Core ML to create a great editing experience.
Games
'Sayonara Wild Hearts', by Simogo and publisher Annapurna Interactive, is a pop album video game full of incredible visuals, fluid gameplay and adrenaline-pumping spirit. Designed like a futuristic, yet retro arcade game with neon lights, Sayonara Wild Hearts is an experience like no other.
Fly around magical kingdoms in the glorious ever-expansive world to help celestial beings find their way back to the heavens.
From indie developer Philipp Stollenmayer, 'Song of Bloom' is an artsy tale of puzzles and mind bogglers.
'Where Cards Fall', from developer The Game Band and publisher Snowman, is a game where players build houses of cards to piece together forgotten memories.
Have you tried any of these apps and games? If so, let us know you thoughts in the comments!