Let's start the year by celebrating women kicking goals all over the world by sharing our favourite Audiobooks and Podcasts by inspiring women.
From the incredible female Indigenous voices of Tara June Winch, Miranda Tapsell and Nakkiah Lui, to the refreshingly candid words of award-winning musician and writer Clare Bowditch, you'll find yourself laughing, crying, convicted in deep thought and inspired with these 10 captivating listens.
The Yield
The yield in English is the reaping, the things that man can take from the land.
Knowing that he will soon die, Albert 'Poppy' Gondiwindi takes pen to paper. His life has been spent on the banks of the Murrumby River at Prosperous House, on Massacre Plains. Albert is determined to pass on the language of his people and everything that was ever remembered. He finds the words in the wind.
Profoundly moving and exquisitely written, Tara June Winch's The Yield is the story of a people and a culture dispossessed. But it is as much a celebration of what was and what endures and a powerful reclaiming of Indigenous language, storytelling and identity. Listen on Audible at The Yield
The Trauma Cleaner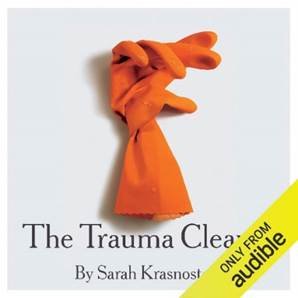 Sarah Krasnostein's The Trauma Cleaner, which won the Australian Prize for Literature in 2018, shares Parkhurst's story in tender, heartbreaking detail. Narrator Rachel Tidd brings to life the story of a woman tormented by hostility and transphobic abuse, who managed to remain full of warmth and compassion towards society's most vulnerable. At turns moving, enthralling and deeply upsetting, this fundamentally human story underscores Parkhurst's remarkable strength and humour in the face of tragedy and adversity.
Listen on Audible at The Trauma Cleaner.
Debutante: Race, Resistance and Girl Power
They're wearing ball gowns, they're debutantes… and they're black. The debs' ball is a controversial colonial export but can it be empowering too? Australia's most celebrated young playwright Nakkiah Lui and actress Miranda Tapsell put on their hats and gloves to find out.
Nakkiah and Miranda are angry, young, vocal, Aboriginal and very, very funny. Join them on their journey, starting with a lesson on teatime etiquette in London where it all began, as they follow the debutante trail and discover that First Nations women across the globe have made this tradition their own.
Listen on Audible at Debutante: Race, Resistance and Girl Power
Your Own Kind of Girl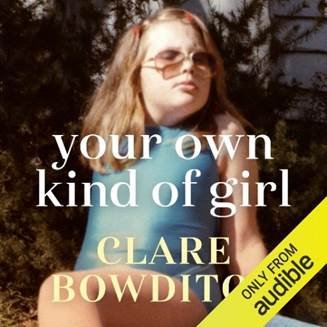 Award-winning singer and actress Clare Bowditch confronts her inner critic in this no-holds-barred memoir. This is the story I promised myself, aged 21, that I would one day be brave enough – and well enough – to write.
Your Own Kind of Girl reveals a childhood punctuated by grief, anxiety and compulsion and tells how these forces shaped Clare's life for better and for worse. This is a heartbreaking, wise and at times playful memoir. Clare's own story told raw and as it happened. A reminder that even on the darkest of nights, victory is closer than it seems.
With startling candour, Clare lays bare her truth in the hope that doing so will inspire anyone who's ever done battle with their inner critic. This is the work of a woman who has found her true power – and wants to pass it on. 
Listen on Audible at Your Own Kind of Girl.
The Survivors
Kieran Elliott's life changed forever on the day a reckless mistake led to devastating consequences. The guilt that still haunts him resurfaces during a visit with his young family to the small coastal community he once called home.
Kieran's parents are struggling in a town where fortunes are forged by the sea. Between them all is his absent brother, Finn. When a body is discovered on the beach, long-held secrets threaten to emerge. A sunken wreck, a missing girl and questions that have never washed away…
Listen on Audible at The Survivors
See What You Made Me Do
Domestic abuse is a national emergency: one in four Australian women has experienced violence from a man she was intimate with. But too often we ask the wrong question: why didn't she leave? We should be asking: why did he do it?
Investigative journalist Jess Hill puts perpetrators – and the systems that enable them – in the spotlight. See What You Made Me Do is a deep dive into the abuse so many women and children experience – abuse that is often reinforced by the justice system they trust to protect them. Critically, it shows that we can drastically reduce domestic violence – not in generations to come, but today. 
Listen on Audible at See What You Made Me Do
Julia Morris Makes it EASY
Let's face it: life isn't simple. But comedian Julia Morris is determined to make things EASY.
In this Audible Original that's both hilarious and surprisingly helpful, Lady JMo introduces her very own EASY method, a system she devised to combat critics, avoid undesirable tasks, and, well, have a whole lot of fun doing it. Sharing wild showbiz anecdotes and offering tongue-in-cheek advice, Julia Morris guides listeners through the ins and outs of making life EASY – by Expecting nothing, building a protective suit of Armour to silence the naysayers, and putting a Stop to anything you object to, so you can finally have a life worthy of exclaiming 'Yippie!'.
A filter-free portrait of life in the limelight that's peppered with off-the-wall, totally inapplicable solutions to commonplace problems, Julia Morris Makes it EASY might not transform your life in the most traditional sense – but it will leave you laughing every step of the way.
Listen on Audible at Julia Morris Makes it EASY
The Dressmaker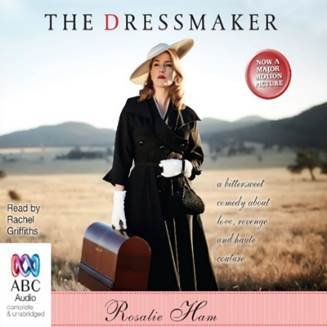 After 20 years spent mastering the art of dressmaking at couture houses in Paris, Tilly Dunnage returns to the small Australian town she was banished from as a child. She plans only to check on her ailing mother and leave.
But Tilly decides to stay, and though she is still an outcast, her lush, exquisite dresses prove irresistible to the prim women of Dungatar.
Through her fashion business, her friendship with Sergeant Farrat – the town's only policeman, who harbours an unusual passion for fabrics – and a budding romance with Teddy, the local football star whose family is almost as reviled as hers, she finds a measure of grudging acceptance.
But as her dresses begin to arouse competition and envy in town, causing old resentments to surface, it becomes clear that Tilly's mind is set on a darker design: exacting revenge on those who wronged her, in the most spectacular fashion.
Listen on Audible at The Dressmaker.
Big Little Lies
Pirriwee Public is a beautiful little beachside primary school where children are taught that 'sharing is caring.' So how has the annual School Trivia Night ended in a full-blown riot? Sirens are wailing. People are screaming. The principal is mortified.
And one parent is dead.
Was it a murder, a tragic accident or just good parents gone bad? As the parents at Pirriwee Public are about to discover, sometimes it's the little lies that turn out to be the most lethal. Big Little Lies is a brilliant take on ex-husbands and second wives, mothers and daughters, school-yard scandals, and the dangerous little lies we tell ourselves just to survive.
Listen on Audible at Big Little Lies.
Monkey Grip
Inner-suburban Melbourne in the 1970s: a world of communal living, drugs, music and love – Garner captures the fluid relationships of a community of friends.
Helen Garner's gritty, lyrical first novel divided the critics on its publication in 1977. Today, Monkey Grip is regarded as a masterpiece – the novel that shines a light on a time and a place and a way of living never before presented in Australian literature: communal households, music, friendships, children, love, drugs and sex.
When Nora falls in love with Javo, she is caught in the web of his addiction; and as he moves between loving her and leaving, between his need for her and promises broken, Nora's life becomes an intense dance of loving and trying to let go.
Listen on Audible at Monkey Grip.