Technology helps make getting fit fun and it's easy to see this from 3D Full Body Tracking technology which is the latest innovation in augmented reality. Now, the first cross platform 3D Full Body Tracking tech is widely available and can be captured by both front and rear-facing cameras.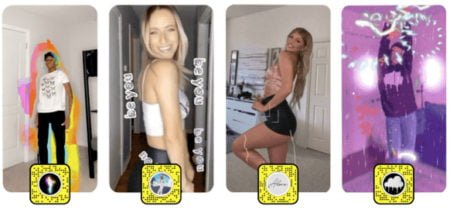 Snap has built on 2D body tracking technology to achieve 3D Full Body Tracking Lenses and now Snapchatters can express themselves and communicate with their friends in a whole new way. 
Through 3D motion capture, multiple neural networks running simultaneously in real-time, and the combination of several advanced machine learning technologies, you are able to work out and focus on exercise form following the guidance provided by the Sweat Lens.
Snapchatters will earn points based on how accurately they complete the exercise with correct form – the better your form, the more points you earn. 
AR INNOVATION TIME LINE FROM SNAP CHAT
In 2017, Snapchat introduced world-facing Lenses as a way to add your own creativity to the world around you and express yourself with your friends. 
Today, more than 180 million Snapchatters engage with AR daily — nearly 30 times every day — to transform the way they look, augment the world around them, and learn about the world. 
Over the past two years, World Lenses have evolved from "placing" a character or object in the world seen through the Snapchat camera (i.e. a dancing hot dog), to turning the sky into the sea, to transforming the world's most iconic structures with Landmarkers — all to help our community augment the space around them and learn about the world. 
At the same time, Snap has also continued to innovate and push the boundaries of what's possible with a mobile camera through Lenses powered by machine learning, such as the Baby and Time Machine Lenses released last year. 
Snap built these Lenses via an internal version of its AR creation tool Lens Studio, which now allows teams throughout Snap to iterate and find new, creative use cases and experiences that this technology can power. In the future, this new technology could become available in the public version of Lens Studio, Snap's free desktop-based app that allows anyone to create and publish their own AR experiences on Snapchat.