We're all out there taking selfies – looking to get the perfect one! After you've taken about 500 or so you'll be wanting to share the best with all of your friends. But did you realise it's just as important to come up with an amazing caption to go with your selfie – it makes it so much more special!
So, if you're looking for some great suggestions for the best captions for your photo, here are some clever, witty ones to speed things up – you're sure to like one of these. Because we all know there are those times when you have other things to do and you need to get this out fast. Take a look here at some great suggestions…
For your latest selfie with you in all your glory:
The best of me is yet to come.
Never let anyone treat you like you're ordinary.
Be yourself, there's no-one better.
Life is better when you're laughing.
Be more of you and less of them.
It's not a phase mum – it's who I am.
Self love is the best love.
Smile big, laugh often.
When you're not looking so sweet:
Underestimate me – that'll be fun.
Cinderella never asked for a prince.
50% Savage, 50% Sweetheart.
Smile, it confuses people.
Be a stiletto in a room full of flats.
Selfie with your sister:
U is for U and me.
Love is beautiful – sisterhood is better.
"Fairies are real…they are called sisters."
"Sisters? Nah, we're best friends."
"How do some people make it through life without a sister?"
Out for a night on the town captions:
Too glam to give a damn.
Keep your heels, head, and standards high.
Live for today, plan for tomorrow, party tonight.
Never miss a chance to dance.
A lot goes down when we dress up.
I am just trying to change the world, one sequin at a time.
First thing in the morning selfie captions: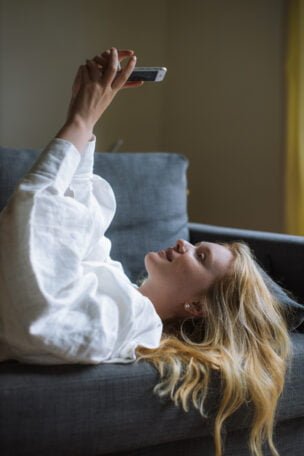 Confidence level = selfie with no filter.
Today is officially under construction.
I woke up like this.
Morning coffee, because anything else is worthless.
May your coffee be hot and your eyeliner even.
No one talk to me before I've had my coffee.
Today is a good day to have a good day.
Funny selfie captions:
I'm not lazy – I'm on energy-saving mode.
Maybe she's born with it… or maybe it's an Instagram filter.
Sure, I do marathons. On Netflix.
I need a six month holiday, twice a year.
Sending my selfie to NASA because I'm a star.
Reality called so I hung up.
Food selfie captions:
Home is wherever the food is.
I just want someone to look at me the way I look at food.
There is no we in food.
You can't live a full life on an empty stomach.
Sugar, spice, and everything nice.
Pilates? I thought you said pie and lattes!
For more from Women Love Tech on captions and social media, take a look here.