CES is the biggest and most influential tech event in the world so if you have a new technology or innovation – it's the best place to launch it. Held every year in early January in Las Vegas, CES has over 3200 exhibitors, with 173 countries and regions represented and 4700 media attending.
This is where the world's biggest brands do business and meet new partners – and the sharpest innovators hit the stage. CES covers every aspect of the tech sector including gaming and new cars.
And all the major tech companies are at CES right now – it started on Thursday and goes until this Sunday. That is all the big companies except Apple which has traditionally not attended, preferring to hold it's own launches at its headquarters in Silicon Valley. But hey, this is no problem because with 3200 exhibitors – there's a lot of tech on display!
Here's a roundup of some of the major announcements so far at CES on the second day of the show – including in-car gaming, a $17,000 toilet and a completely wireless TV.
In-car Gaming: If you're tired of going on road trips and being bored, Nvidia's GeForce Now is partnering with BYD, Hyundai, and Polestar to integrate the cloud service into cars. The cloud service will allow those in the backseat to game on the go.
Nividia announced at CES that its high-performance GeForce Now cloud-gaming service will be coming to vehicles in North America, Europe, and other parts of the world.
Software-defined car owners will now be able to access a full PC-gaming experience in the comfort of their own cars. Front-seat drivers will be able to stream games while the car is parked, and passengers in the back seat can game the entire ride as long as screens are available.
Fancy toilet with Alexa inside – worth $17,000
Well, if you want Alexa with you every step of the way, there's a new toilet at CES which is worth $16,900 and it features Alexa as well! And yes – this does mean you can check the weather report while you're on the toilet!
Made by Kohler, the new toilet is called the Numi 2.0 and it comes complete with LED lights which light up the bowl plus jets which wash everything away. It even has a mist to help disguise smells. Actually, this all sounds very good – why hasn't anyone thought of this before?
To top it off, the Numi solves the problem of those people who always leave the toilet seat up because it can automatically lower the seat after every use. While it's been around in concept for a while – the Numi is now being manufactured and installed so check it out.
Acer has launched new gaming Predator and Nitro laptops
Acer came to CES 2023 with a long slate of new gaming laptops and a couple of displays that are likely to appeal to both fans of huge gaming monitors and those interested in smaller, more competitive panels.
Under its Nitro brand of gaming laptops, Acer debuted two new models: The Acer Nitro 16 and Acer Nitro 17. Both units include the latest 13th-gen Intel Core processors and Nvidia GeForce RTX 40 Series GPUs, as well as storage options ranging up to 2TB and RAM configurations as high as 32GB of DDR5 4800 memory. Acer also debuted a 45-inch curved OLED gaming monitor.
Evie debuts a wearable smart ring for women
A popular new product at CES is the Evie Ring – a wearable that is en route to be the first FDA-approved licensed pulse oximeter that can also track women's health stats, such as cycle tracking, heart rate, and skin temperature. It will even track moods to help women understand the reasons behind their moods.
In wearables, there seems to have been two big shifts over the past year. First, the focus on women's health that we saw, namely with the Apple Watch 8. Then second, the move away from smartwatches to a more compact smart ring to track vitals and activity with Oura being the most notable.
So now, we have the Evie Ring. It comes from the California-based health solution company, Movan Health, and it's specifically designed for women. The Evie Ring can monitor resting heart rate, heart rate variability, skin temperature variability, SpO2, menstrual and ovulation cycle, and sleep stages and duration.
As well, the Evie offers typical fitness profiles, showing your total steps taken, continuous movement stats, and calorie output.
Displace launches the world's first truly wireless TV
Displace has launched a 55″ 4K TV at CES which has no wires or ports, is really lightweight, can be stuck to any surface with proprietary active-loop vacuum technology and is primarily controlled by hand gestures.
Displace is an in-home entertainment startup and the Displace 55″ 4K TVs are powered by a proprietary hot-swapable battery system which is lightweight at under 20 lbs., transportable and the standout fact is the TV can be secured to any surface with no mounting required, using Displace TV's active-loop vacuum technology.
The Displace TV has created a lot of interest at the show, because it solves many of the common problems associated with flat-screen TVs – such as they're often hard to handle, tedious to mount to walls, they can cause damage, they get cluttered with wires and piles of remote controls. But hey – all of this is remedied with the Displace TV.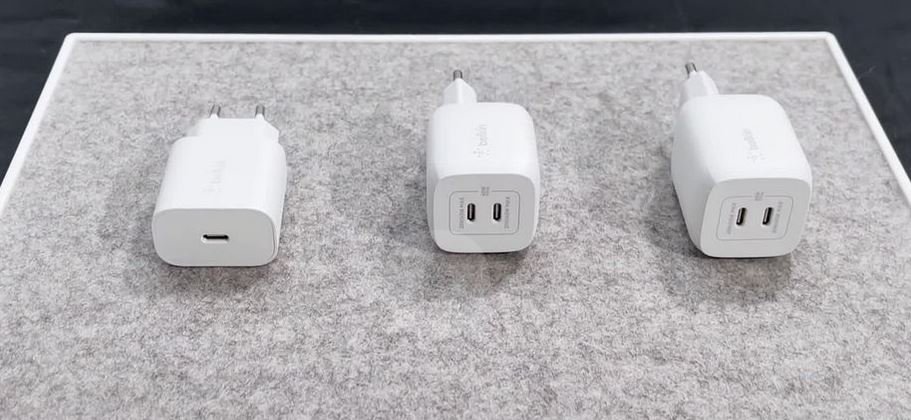 Belkin launched a commitment to much more sustainable packaging
Rather than announcing new products at CES, Belkin announced an expanded commitment to responsible manufacturing and its sustainability goals. Belkin announced its top selling power products will now be made using post-consumer recycled plastics.
It's a move that shows a significant commitment from Belkin and the company has said it will adhere to this commitment across its range of products over time. Spokespeople from Belkin said they hope this move will be followed by others in the industry.
Belkin also introduced a new product material refresh for its top selling mobile power products. Several of its most popular wireless chargers, power banks, wall chargers and car chargers will receive updated product housing materials which consist of 73-75% post-consumer recycled plastics (PCR) and plastic-free packaging. The product transition will be rolled out through 2023 and will save 7,000 metric tons of carbon emissions and reduce CO2-eq emissions for these products by 67%.
Intel launches what could be the world's fastest mobile processor
Intel launched it's new 13th Gen Intel Core mobile processors at CES – processors which will drive unrivalled performance and superior experiences for over 300 laptop designs.
Intel announced its 13th Gen Intel Core mobile processors, saying this processor will bring superior performance and experiences to mobile platforms. Intel introduced 32 new 13th Gen Intel Core mobile processors with a range of features and capabilities for all laptop segments.
Intel continues to open up the possibilities of performance in computing – especially for gamers and creators with the launch of this 13th Gen Intel Core H-series mobile processor. This processor includes the first 24-core processor for a laptop. When combined with features like support for both DDR4 and DDR5 memory, high level connectivity and PCIe Gen 5, these 13th Gen HX processors deliver what could end up being the world's best mobile gaming platform.
For more from Women Love Tech on the latest technology, visit here.