Megan Dalla-Camina reminds you a little of the ancient British warrior queen, Boudica, who led her people in a fight for justice against an oppressive force. She's confident, powerful, and even has the flowing red hair.
Like Boudica, she also has a fiery sense of mission and an army of die-hard followers, which in modern times translates to thousands of career-minded women from all over the world who have taken part in her Women Rising program, tapped into her coaching sessions, read her books, and listened avidly at her speaking engagements.
She is a woman who knows how to inspire and empower. She also seems to have unlocked a means to systemically change the lives of women, both in how they see themselves and how they are seen in the workplace.
"We have hit a deep need in the market," she says, speaking from her home office in Sydney where she lives. "The program is growing like wildfire. I never thought it would scale this fast."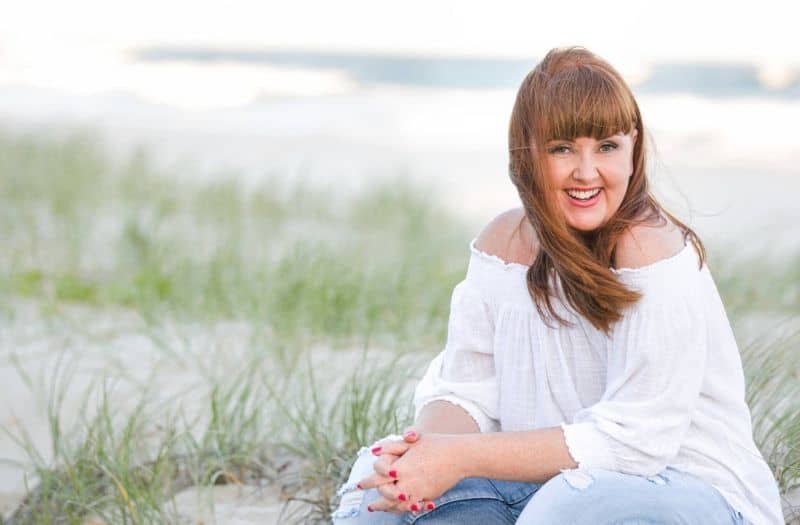 Megan's Women Rising leadership program, and the parallel gender inclusive Managers and Allies program, are so highly regarded by both corporations and individuals that companies as diverse as Microsoft, EY and Telstra are lining up to sponsor their women, and their male allies, to take part in them.
Not surprising given the tangible data which shows the business uptick when a woman becomes empowered and has access to greater opportunities. Not surprising when the transformations for women ripple onwards, not just to teams and business outcomes, but to families and communities also.
"What I hear most often from women is 'I thought it was just me'," explains Megan. "All those micro-aggressions that women can face, being told they're 'too emotional', 'too abrasive', 'too nice' take a toll. You end up with women who think there is something wrong with them. They feel shame, or not worthy.
"Many women in our program work in male dominated workplaces where they are often not heard, or they feel unable to express their voices, and then they come to our program, to a community with thousands of other women saying: 'This too, is my experience'. That's life-changing for women because they learn that it's not just them. They also get access to evidence based teaching and tools to help them navigate common career related issues such as building confidence, being an authentic leader, managing mentors and sponsors and developing lasting wellbeing."
The Women Rising video below shows the reactions of a diverse group of women when they discover that they are not alone in their experiences in the workplace. Their expressions of relief when they are given a safe space to talk openly and the tools to take action explains why Megan is successful. "It's not uncommon for tears because women hardly ever stop to focus on themselves, look at where they're at, what they want, how do they feel," she says. "That can be a very raw emotion."
Megan's leadership business is one of very few, perhaps the only one, to offer a parallel corporate program for men, helping them become more effective male allies. It's a silver bullet strategy for so many businesses that have yet to move the dial on gender diversity. It's particularly relevant now when the need for effective retention strategies, particularly of women, is at an all-time high. The net result is women who have more clarity on their career goals, the confidence to negotiate their next promotion, and male leaders and allies who better understand their biases, become more inclusive leaders and recognise that women do not have to conform to a male-modelled mold to be successful.
Women Rising is a four month long personal and professional development program which sets out to give women confidence, leadership tools and the ability to step into their own power. It's virtual and scalable, with more than 4,500 women from 412 organisations in 36 countries participating in the last two years. It's also holistic, which means it looks at all aspects of a woman's life, not just work or leadership or career. "Women's lives are complicated and nuanced," says Megan, "which is why we take women on an evidence-based journey, backed up by science, tested by decades of work, that asks the question 'What is it that you want for your life and career and how can you achieve it authentically and without burnout."
Burnout is an important subject for Megan, both because she sees it on an epic scale in a post-pandemic world but also because she has experienced it herself. "I was thirty-four, an executive at IBM in one of the top marketing jobs in the country, and also a single parent, doing a master's degree and I was mentally, physically, emotionally frayed. I reached the point when I couldn't go on."
All Megan's work is based on her personal, as well as academic, leadership and corporate experience. It's what makes it so effective. She had a corporate executive career for more than 18 years with companies including PwC, GE and IBM, heading up strategy, gender diversity and leadership initiatives, travelling the world and working on some major global business transformations. But she is also a single mother who knows first-hand how difficult that juggle can be for women.
A burnout experience, a second master's degree in Wellness and Positive Psychology, meditation and yoga teaching training, some time on sabbatical, and Megan launched her own fast-growing business after leaving corporate life almost a decade ago, focusing on women's leadership, gender diversity and bringing men along on the journey for better individual and business outcomes.
Her books Getting Real About Having It All, Lead Like a Woman and Simple Soulful Sacred: A Woman's Guide to Clarity, Comfort and Coming sealed her position as a leader for women.
Is she surprised by her own success? "I don't think too much about my personal success. My guiding compass is where can we have the most impact for women, where are the women we can serve? How is that going to create ripples of change in organisations as well as families and communities?"
To that end, she also offers free coaching and scholarships for women who do not the financial means to attend the Women Rising program, particularly those from underserved communities. Last year the Women Rising Foundation gave away over $60,000 worth of scholarships and also supports UN Women, Dress for Success and Northern Beaches Women's Shelter as charitable partners.
She is also adamant that she practices what she preaches. "In my daily life, I wake up early and meditate. I have a deep spiritual practice. Then I go to the beach, swim, take a walk or do yoga every day before sitting down at my desk. The well-being work is the foundational piece that I live and coach by. I ask myself what I ask the women in our program: 'How are you living? How do you feel? Are you in alignment? What is it that you want for your life and career?"
These are the questions that she believes all women should be asking themselves. These are the questions that can make a difference.
Registration is open for the next Women Rising program in September. It is open to all women, regardless of role, industry, or level of experience. It is applicable to all career journey stages and the coaching supports individual needs. Currently it is priced at $999, which is 50% off the standard program rate of $1,999.
Visit womenrisingco.com/program to read the program details and register online.