William A. Kennedy III, MD, a double board certified facial plastic and reconstructive surgeon and the founder and CEO of AEDIT, shares how his app is disrupting the aesthetics space by bringing technology previously only available in doctors' offices to the palm of users' hands.
As a facial plastic surgeon, I was always in search of a platform that could give my patients trusted, easy-to-understand information about every cosmetic procedure available. People want to know the pros and cons of all treatments, not just the ones a particular doctor can offer; what surgical and non-surgical options exist; and whether or not something is right for them. For a long time, this information only existed in a limited way from device manufacturers, pharmaceutical companies, or doctors' websites. In each of those cases, the main goal is to sell their own products and procedures. I created AEDIT (pronounced ed-it) with the goal of empowering patients with comprehensive and unbiased information about aesthetic solutions.
The AEDIT iOS app is a first-of-its-kind, self-service aesthetic solutions platform designed to simplify and safeguard the search for cosmetic procedures and the board certified providers who perform them. AEDIT educates and empowers users to own their aesthetic journey through innovative technology and medically accurate information.
Aesthetic medicine is more popular than ever (the 2021 annual report from the American Academy of Facial Plastic and Reconstructive Surgery found a 40% increase in facial plastics last year alone), which has had both positive and negative effects. It's great that the conversation around procedures is being normalized, but there are unintended consequences. More and more patients are coming in to see me and my peers 'certain' of the results they want to achieve or the procedure they want to undergo because of what they've seen on social media or heard about from friends. This has led to an influx of misinformation and unrealistic expectations. This has also coincided with the rise of the so-called 'Instagram Face' — the term used to describe how social media, facial morphing apps, and plastic surgery has created a certain desired look that is causing a lot of people to look, well, the same.

To address this, AEDIT has developed The AEDITOR, our patented 3D Aesthetic Simulator, that lets people visualize medically accurate results that are personalized to their unique features.
More than three years in the making, The AEDITOR allows users to 'try on' popular surgical and non-surgical cosmetic treatments (including rhinoplasty, Botox, brow lift, lip filler, and more) and instantly visualize results. The AEDITOR uses machine learning and AI technology to map more than 100,000 points on the user's face with sub-millimeter accuracy. Once only available in a doctor's office, The AEDITOR removes the guesswork by delivering the experience of a 3D aesthetic consultation right to your smartphone and giving you the confidence to take the next step in your aesthetic journey. Currently, the app allows users to 'try on' 11 different treatments across six areas of the face with new treatments launching regularly.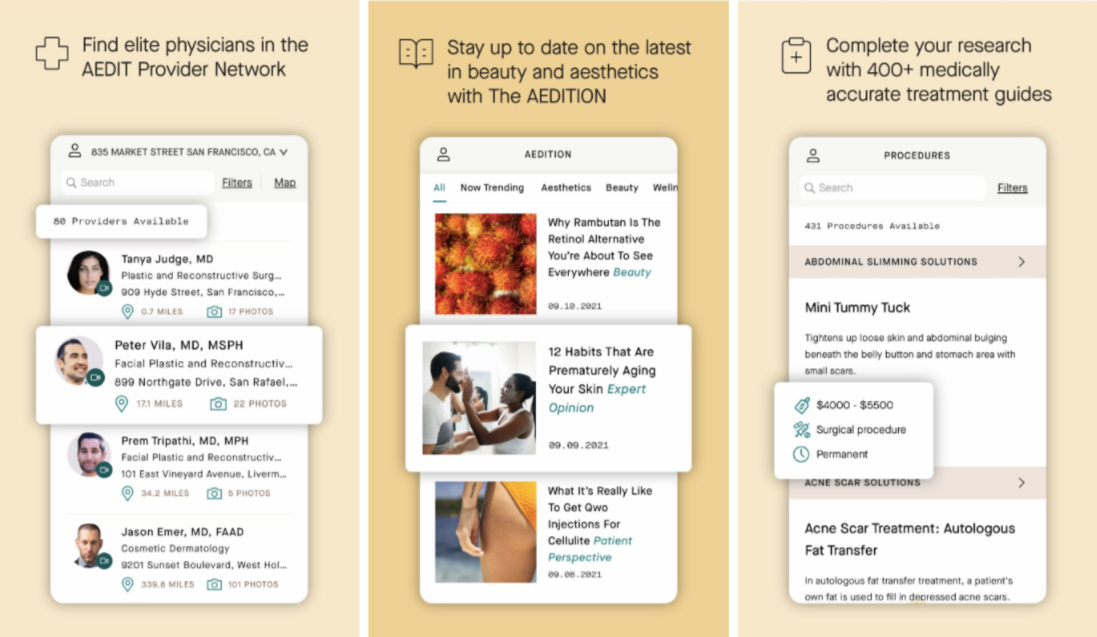 Because education is at the heart of everything we do, AEDIT offers five in-app tools to seamlessly help users from discovery to recovery:
1. The AEDITOR: 'Try on' cosmetic procedures — like rhinoplasty, lip filler, blepharoplasty, and more — and instantly visualize possible results with our patented 3D Aesthetic Simulator.
2. Smart Solutions Finder™: Research surgical and non-surgical treatments with over 400 user-friendly procedure guides that break down everything you need to know about cost, recovery, results, and more.
3. The AEDITION: Stay up-to-date on the latest beauty news and aesthetic trends with our curated digital publication that publishes new content daily.
4. AEDIT Provider Network: Book virtual and in-person consultations with trusted, board-certified providers near you.
5. Aesthetic Expert: Got a question? Chat with our dedicated aesthetic experts in real-time.
The AEDIT app is free to download and to use key features. To experience all that AEDIT has to offer, users can subscribe to AEDIT PRO. For $6.99 a month, the AEDIT PRO subscription unlocks all of the 'try on' procedures, a booking benefit of up to $400 off a procedure, and access to a dedicated Aesthetic Expert.