Podcaster Dimity Brassil shares her poignant story about how her mum's voice inspired her work.
As I hung up clean onesies and muslin wraps on the washing line, I listened to a podcast. It was early 2016, and a rare moment when both my newborn girl, and two year-old son were napping at the same time. My eldest daughter, aged five, was at school.
My favourite podcasts were interviews with people about their lives.
"If only I'd interviewed Dad and Belinda before they died," I said to my husband Shaun, 41, that day. "I'd love to hear their voices again."
Shaun and I had done a stint in London but moved back to Australia in 2011 when I was pregnant with Vivienne.
She was born in March of that year, my dad Pat, 79, died from Parkinson's in the April, and my older sister Belinda, 52, died from breast cancer in July.
My mother Anne, now 90, led by example during that difficult time.
As a freelance writer, I'd produced some broadcast journalism before and I knew that with a bit of practice, I'd be able to use the equipment required to create an audio recording; something our family could keep and listen to after Mum had passed away – to hear her voice again.
I realised this kind of memento could also be a service for others so when I visited Mum – who loves to tell a tale or two – in Wagga Wagga, NSW, in 2018, and told her my idea, I asked to interview her and use her audio as a prototype to show others.
She wasn't keen. "Dim, I don't think I want everyone to hear about all the things that happened in my life," she said gently.
After more discussion, we decided I'd do two recordings; one would be a very personal account of her life, just for family to keep when she passed away.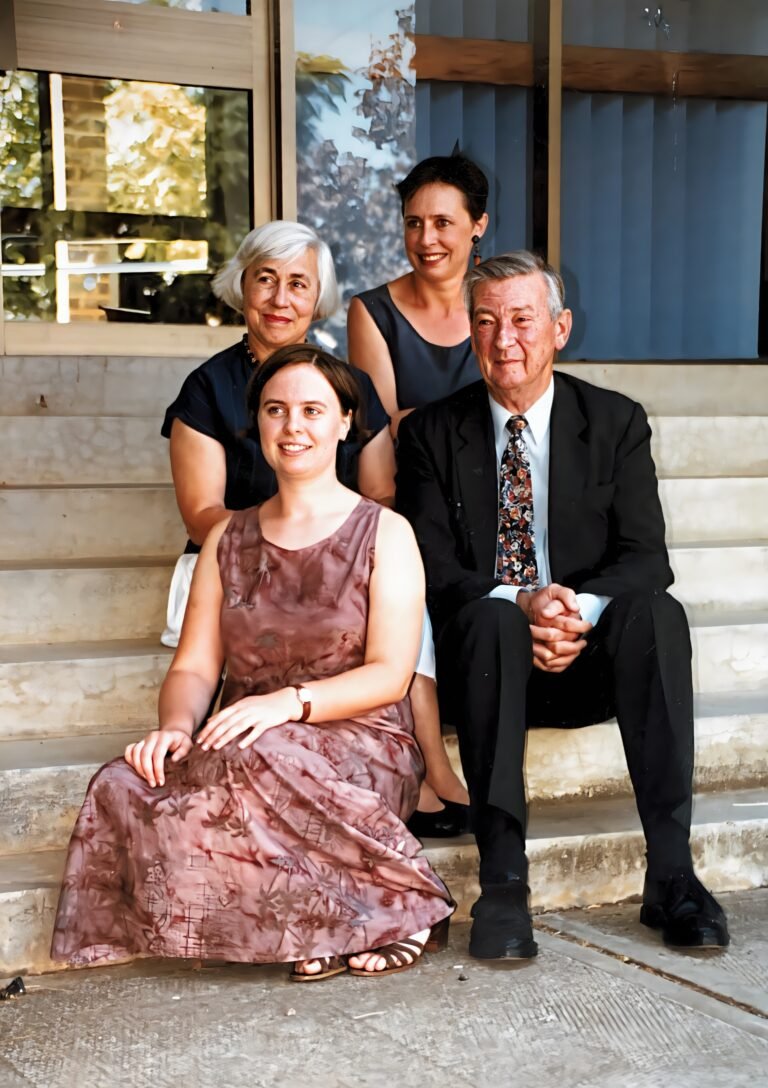 Another, would be about her life as a pioneering businesswoman in Wagga Wagga in the 1960s; Mum set up an independent bookstore called The Gateway Bookshop after she'd had her sixth child. It's still running today.
Mum is a really interesting person and has led a colourful life. Most people – even her children and most definitely her grandchildren – didn't know the true extent of her achievements, her community work, or her astute, witty and often acerbic observations on the play of life.
She moved away at the age of 16 in 1950, as one of only two girls in Wagga that year who got the Commonwealth Scholarship to go to Sydney University.
She led the creation of a very early Women's Refuge – one of the first of 11 refuges in the state and was an emergency carer for children in crisis. She also remembers the polio epidemic and seeing children in iron lungs in hospital.
Mum later became a teacher and skipped out of school with the teachers and the students when Queen Elizabeth visited the area as part of her great Australian tour in 1954.
Interviewing my own mum was challenging as it can be hard to ask your own family about challenging times and how they managed them.
When it got too much, we had tea and Melting Moments biscuits, Mum's favourite.
Over several hours, I finally got what I needed.
I called my business A Lasting Tale, then I ran some early test interviews.
The first was for a doctor's parents in Albury Wodonga. Next, was the story of 80-something year old Paddy, an Irish immigrant and well-known nursing leader. My friend Jane and her mother Judy engaged me to interview their family matriarch for her 90th.
Word spread and people started booking me. It's an honour to hear people's life stories.
I began running workshops, teaching people how to record their own life stories, and even created a free app. I travelled the east coast to interview people and visited countless retirement villages, aged care homes and private residences.
When COVID happened, I moved my interviews online. During the pandemic, what I was doing became more important as people were so isolated, especially the elderly.
"I need to start hiring others to do the interviews," I said to Shaun one night.
I now have 45 freelance journalists working for me around Australia. We talk to around five people a week. Our clients get a private shareable podcast, an audio file, a USB stick and a transcript of the interview.
Every interview is fascinating. We've had stories of immigration, growing up in the bush, service achievements and business successes.
A lot of our subjects have a renewed sense of pride about their life's achievements when they listen back to their audio.
One man emailed me within 10 minutes of me sending him his audio writing, "I've learnt more about my dad in the first 10 minutes of this than I ever knew."
Another man I interviewed sadly died shortly not long after I'd spoken to him, and the family used excerpts from our interview as part of the funeral service.
Many people use our service as birthday or Christmas presents. Others come to us because they know they might not have long left, including younger parents who have terminal illnesses and still have small children.
Last year, I was part of a group that organised an intergenerational project where Year 10 students from Finley High School interviewed residents at Amaroo Retirement Village in Berrigan, NSW.
This project saw me become an AgriFutures Rural Women's Award NSW/ ACT State Finalist this year.
Mum is now 90 and living in an aged care facility and I love that we have her voice on record when she passes.
Everyone has a story worth telling.