It's NAIDOC Week 2021 and a great way to celebrate is to learn more about what it is to be Aboriginal – one of the oldest continuing cultures on the planet. Scribd has a range of audiobooks and ebooks with a wealth of information about the Aborigines – from a gripping personal memoir on what it was like growing up Aboriginal in Australia to a guide on the 60,000-year-old healing system of the Aborigines. Take a look at these:
What is it like to grow up Aboriginal in Australia? This anthology, compiled by award-winning author Anita Heiss, showcases many diverse voices, experiences and stories in order to answer that question. Accounts from well-known authors and high-profile identities sit alongside those from newly discovered writers of all ages. All of the contributors speak from the heart – sometimes calling for empathy, oftentimes challenging stereotypes, always demanding respect.
Available here as an audiobook.
Secrets of Aboriginal Healing: A Physicist's Journey with a Remote Australian Tribe by Gary Holz and Robbie Holz Here is a guide to the 60,000-year-old healing system of the Aborigines revealed through one man's journey to overcome multiple sclerosis. In 1983, award-winning physicist Gary Holz was diagnosed with chronic progressive multiple sclerosis. By 1988, he was a quadriplegic. Then, in 1994, his doctors told him he had two years to live. Desperate and depressed, he followed a synchronistic suggestion and went to Australia to live with a remote Aboriginal tribe. Arriving in a wheelchair, alone, with almost no feeling left from the neck down, Holz embarked on a remarkable healing transformation of body, mind, and spirit and discovered his own gift for healing others.
Available here as an audiobook.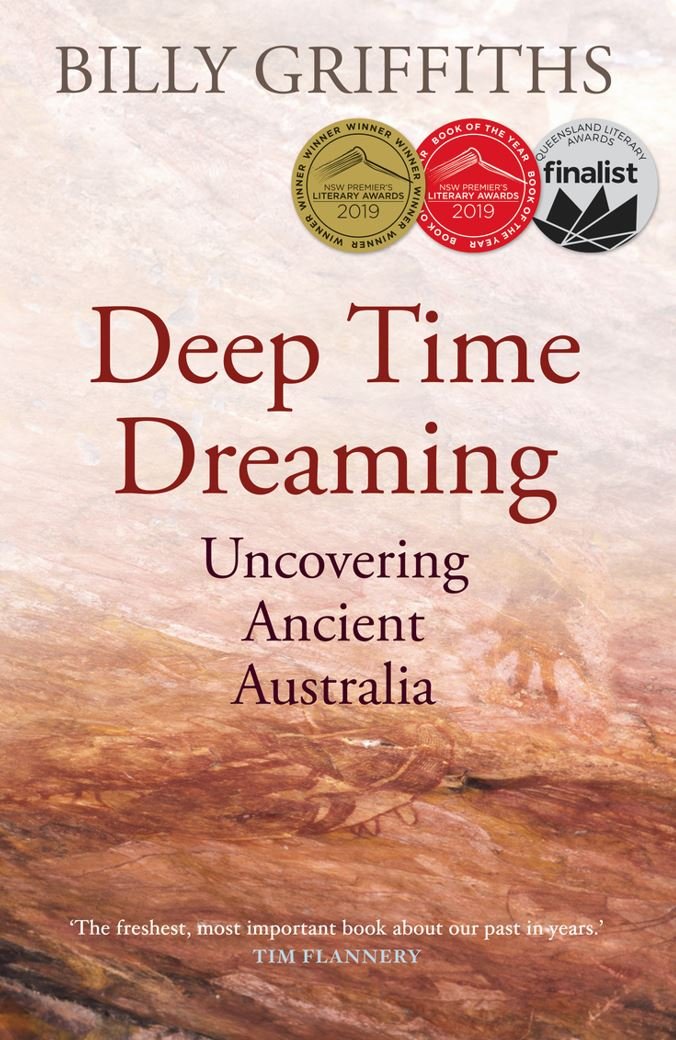 Deep Time Dreaming: Uncovering Ancient Australia by Billy Griffiths
Soon after Billy Griffiths joins his first archaeological dig as a camp manager and cook, he is hooked. Equipped with a historian's inquiring mind, he embarks on a journey through time, seeking to understand the extraordinary deep history of the Australian continent. Deep Time Dreaming is the passionate product of that journey. It investigates a twin revolution: the reassertion of Aboriginal identity in the second half of the twentieth century, and the uncovering of the traces of ancient Australia. It explores what it means to live in a place of great antiquity, with its complex questions of ownership and belonging. It is about a slow shift in national consciousness: the deep time dreaming that has changed the way many of us relate to this continent and its enduring, dynamic human history.
Available here as an ebook. 
Aboriginal Mythology by Mudrooroo
Aboriginals believe they have lived in Australia since the Dreamtime, the beginning of all creation, and archaeological evidence shows the land has been inhabited for tens of thousands of years. Over this time, Aboriginal culture has grown a rich variety of mythologies in hundreds of different languages. Their unifying feature is a shared belief that the whole universe is alive, that we belong to the land and must care for it. This was the first book to collate and explain the many fascinating elements of Aboriginal culture: the song circles and stories, artefacts, landmarks, characters and customs.
Available here as an ebook. 
About Scribd 
Scribd is a reading subscription service which gives you access to millions of ebooks, audiobooks, magazines, podcasts and sheet music – from the one platform for a monthly subscription fee. For more information, visit here.
For more information from Women Love Tech, take a look here.
Get Control Over Your News Feed With Facebook's Latest Update!