The Orbitkey key organizer and tracker are a powerful combination for people who often lose their keys or anyone who likes neatness.
Orbitkey Key Organizer
The Orbitkey Key Organizer promises to stop your keys from jingling and scratching. It carries 2 to 7 keys, with a flexible yet secure locking mechanism.
I tested out a blush pink leather key organizer. The box contains minimal cardboard packaging and a mini leaflet with instructions. There are clear diagrams for each step for assembling, or you can watch the following video.
It's easy to unscrew the locking mechanism. Then you add either two keys with two washers, or three or more keys just one washer. You can add your car key with D-ring included. Then you can fold up the band and screw it back together.
Orbitkey Tracker
The Orbitkey Tracker allows you to track your keys and belongings. You can use the free Chipolo app to prevent them from getting lost.
You just double click Chipolo tracker to ring your phone or use the Chipolo app to ring your item with the tracker (i.e my keys). In addition, you can change the ring sound.
I'd like to order an extra Chipolo Bluetooth tracker for my glasses, handbag and mobile phone.
Allow up to 48 hours for this tracking link to be updated with information. This app and tracker are available for both iOS and Android devices.
Orbitkey Range
All of the products in the Orbitkey range are designed to work together as an ecosystem. As a result, you can purchase additional accessories like:
USB 3.0 drive
Nail file and mirror
9 tools in 1 multi-tool – Box cutter, bottle opener, pry bar, flat-head screwdriver, PH2 Philips-head screwdriver, letter opener, metric ruler, imperial ruler, and coarse file
6 tools in 1 multi-tool: Bottle opener, multi-size hex wrench, box cutter, flat-head screwdriver, file… you name it – 6 tools in 1.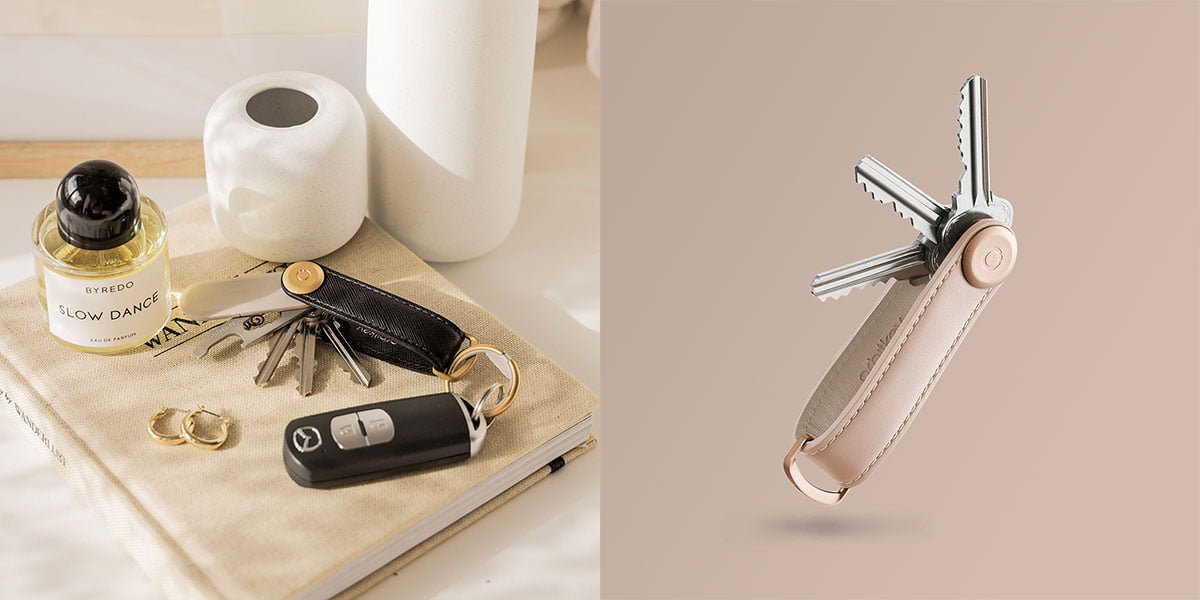 Orbitkey has created some limited-edition ranges with a number of different brands like Carryology, Gear Patrol, Return of the Café Racers, Qantas, Crumpler, EverydayCarry.com, Monocle, VOYEJ.
In conclusion, the Orbitkey Key Organizer and tracker works best with a small number of keys. Both items are lightweight and well designed. It's super easy to find my keys with the Bluetooth tracker.
2-year warranty. Award winning design.
About Orbit Key
Inspired by intentional living and contemporary industrial design, Orbitkey is an organisation brand helping people live better lives through clever and innovative organisation solutions.
Orbitkey was founded in 2013 with a simple idea to solve the frustration of noisy pockets, cluttered bags and messy keys. With the support of the crowdfunding community, the first Orbitkey Key Organiser was brought to life.
Proudly designed in Melbourne, Australia, the Orbitkey product range has since continued to grow – helping people organise more than just their keys.
Orbitkey has been honoured with the Red Dot and iF Design Awards for our Nest and Desk Mat, accompanying the Orbitkey Key Organiser in the internationally celebrated design community.
For more information or to order, head to the Orbitkey website: https://www.orbitkey.com.au/