Sydneysiders are accustomed to watching cruise ships enter their world-famous harbour, but nothing prepared onlookers for the mega-liner Ovation of the Seas when it recently graced Australian shores.
Built at a cost of US$1 billion, the massive cruise ship carries 6500 passengers and crew, is 348 metres long and is 18 decks high. But better still it packs in more high tech fun than ever before. As we discovered, it's like stepping into a scene from the Jetsons. Even the furniture reflected the techno-theme of the ship.  We were thrilled to see casual sitting areas included chairs that almost looked like the surface of a robot!
The entertainment lounge – Two70 –  incorporates the latest technology in robotic-like screens. The floor-to-ceiling sea view is absolutely spectacular; on the night I attended, we were treated to full views of the Sydney Harbour Bridge.
One moment, the room is a casual lounge area with water views, but within moments it transforms into an eclectic display of robotics and video projection, like nothing I'd ever seen.
Technology known as 'Vistarama' features 18 projectors, creating a surface with a stunning 12K resolution.
Then, when internationally acclaimed Australian singer Dami Im hit the stage, the performance area transformed into an intimate area.
The audience was treated to a brilliant rendition of Dami's hit from Eurofest 'Sounds of Silence.'
Adam Armstrong, Royal Caribbean managing director described how the ship is a 'game changer for cruising down under'.
"SuperCruising is a holiday experience unlike anything else you can find in Australia – and it can only be found on Royal Caribbean," says Adam Armstrong, Royal Caribbean managing director, Australia & New Zealand.
Here are just 10 other things that make the Ovation of the Seas special.
1. Sky dive without leaving the ship
Only available on Royal, Ovation of the Seas' skydiving experience is a must-do for adrenaline junkies or novice thrill-seekers alike. For those who aren't so sure about heights, RipCord by iFly is a seven metre tall wind tunnel – with the added bonus of a stunning sea view.
2. Test out some new wheels
Who said you can't drive on water?  Get behind the wheel of bumper cars and take them for a spin at SeaPlex, the largest active space at sea.
3. Technology Meets Mixology in The Bionic Bar 
The Bionic Bar is the ultimate high tech fun experience. Here, you are served the ultimate cocktail without any barkeepers in sight. You order from electronic boards and then get served your drink by a robot. They even put on a bionic dance to keep you amused.
The futuristic décor of white and silver is dazzling and thirsty passengers are satiated and entertained at the same time. What's more, we discovered robotic bartenders have a penchant for sweet mixed drinks. Yes, really.
5. Dine with superstar Jamie Oliver
One of the world's most popular chefs, Jamie Oliver's Jamie's Italian serves authentic pasta dishes, brilliant antipasto and divine dolce.  The whole family will enjoy these Italian favourites in a relaxed and fun atmosphere.
6. Fly high above the sea
Take in the super view more than 90 metres above the ocean in the North Star. This glass viewing pod is the closest to space you can get on the high seas, boasting breathtaking 360 degree views and it's very own Guinness World Record for the highest viewing deck on a cruise ship.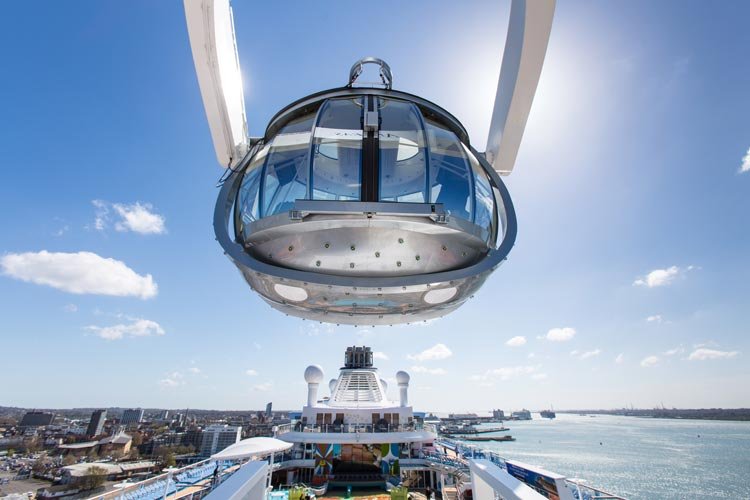 7. Surf the perfect break
It sounds crazy but it's true.  If you love surfing (or have always wanted to try) the FlowRider surf simulator will let you 'shred it' without worrying about 'dropping in' on anyone.  Boogie boarders welcome too!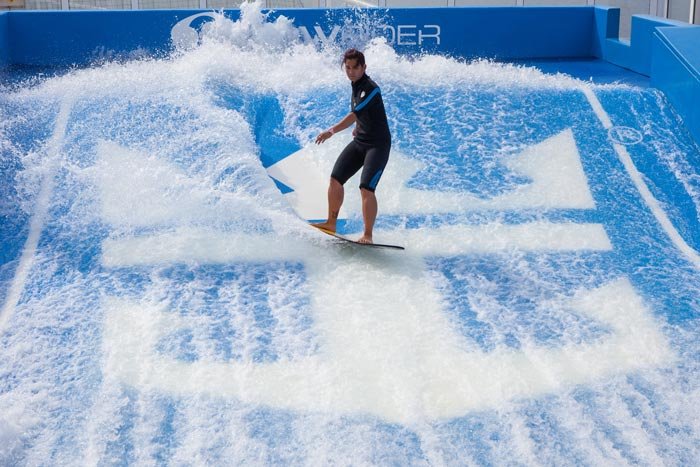 8. Run away to the circus
If you've always dreamed of becoming a world-class acrobat, the ship's circus school will have you gliding through the air and flying high on the trapeze in no time.
9. Take a trip down the rabbit hole at Wonderland

Like something from the stories of Alice, Wonderland is a magical restaurant unlike any other with incredible décor and creative dishes that dazzle your imagination and your tastebuds. Amazing and memorable dining experience for the big kids onboard.
10. Surf, download and stream as fast as you are surfing the high seas
Stay connected at sea with the fastest WiFi on water – VOOM. Just like the name suggests, wasting time waiting for your snaps to upload or movie to download is a thing of the past. With speeds fast enough to run Xbox Live gaming in SeaPlex, VOOM will let you check emails, stream videos and FaceTime to your heart's content.
11. Wake up in a loft suite
The super ship features luxurious modern spaces, such as open plan, two storey loft suite accommodations that sleeps up to six, featuring a generous lounge and dining area and floor to ceiling windows offering spectacular views.


This is a sponsored post by Royal Caribbean International. All opinions expressed by the author are authentic and written in their own words.