The Aspera AS6 is an affordable smartphone ideal for anyone on a budget who wants a fully featured mobile phone.
This model has a large screen and dual-SIM. It features face recognition and a fingerprint sensor. The phone is pre-loaded with social media apps and Android 10 (Go edition), so you'll be good to go straight out of the box.
Aspera Mobile MD Allan Robertson explained, "In the AS6 Aspera has kept its brand promise to bring a great value, budget-priced smartphone to consumers and we have specifically designed it to suit anyone looking for a large screen, full Android phone that won't break the bank. Also, to get face recognition and a fingerprint sensor in a full-featured smartphone for $149 is exceptional value and very rare indeed."
He continued, "In an age where the price of some mobile phones is running into thousands of dollars despite them being locked to a network, our success over the last ten years has proven that there is an increasing demand for high quality, low-cost alternatives. The AS6 gives you that in a smartphone and the F42 is ideal for the young or elderly, a budget-conscious user wanting a simple phone with easy-to-read large buttons and the most commonly used social media apps – including WhatsApp™ and Facebook™ – already installed."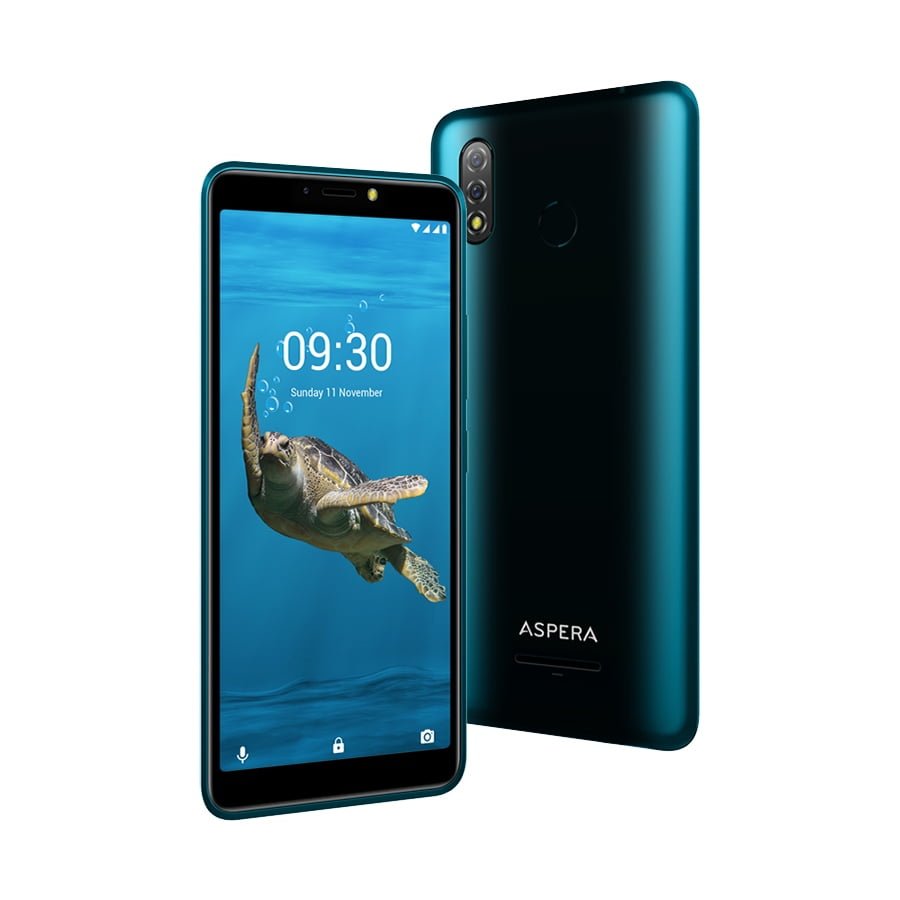 Aspera AS6 Smartphone Features:
fingerprint sensor
4G dual sim
2GB RAM and 32GB ROM
5.99-inch display
8MP rear and 5MP front camera
SD Card with 64GB max
Quad-Core 1.5Ghz
The AS6 smartphone has 4G capabilities. The screen is easy to read with an 18:9 IPS 550 cd/m² extra bright display that is FWVGA+ with 2.5D glass.
The phone runs on a fast Mediatek Quad-core 1.5GHz MT6739WW processor with Android 10. The phone has 2GB RAM plus 32GB ROM, and you can expand the memory using an SD card up to a maximum of 64GB. It's powered by a large 3000mAh battery.
The camera takes photos ideal for social media with an MP and 0.8MP rear camera and a 5MP front camera.
There's plenty of connectivity via USB, GPS, Bluetooth, Wi-Fi hotspot and VOLTE.
You can find both the new $149 AS6 smartphone in Australia Post, Harvey Norman and Big W stores and in petrol stations, service stations and convenience stores all across Australia.
For more information on the new Aspera AS6 smartphone go to: https://asperamobile.com/phones/smart-phones/aspera-as6/
About Aspera
Aspera Mobile is an Australian brand and company focused on more than just the latest in mobile technology. Aspera's product range includes smart phones, easy phones and rugged phones. Aspera's smart phones provide value for money solutions that will work on all Australian and New Zealand mobile networks.
Aspera easy phones cater for those who prefer a simple phone with a physical keypad, mostly using the device for calls and messaging. Including features such as camera, Bluetooth and radio provide useful functionality without needing to step up to a smartphone. Picture messaging, texting and playing music are all useful additions to the basic calling function.
Aspera rugged phones are for mobile users who need a high level of protection for their device due to their workplace or active life. Constructed with durability in mind all Aspera rugged devices have a minimum Ingress Protection (IP) 67 rating against the effects of non-corrosive liquids and dust particles. https://asperamobile.com/
Image Credit: Aspera