The Nanoleaf Essentials Lightstrip are a range of smart LED light strips. The Nanoleaf Essentials range is designed to be used for day-to-day activities.
You can use the lightstrips along your kitchen, behind your bedhead, around your monitor, television, desk or entertainment area. It would be ideal as part of your Christmas decorations.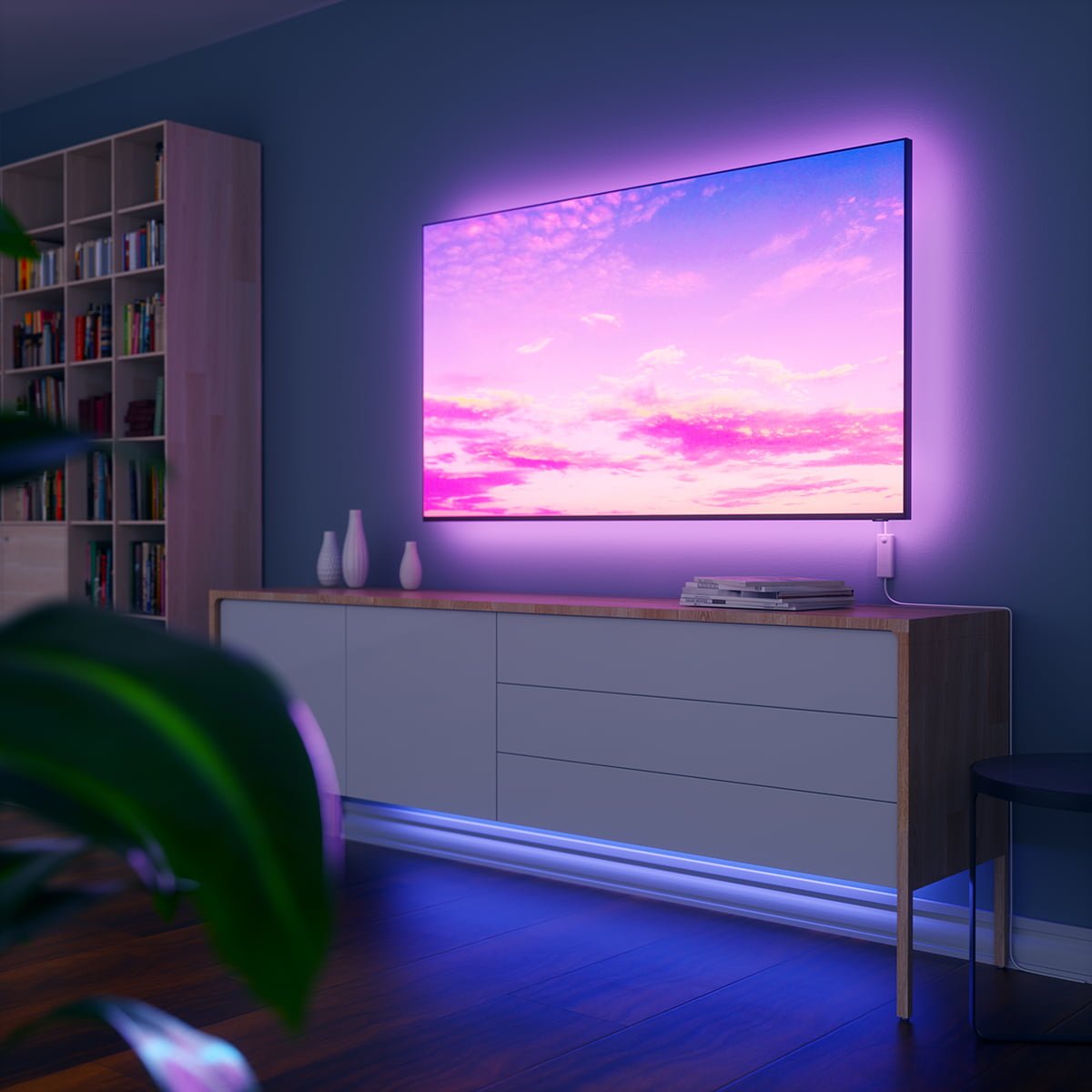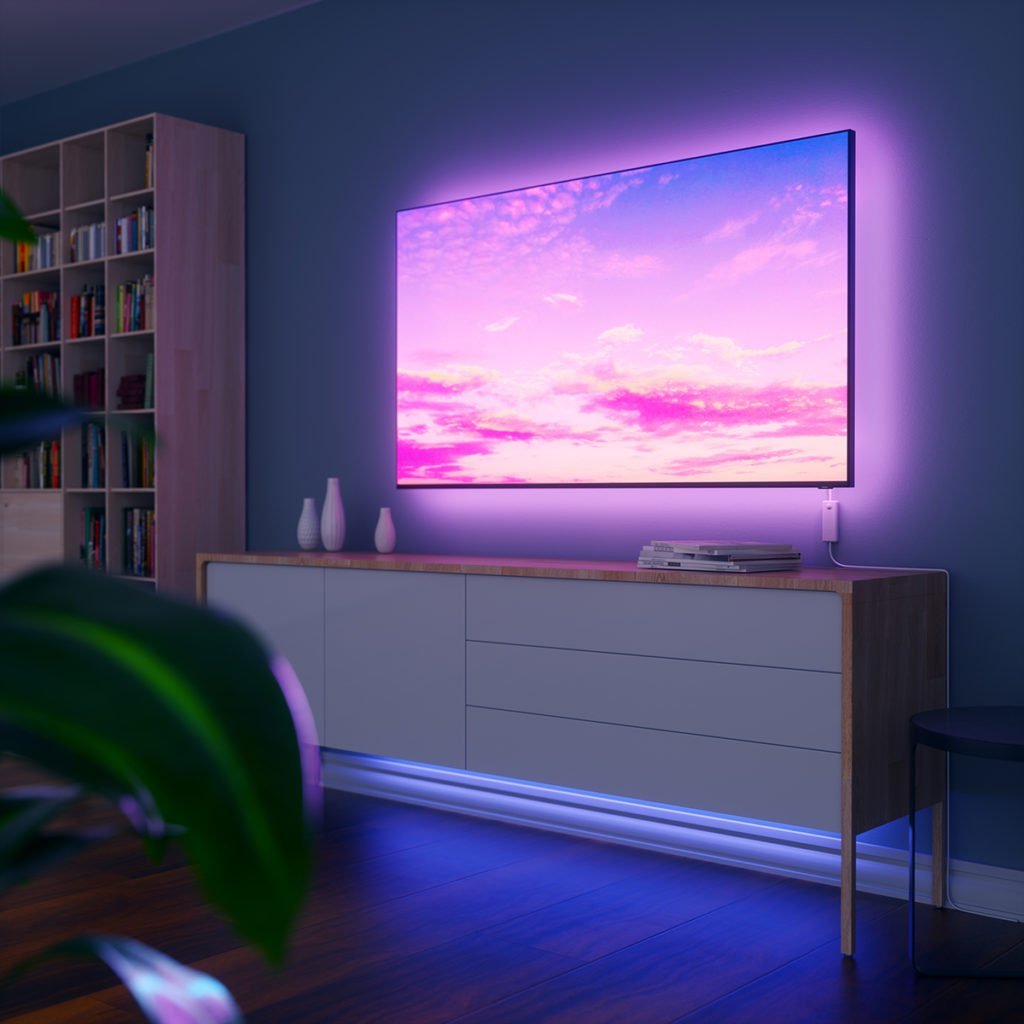 "As we continue to push the boundaries of what smart lighting can do, Essentials was the natural next step to ensure we're meeting all the smart lighting needs of consumers, especially for everyday lighting now that we're spending more time at home than ever before," said Gimmy Chu, CEO and co-founder of Nanoleaf. "We've focused on Thread to make smart lighting more reliable and accessible to everyone. The Essentials embodies Nanoleaf commitment to creating forward-thinking future-proof products for everyday. We truly believe this is a bulb ahead of its time."
Nanoleaf Essentials Lightstrip Setup
The box contains a QR code, power cord, controller, and a lightstrip.
The controller connects to the light panel. You'll need to plugin in the smart light strip and turn it on. Then you can pair with the app. It's easy to set up and get started.
You'll want to measure out where you want your light strip and then cut at one of spots with designated markings. You can optionally peal of the adhesive backing and stick the strip to the surface.
Nanoleaf Essentials Lightstrip Features
Bright LED lights with 2,000 lumens average brightness
Maximum brightness 2,200 lumens
25,0000-hour lifespan
30W power consumption
RGBCCWW (dedicated cool and dedicated warm white channels)
With 21 LEDs per metre = four white LEDS per set (two warm and two cool)
You can change the settings via the controller, your voice or the Nanoleaf app.
You'll need to purchase one 2 metre (80 inches) and then expand it with additional ones or expansion lightstrips at 1 metre (40 inches) long. The recommended maximum length per controller is 10 metres.
Works with Apple HomeKit, Google Assistant, Alexa, IFTTT and SmartThings.
Nanoleaf Essentials Lightstrip Review
Nanoleaf Essentials Lightstrip is a solid smart lighting product that is comparable to the others on the market, but a must-have if you are purchasing other products in the range.
https://nanoleaf.me/en-AU/products/nanoleaf-essentials/
About Nanoleaf Essentials Range
Nanoleaf Essentials is a seamless introduction to smart lighting for a more connected world. These have just launched into a broad range of retailers around Australia consisting of an A19 Bulb (both B22 and E27) and a 2M Lightstrip.
Retailers: Nanoleaf AU Store, JB Hi-Fi, Apple AU, Amazon AU, Kogan, KG
RRP: Starting from AUD$39.99
About Nanoleaf
Nanoleaf is a technology and IoT company changing the world with the most innovative smart home solutions, taking ordinary experiences and making them extraordinary. By infusing thoughtful design and technological intelligence in their products, Nanoleaf is ushering in a new era of the smart home that centres around complete personalization.
Nanoleaf was founded in 2012 by three engineers wanting to shake up the lighting industry. The company now has a global presence with offices in Shenzhen, Paris and Toronto. Made up of a diverse team of passionate out-of-the-box thinking problem-solvers, Nanoleaf strives to transform and reshape the way we experience our world. To find out more, head to the Nanoleaf website.