Vitamix has long had a cult following in the health industry, largely thanks to its versatility and focus on healthy, whole food recipes. Their high performance blenders are multi-functional, sleek and come with a polished recipe book that will encourage even the most reluctant cook to make something from scratch. We tried out their mid-weight A2300i from the Ascent series and were immediately struck by it's simple and elegant design. If you like a minimalist kitchen counter, this blender will fit right in.
Vitamix's reputation for a robust and long-lasting product is evident in the A2300i's intuitive design of the bowl and speed settings. There is no fiddly knob or flimsy attachment, the bowl clicks into place with ease and with just a few clicks, you are on your way to making your homemade cashew nut milk, or for the more adventurous, a Frozen Peach and Rosemary Margarita.
Other features include:
Variable Speed Control and Pulse to create every texture
Built-in digital timer
SELF-DETECT™ technology includes wireless connectivity that allows your blender to evolve.
Interlock technology to prevent the machine from operating if the lid or container is not secure
Available in four colours: Black, Slate, Red or White.
RRP $945, available at vitamixaustralia.com.au and other leading retailers.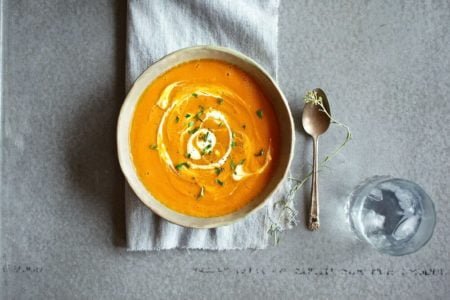 Our favourite winter warming recipe is the Curried Carrot Soup:
Ingredients
365 g (6) carrots, cut into 5cm pieces
80 g (1) onion, peeled, sliced
480 ml (2 cups) vegetable stock
120 ml (½ cup) soy milk
¾ teaspoon curry powder
⅛ lemon, peeled
½ teaspoon salt, optional
¼ teaspoon ground black pepper
Directions
Place the onions and carrots in a pan set over medium heat. Add a splash of water and allow to cook until onions are tender, about 5 minutes.
Place all ingredients into the Vitamix container in the order listed and secure the lid.
Start the blender on its lowest speed, then quickly increase to its highest speed. Blend for 5 minutes 45 seconds or until heavy steam escapes through vented lid. Serve immediately.
Notes
Using raw ingredients in a soup is a simple way to use the power of the Vitamix, however, cooking vegetables beforehand will enrich the flavour and remove some of the potency of ingredients like onions.