It's finally safe to forget your phone at home because the Galaxy Watch Active2 can do nearly all that your phone does on a daily basis, except straight from your wrist. It's refreshing…a smartwatch that is not exclusively bluetooth dependent which means that you can receive emails and other information when out of range.
The original Galaxy Watch Active was clever, but not nearly as clever as Samsung's latest release. For the first time, users can make and receive phone calls, access social media platforms, access their favourite apps and play music from downloaded Spotify playlists; all without their phone even being nearby.
The Galaxy Watch Active2 builds on a rich portfolio of Samsung smartwatches that are designed to help our customers better manage their day-to-day lives, communication and social media, as well as help them reach their health and wellness goals," said Garry McGregor, Vice President, IT & Mobile, Samsung Electronics Australia.
Thanks to the larger screen, all your notifications are easier to see, and not to mention easier to access with the digital rotating bezel that simply requires users to run their fingers around the edge of the screen to navigate.
It can also be a useful companion on the journey towards your wellness goals, as McGregor mentioned. Equipped with more sensors, the Galaxy Watch Active2 can more accurately monitor your sleep, heart rates, even your stress levels. Or if a simple workout is what you're after, users can choose from 39 of them, whether it be running, walking or cycling. And, yes, it tracks your data with a built-in Gym Tracker, so you can keep up-to-date with your progress.
More people are seeking technology that can provide the latest
apps, trackers, and mobile innovation in a range of stylish and personalised options," Garry McGregor from Samsung said.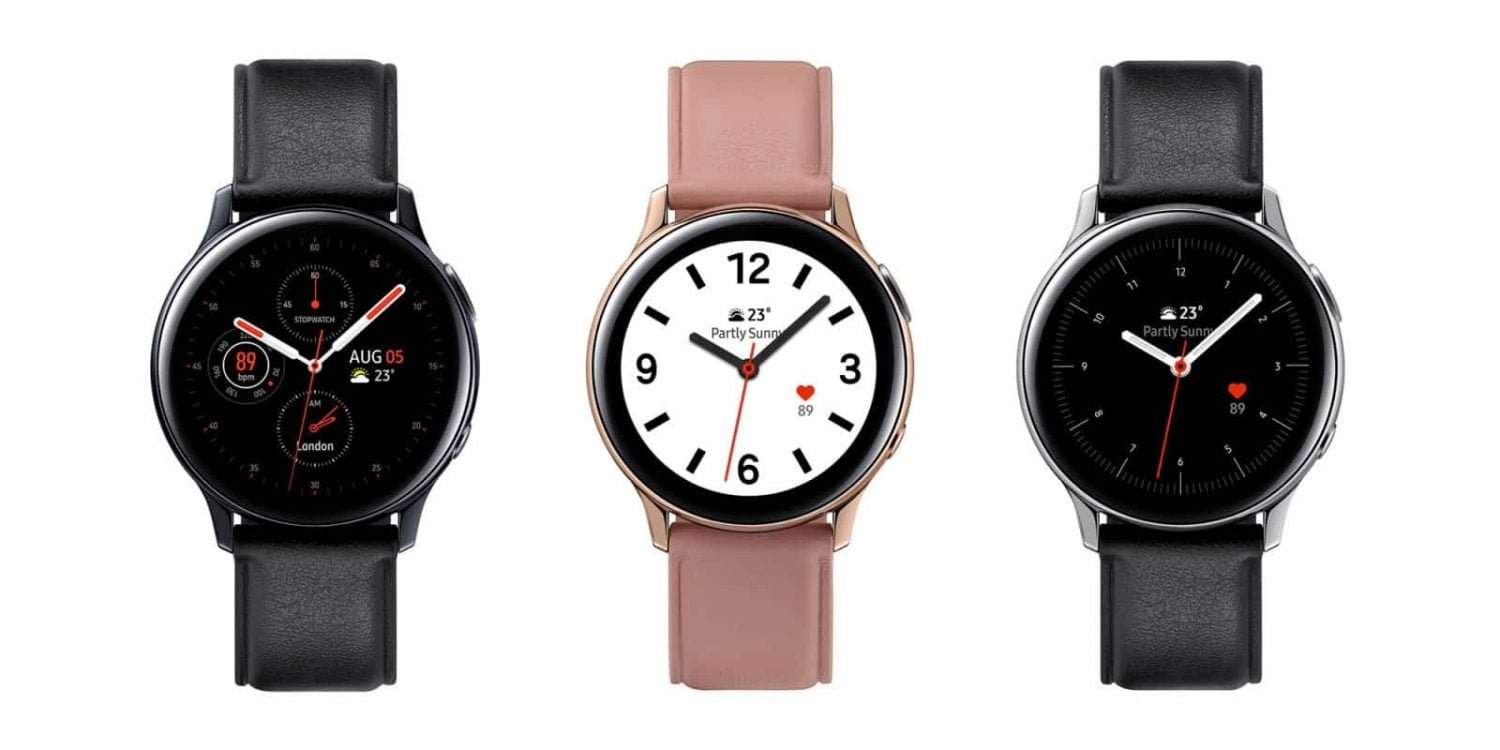 Which is exactly what they provided, because who wants to be like everybody else? That's boring. What we want to do is stand out from the rest, which is why Samsung have given the users the choice between aluminium (Cloud Silver, Aqua Black or Pink Gold) or stainless steel (Silver, Black or Gold) models, with numerous bands to choose from. And it's not only the outside that can be tweaked, but also the watch faces that you choose to sport which can be customised via Samsung's My Style feature. So mix and match, and find your style.
The Galaxy Watch Active2 also features convenient collaborations that make this watch what it is, with notable partnerships with Calm (to manage stress), My BP Lab (to measure blood pressure), Spotify (to listen to all your favourite music), and Samsung Pay (to make all your purchases right from your wrist).
It's Simple, slim, and powerful. There's no better way to describe it.
Pricing
| | |
| --- | --- |
| Galaxy Watch Active2 (Black 44mm LTE) | $799 |
| Galaxy Watch Active2 (Gold 44mm LTE) | $799 |
| Galaxy Watch Active2 (Black 40mm LTE) | $749 |
| Galaxy Watch Active2 (Gold 40mm LTE) | $749 |
| Galaxy Watch Active2 (Black 44mm BTH) | $549 |
| Galaxy Watch Active2 (Gold 44mm BTH) | $549 |
For more information about the Galaxy Watch Active2, visit the Samsung Electronics Australia website.