From talking to texting, making calls to taking photos, smartphones have become an indispensable part of our lives. However, with an abundance of offerings available – and a plethora of features and styles to choose from – the options can be overwhelming. That's why we've profiled six of the newest smartphones currently available on the market, highlighting the pros and cons of each, to help you make an informed choice.
Motorola Razr 40 Ultra 
Motorola's latest flagship foldable maintains the iconic flip design that captivated the world, and it adds a touch of innovation to the mix. With a focus on enhancing your mobile experience, the Razr 40 Ultra features a larger and sharper 3.6″ pOLED external display, offering immersive and functional capabilities without the need to flip open the phone.  
Pros:
The iconic foldable design offers a unique and stylish appearance.

A refresh rate of up to 144Hz in game mode, ensures smooth and responsive interactions with apps and websites.




The phone can stand at multiple angles, making it easier to capture photos and videos or enjoy hands-free gaming and content consumption.

An efficient notification bar on the external display allows you to stay updated without flipping open the phone, improving your multitasking capabilities.

Users can personalise and customsie the Razr with colorful live wallpapers, rearrange panels on the Home screen, and choose from various Moto clock styles.



Cons:
Generally speaking, foldable phones may be less durable over time due to the mechanical hinge.

Some apps may not fully utilise the external display's capabilities, leading to a suboptimal user experience.




The device's battery life may be shorter due to the dual-display setup and higher refresh rates, requiring more frequent charging.
Motorola Razr 40 Ultra, RRP from $999, at JB Hi-Fi, Big W, The Good Guys, Mobileciti, Lenovo.com, Amazon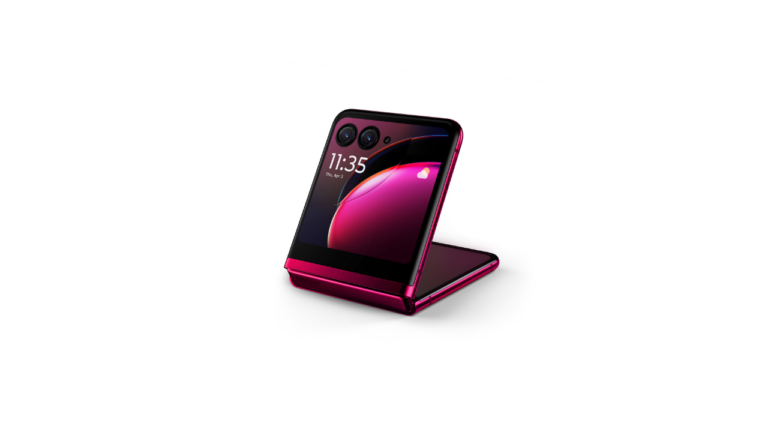 Apple iPhone 15
A cult classic for a reason, Apple's latest iPhone, the 15, is a testament to the brand's commitment to cutting-edge innovation. Not merely a phone, the 15 is simultaneously a work of art and technological marvel. Aesthetically, this incarnation features a stunning design. While practically speaking, the device also packs a powerful punch with a 48MP main camera, a 2x Telephoto lens, and a USB-C connector for  convenience and capability all packed into one beautifully crafted device.
Pros:
The iPhone 15 boasts a sleek and durable design with a colour-infused back glass and contoured edges.
With a powerful 48MP main camera and 2x Telephoto option, users are can create high-quality photography and professional standard portraits.
A16 Bionic Chip provides outstanding performance for a seamless user experience.
The Super Retina XDR display offers exceptional brightness and HDR capabilities.
Cons:
Apple's premium quality comes at a premium cost, making the iPhone 15 one of the more expensive options.
Apple's proprietary ecosystem may limit compatibility with non-Apple devices and services.
Apple iPhone 15, RRP from $1499
Samsung Galaxy Z Flip5 Retro
Nostalgia nuts will love the Samsung Galaxy Z Flip5 Retro  – a limited-edition smartphone that pays tribute to the original, while embracing all the offerings of the modern age. This special edition phone is designed to celebrate 20 years of Samsung's innovation and technical advancements. Drawing inspiration from the SGH-E700, a groundbreaking product from 2003, the Galaxy Z Flip5 Retro channels the essence of innovation. This smartphone is a limited edition, with only six countries, across the globe including Australia, having the privilege of experiencing this unique blend of retro design and modern technology.
Pros:
This smartphone pays homage to Samsung's history with distinctive features and retro-inspired design.
As a limited edition phone, it offers exclusivity for those looking for something special.
Featuring a combination of indigo blue and silver colors and 2000s pixel graphics, it taps into the trend for all things nostalgic.
Finally, the Samsung Galaxy Z Flip5 Retro comes with serious collectible value. And a package that includes collectible items like Flipsuit cards and a collector card with a unique serial number.
Cons:to
The Galaxy Z Flip5 Retro is only available in select countries, potentially limiting access.
This limited edition release may result in a  higher price tag.
Samsung Galaxy Z Flip5 Retro, RRP from $1849
Aspera Mobile Rugged R10
For those seeking a rugged and affordable smartphone, the Aspera R10 brings resilience and versatility at an affordable price. Durable, and more than capable of getting down and dirty,  it's a reliable companion for those who work in demanding environments and boasts a robust design that can withstand the harshest conditions.
Pros:
Built to withstand tough environments, the R10's rugged design offers IP68 protection against water and dust.
Featuring dual 4G SIM cards, it delivers all the functionality you'd expect from a traditional Android smartphone.
The R10 features a budget-friendly price, making it accessible to a wide range of users.
With a 5100mAh battery, the R10 ensures extended usage without frequent charging.
It also boasts a 2GHz Octa-core processor and ample RAM and storage for a solid performance and smooth operation.
Cons:
The R10's limited camera capabilities and specifications may not meet the needs of photography enthusiasts.
While it provides value, the phone may lack some of the latest features found in premium smartphones.
Aspera Mobile Rugged R10, RRP from $299 from Big W, Retravision, Better Electrical, Mobileciti, selected IGAs and selected BP service stations.
OPPPO Find N3
Following a spectacular global launch event in Singapore, OPP's Find N3 foldable smartphone is poised to redefine the mobile experience in Australia. With impressive durability (the self-healing layer on the unfolded screen minimises creases, and the device can withstand one million folds) and elegant design (including a sleek 5.8mm thickness when open, vegan leather finish, and a weight of 239g) the Find N3 combines durability with a premium feel – making it one of the most impressive foldables available.
Pros 
With two large, crystal-clear screens – a 6.3″ outer screen and a 7.8″ unfolded screen offering over 425 pixels per inch – the Find N3 provides a captivating visual experience. It effortlessly transforms from a traditional smartphone to an immersive tablet.
Three powerful speakers deliver left and right-channel stereo sound, with a 30% volume boost compared to its main competitor.
Featuring three pro-grade cameras with focal lengths of 14mm, 24mm, and 70mm, including a 48MP LYTIA-T808 sensor and a periscope telephoto camera, this foldable device redefines photography.
Running Android 13 with ColorOS 13.2, the Find N3 offers extended software support and innovative features like Global TaskBar, App Library, File Pocket, and Boundless View for enhanced productivity. The Qualcomm Snapdragon 8 Gen 2 chip, 512GB storage, 16GB RAM, and Dynamic Computing Engine also ensure outstanding productivity and performance for gaming and multitasking.
The Find N3's large 4800mAh battery and 67W SUPERVOOC fast charging technology ensure that you spend less time waiting for your device to power up.
Cons:
With an RRP of $2,699, the Find N3 falls into the premium price range.
Availability may be limited initially, making it less accessible to some users.
OPPO Find N3, RRP from $2,699, available from Mid November
Nokia G42 5G in So Pink 
With its funky fuschia design this phone is proof that it's still okay to think pink and embrace your inner Barbie girl.It places a strong emphasis on self-repairability, allowing users to address common issues. And incorporates sustainable elements, featuring a 65% recycled back cover and eco-friendly packaging. Its impressive three-day battery life. A robust 50MP AI camera, and 5G connectivity add to its appeal, making it a compelling choice for those seeking a budget-friendly, stylish, and eco-conscious smartphone in 2023.
Pros 
The phone's self-repairability allows users to fix common issues like cracked screens, damaged charging ports, and batteries with DIY kits, reducing the cost of repairs.

It is also made with a 65% recycled back cover and comes in FSC®-certified mixed packaging, contributing to sustainability efforts.

The device boasts a three-day battery life and retains 80% of its original capacity after 800 full charging cycles, providing long-lasting performance.

Featuring a 50MP camera with AI imaging capabilities, it offers clear and high-quality photos, including features like Portrait Mode and Night Mode.

The smartphone comes with three years of monthly security updates and two years of OS upgrades, ensuring the latest software and security features.
Cons:
While it offers good value for the price, it is a mid-range smartphone, so it may not compete with higher-end devices in terms of performance and features.

The bold pink colour may not be to everyone's taste, and some consumers may prefer more conventional color options.

While the phone itself is affordable, replacement kits and accessories for repairs can add to the overall cost if needed. The availability of replacement parts and repair kits may also vary in different regions, potentially affecting the user's ability to repair the device themselves.
Nokia G42 5G So Pink, RRP from $449, available from JB Hi-Fi, Officeworks, TVSN, Amazon, Catch, Kogan and nokia.com