We've all been there. You're late with a project and you've been up all night working on your laptop trying to get it finished or you've been on your tablet for hours for work Zoom meetings. Well, the good news is TCL is one company taking steps to reduce the blue light glare emitted from most of our devices and the company's latest tablet – called the NXTPAPER 10s – features new screen technology that uses 73% less blue light.
TCL already has blue light reduction in its existing smartphone range but now it's added this to its the NXTPAPER 10s which uses a new solution of 10 layers of protection to reduce blue light without losing natural colours. After using the tablet here at Women Love Tech, we found there was far less glare from the screen and the colours were still bright.
The NXTPAPER 10s has already won the Best Product In Tablet Innovation from EISA (Expert Imaging and Sound Association in Europe) for 2022-23 and the Eye Protection Innovation Award Of The Year at CES.
Maybe you're not quite so sure you need to reduce the blue light coming at you from your screens? Well then, you could be in the minority because Optometry Australia's 2022 Vision Index Report found that 88% of surveyed Australians experienced sore or tired eyes after using a computer or tablet for work, while 86% of Australian parents said they believe screen time is impacting their child's eyesight, according to BUPA's survey.
HCF Australia has found there has been a 28.8% increase in school-aged children needing glasses or contact lenses between 2015-2020. The World Health Organisation (WHO) has acknowledged that short-sightedness is on the rise, estimating that half of the global population may be myopic by 2050. This looks to have been reinforced during the COVID-19 pandemic, with 31% of Australians reporting that their eye health has been negatively impacted by the increase in screen use during lockdowns, according to Optometry Australia.
With all of this concern about blue light reduction, it's timely that TCL has released the NXTPAPER 10s now because blue light reduction is built directly into both the tablet's software and hardware. Its 10.1-inch FHD paper-like display utilises ten layers of protection to retain natural colours, setting an industry standard.
Using the tablet feels more comfortable yet the colours still look lively and normal
When you're using the tablet, looking at the screen feels more comfortable and yet the colours still look lively and normal. Overall, using the tablet is a pleasure and it makes reading documents continuously – if you need to for work – much easier.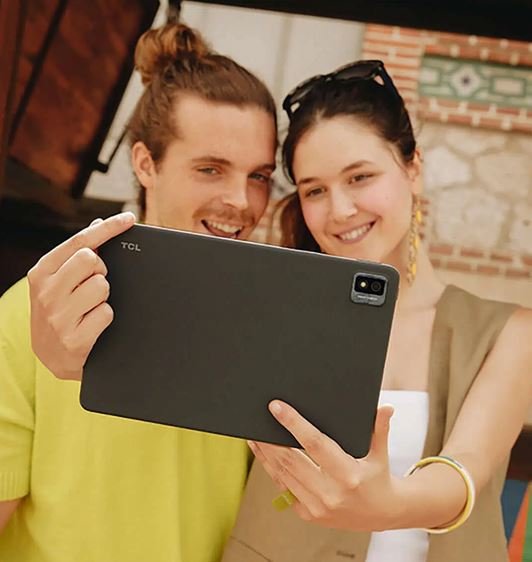 As well, the tablet has an anti-glare finish and fingerprint-free screen which gives users a tactile feeling and makes it easy to view the screen from any angle.
TCL Communication Australia, New Zealand and Pacific Islands Channel Manager Joseph Corrente said at the tablet's recent launch: "We are thrilled to be bringing our extremely affordable, innovative paper-like technology to all Australians, which we see as the culmination of years of R&D in our ever-evolving display technology."
"The TCL NXTPAPER 10s arrives at a time when Australians are more concerned than ever about the impact of screen time on their eye health and we know we are offering a unique tablet solution for all Australians focused on work, entertainment and learning," he added.
You can use the NXTPAPER 10s as a laptop easily because it has PC Mode built-in and this is accessible through the drop down setting from the home screen. When you use the tablet with its Folio Keyboard, Octa Core chipset and 8000mAh battery, you can use the following set up for a full day of work.
The Tablet is Android Enterprise Recommended, reflecting TCL Mobile's commitment to deliver OS and security updates to users.
TCL NXT PAPER 10s specs
The NXT PAPER 10s has a 10.1″ screen with an 8000mAh battery and an 8MP rear camera and a 5MP front camera, plus 2 speakers and 2 mics. It comes with a display keyboard for PC mode and 64GB storage.
For more information about the TCL NXT PAPER 10s, visit here.
For more from Women Love Tech about the latest tablets, visit here.