DJI released a premium smartphone stabilizer late last year that helped to give my videos a professional edge. I placed my order in a specialist camera shop and then had to wait a week before my stabilizer was in stock.
The DJI OM 4 features:
Quick snap magnetic phone attachment system
a portable folding design
3-axis stabilizer technology to take better photos and videos
impressive battery life of 15 hours
Did you know that you can use it as a portable battery charger – if needed?
"As the DJI OM smartphone stabilizers have evolved over the years, every iteration has made it easier for anyone to add rock-solid stabilization to their photos and videos. With its new magnetic attachment and folding design, the DJI OM 4 again goes farther so anyone, no matter their experience with gimbals, can pick it up and make content that pulls in the viewer," said Paul Pan, Senior Product Line Manager at DJI. "As people around the globe now rely on their smartphones to navigate the new work-from-home world, stay connected with loved ones and showcase their lives, the DJI OM 4 is our phone's companion we need to make capturing footage fun, smooth and magnetic."
The box contains the stabilizer, tripod, a grey carry bag, Quick Start Guide, User Guide, Disclaimer and Safety Guidelines, clear plastic alignment guide, wrist strap, riser pads, stickers, cleaners and a magnetic ring holder or magnetic phone clamp (holder).
I prefer to attach my phone with the lightweight metal clamp. I just have to take the phone case off first.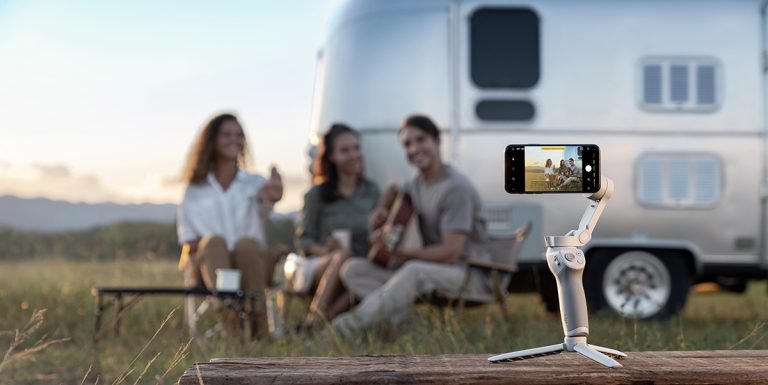 You'll need to download the DJI Mimo app and then connect your smartphone to your gimbal with a Bluetooth connection. The app allows you to automatically track your subject and use pre-programmed movements and modes: think time-lapse, motionlapse, hyperlapse, slow-motion, sports mode, panorama, and more.
I found it takes a couple of attempts to get the hang of using it. The dedicated tutorial videos on the DJI website are very useful and worth watching a couple of times:
Highly recommended for frequent smartphone video users.
For more information, please go to https://www.dji.com/au/mobile/om-4.
About DJI
DJI, flying and camera stabilization systems redefine camera placement and motion. Amazing photos and video, treasured personal memories, and high-end professional imagery are captured every day, in every corner of the world using DJI products.
Achieved through an unparalleled commitment to R&D, a culture of constant innovation and curiosity, and a focus on transforming complex technology into easy-to-use devices. Building on the ethos of "form follows function," our products combine advanced technology with dynamic designs.
Headquartered in Shenzhen, known as China's Silicon Valley, DJI benefits from direct access to the suppliers, raw materials, and young, creative talent pool necessary for sustained success.