Trinny Woodall is the CEO and Founder of the cult makeup brand Trinny London. Having worked as a TV stylist, author and fashion designer; Trinny could easily be described as a serial entrepreneur.
Her inspiration for Trinny London came when she couldn't find makeup that suited her on the go lifestyle, so she created the stackable beauty pots that are now favourites among many beauty editors around the world and a legion of women. She also created an online service that helps you match the right makeup for your skin tones called match2me.
Here Women Love Tech talks to the fashion and beauty trailblazer about what makeup means to her and who inspires her – one of the women she cites is Aussie serial entrepreneur Mia Freeman.
First up, let's talk about Covid-19….
During COVID 19, many women are saying they are still putting makeup on because they realise they do it for themselves and not for anyone else. Do you subscribe to this view? And if so, why?
I think that it's so important the first person you put on makeup for is you, because you're the first person who catches sight of yourself and you're the first person who judges yourself – so do that for yourself. Be able to give yourself the opportunity to look the best you want to look that day so when you catch sight of yourself in the mirror or you're on the zoom, call – you're not thinking, oh, I wish I would have made more effort- you feel good about yourself. You catch sight of your reflection and you feel like I did that for me. And then everyone else around can benefit.
I'm a bit fed up with seeing this endless stream of influencers who, you know, it's a paid post. We've been in touch with some influencers when we will do launches and things and I look at the number of followers they have and what they want to charge and I just think to myself, is there anything you do that isn't commercial? And I know that when I look at myself I do spend half my time talking about Trinny London.
It's my brand – but I'm not being paid to do it – it's my company and I spend the other half of my time talking about what I love and it gives me great freedom that I don't take money from somebody because I'm building a brand.
But I still find there are very few people out there when I look and I think is this just because they were sponsored. So even some really big – remain nameless – UK skin experts I see articles they do and I see five of the seven products they recommend that I know they are doing commercial deals with even when they say 'I only work with brands that I love'. It's hard, hard to find really objective skin experts.
What are three of your favourite sites, apps or podcasts and and why?
I love Mia Freeman from Mamamia because I just think she's a woman who is incredibly down to earth, realistic, full of joy and a serial entrepreneur, and I kind of respect women like that a lot.
There's Jessica Matlin and Jennifer Goldstein, who do Fat Mascara which is a podcast in America, which I love.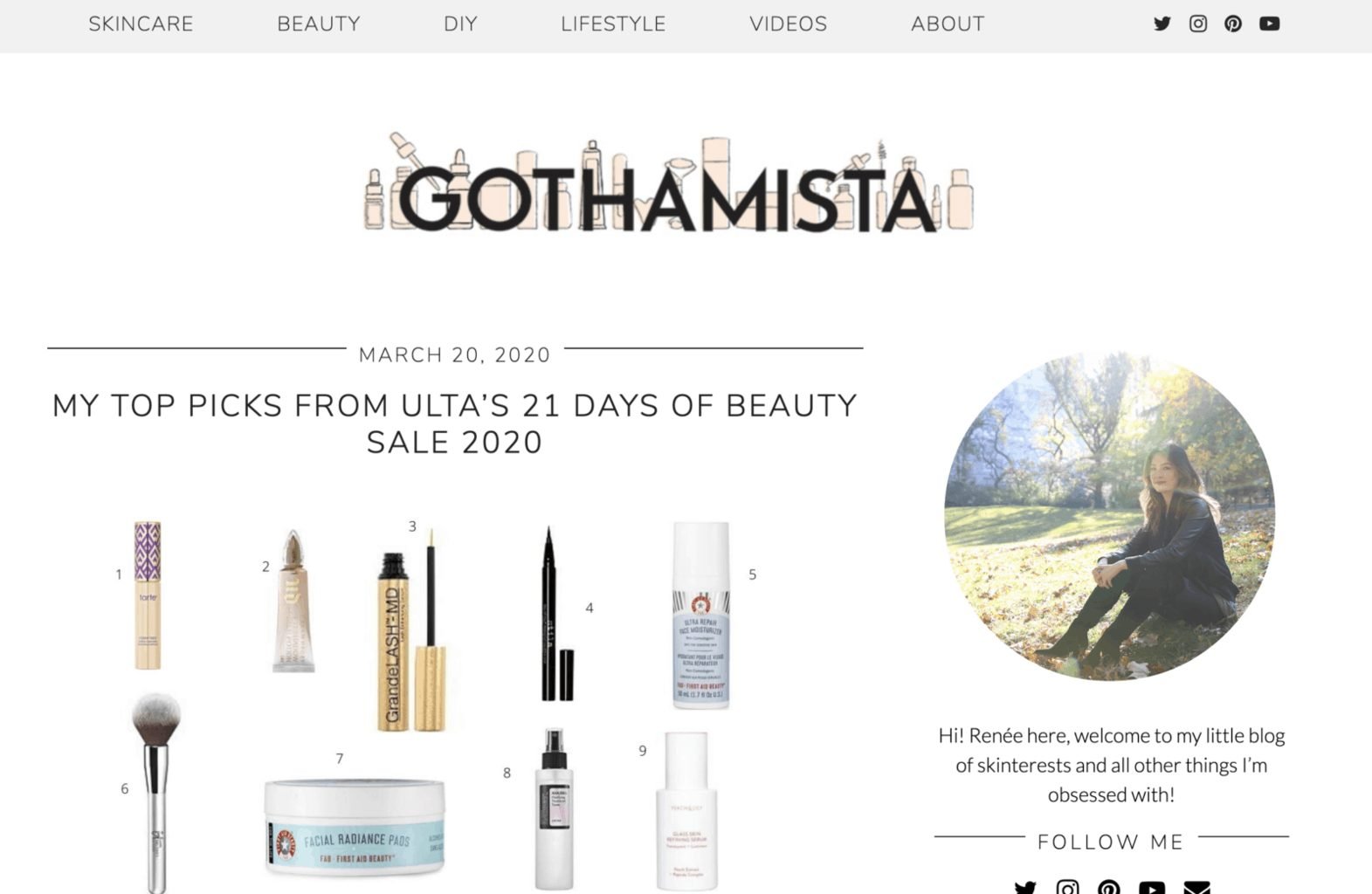 Gothamista is a site and has a Youtube channel with lovely woman called Renee who is based in New York. I've never heard much about her, but she always recommends really lovely skincare products. She has very sensitive skin but I wish I could be like her in her routine because she is so gentle and loving with her skin and I'm quite ruthless with my skin because its what I call rhinoceros skin. It can kind of take anything – so people like that who find really interesting products.