Logic Pro X is Apple's advanced music production software that gives musicians and beat creators alike the tools they need to express their art.
Today, Apple has released its biggest update to the software since it was launched over 25 years ago in 1993, that will welcome a new set of powerful creative features such as Live Loops, Sampler and Quick Sampler, new tools for Beat Creation, and the Logic Remote app.
In light of the announcement, some big names in the industry have already expressed their excitement for the changes. Finneas O'Connell, Grammy Award-winning producer: Billie Eilish, "Bad Guy" and the album "When We All Fall Asleep, Where Do We Go?", said that "with the addition of Quick Sampler and Drum Machine Designer, I'm getting back hours I used to spend in the studio building sounds and kits. This lets me spend more time writing new verses and editing 70-take vocals."
Denzel Baptiste and David Biral of Take a Daytrip, also Grammy-nominated producers for some of the biggest hits like "Panini" (Lil Nas X) and Travis Scott and Kid Cudi's, "THE SCOTTS", were full of praise for the software, claiming that it "has changed the way we approach making music."
So, let's take a look at the new features and tools.
Live Loops
Adding loops and samples to music can give it that missing element. Now, users can sort their samples, loops and recordings in a seperate grid so that creators can instantly make changes to the track's timeline.
By also using Remix FX, a collection of effects like Bitcrusher, filter, gater, and repeater can all be performed in real-time on individual sections of the track or throughout the entirety of the timeline.
Sampler and Quick Sampler
Sampler gives producers the ability to create and edit instruments with multiple complex samples in a much easier way thanks to its drag-and-drop mechanism. Quick Sampler, on the other hand, is used to quickly and effectively turn any sound into a playable instrument. Users can pick any sound, whether it be from within the Logic software itself, from Voice Memos or even direct recordings. With a few adjustments, the chosen sample can be trimmed and looped and played across a keyboard controller.
Beat Creation
Creating beats is without doubt one of the biggest aspects of music production, and the new update is making it easier for producers to create their own original beats with these additions:
Step Sequencer: this particular editor focuses on facilitating the process of programming drum beats, bass lines, and melodic parts based off of classic drum machine workflows. Users will have control over aspects like note velocity, repeat, gate, skip, playback direction, and randomisation.
Drum Synth: this addition will provide users with a wide range of options when it comes to kick drums, snares, toms, and percussion sounds. Each sound can be edited to preference and fine-tuned to kick out the parts they don't want and keep the parts they love.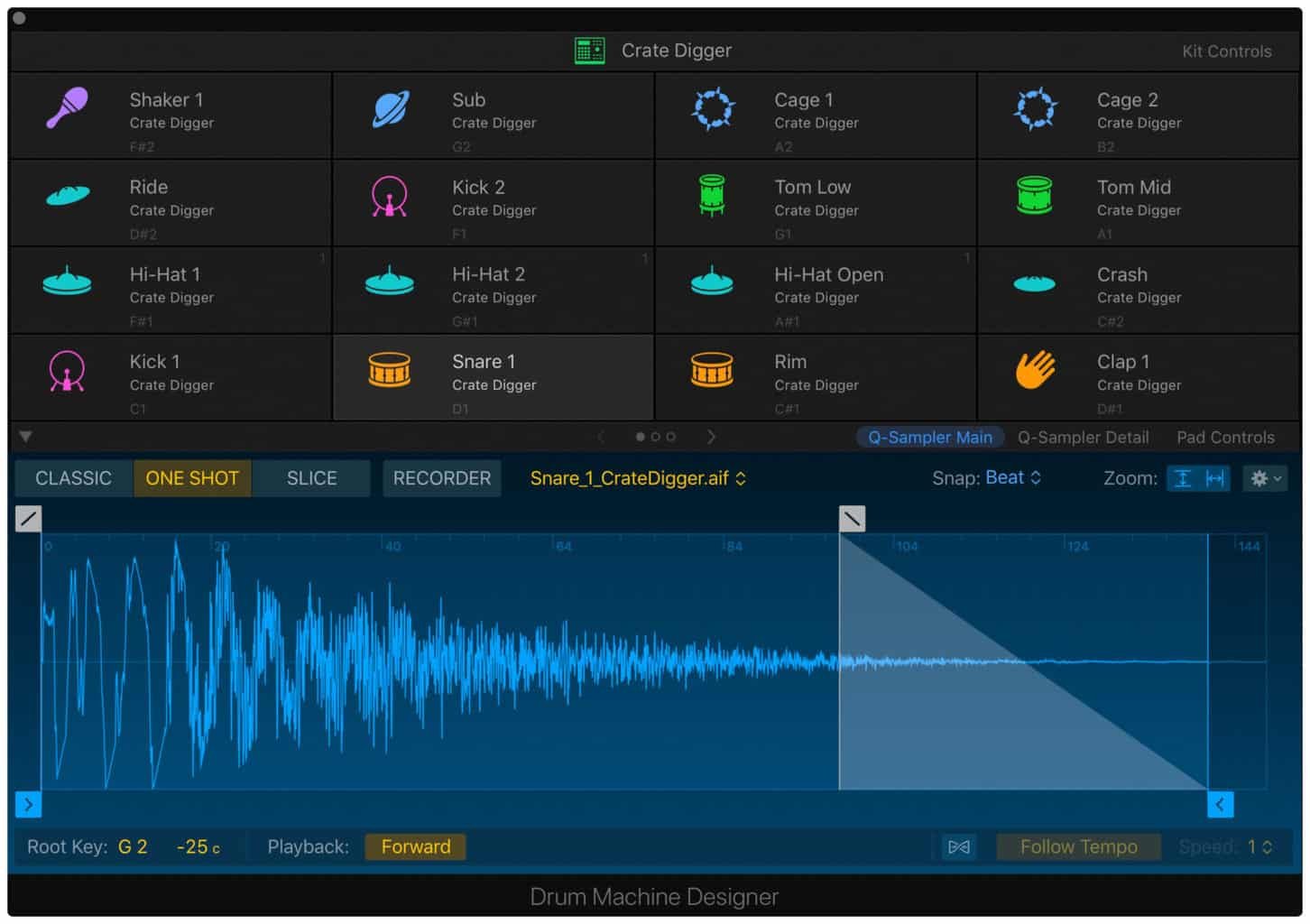 Drum Machine Designer: with this update, the electronic drum kit builder will be able to host Quick Sampler and Drum Synth plug-ins so that editing and shaping sounds becomes much easier to do. After the kits are created, they can be played in real-time or edited with Step Sequencer.
Logic Remote
Logic Remote is the accompanying app for Logic Pro X which allows users to pair an iPhone or iPad with their Mac to control and perform Logic features and instruments using Multi-Touch. With the update, the app will allow users to trigger sounds in loops, add loops, and apply Remix FX.
For existing users of the service, Logic Pro X is available to update for free. For new users, the software is available for A$319.99 here. First-time users can also benefit from a 90-day trial.