Only 22% of Australian start-ups are founded by women with only 9% of capital-raising deals going to female founder teams, according to a 2022 Deloitte Access Economics report.
And, only 36% of small business owners are women, despite an increase of 40% since 2001, according to a 2022 Xero report prepared by Accenture.
A fundamental issue is female founders and entrepreneurs struggle to receive sufficient funding and that's where Enterprising Women is stepping in to support the next generation of female founders to start innovative ventures in areas of critical need for the economy.
The initiative benefited CEO and founder of Vacayit Hailey Brown who was last year's winner of the Enterprising Women's Kickstarter Challenge.
24-year-old Hailey used her prize money to scale her inclusive travel app Vacayit, which provides immersive audio guides to travellers who are blind or have low vision.
Women Love Tech spoke with Hailey to find out more about the challenge, the mission behind her app, and the growth in opportunities for aspiring female entrepreneurs.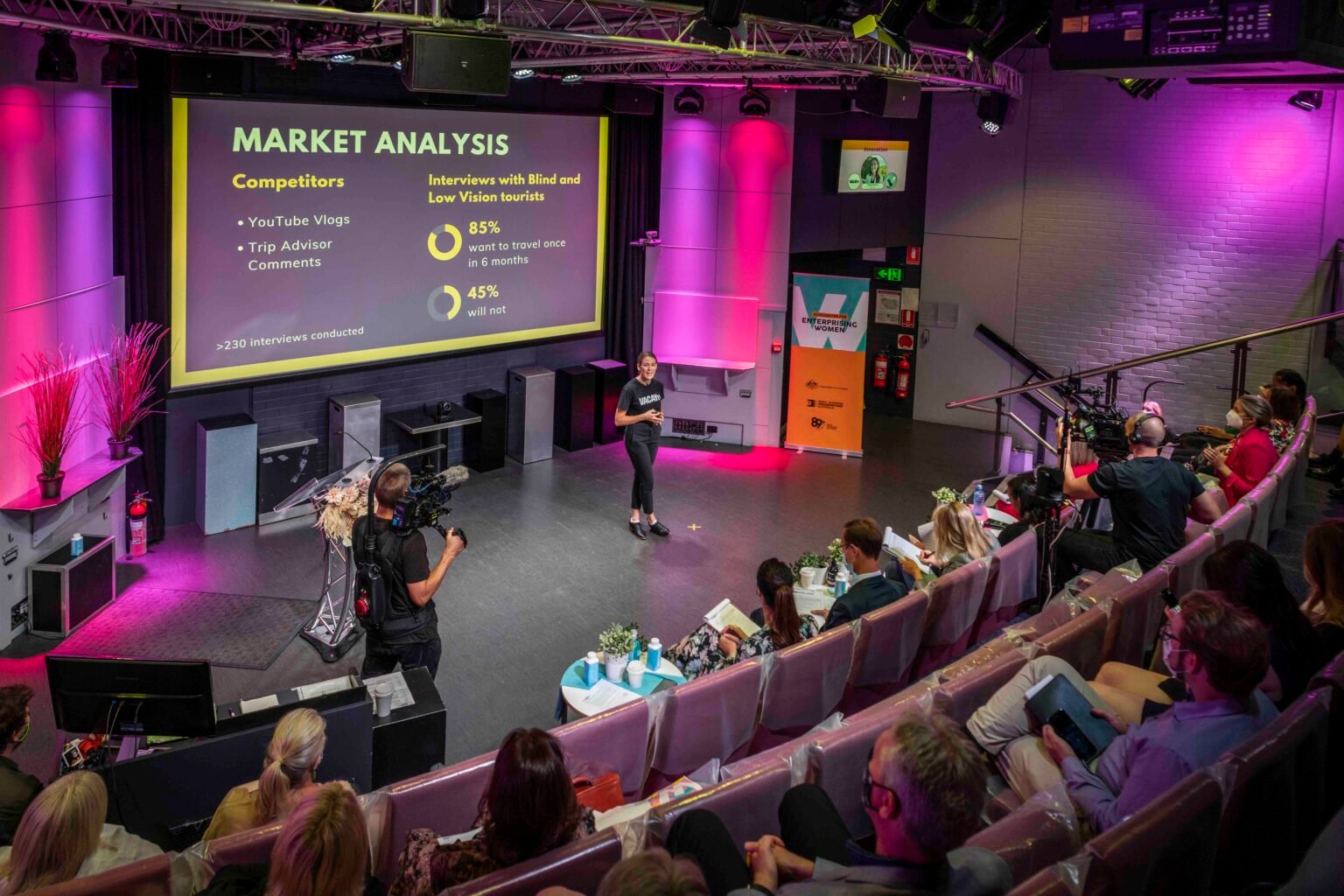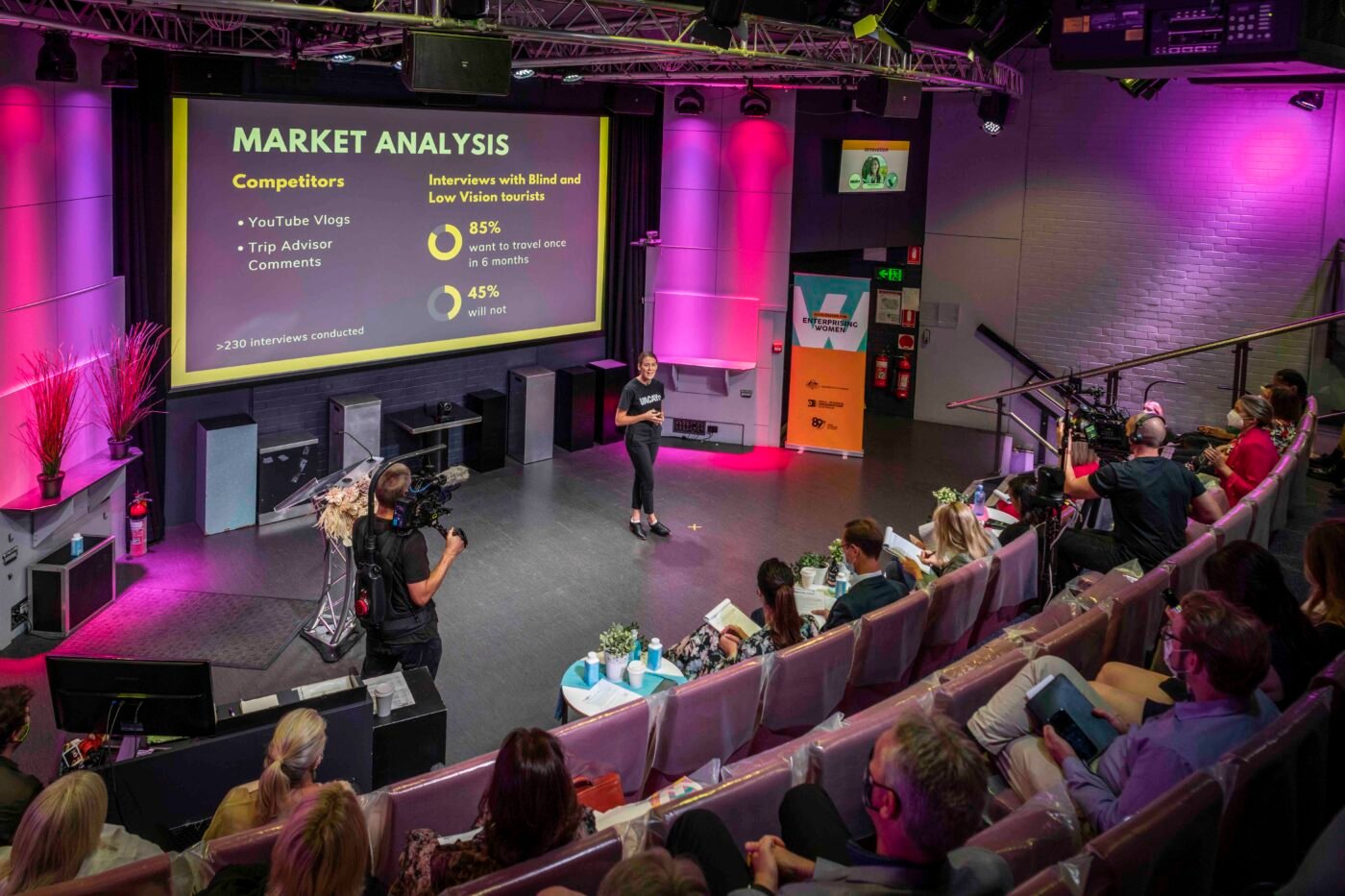 There seems to be a lot of opportunity for female entrepreneurs right now, would you agree?
This is a really good time to be a female entrepreneur, there are a lot of programs coming out supporting female entrepreneurs and a couple that are giving equity-free money which is a really positive way of helping people get through the early stage of developing their product. There's also a lot of government support, which is encouraging.
Why is there growing support for female entrepreneurs and start-ups?
It's a well-known fact that there's a lot less female entrepreneurs than male entrepreneurs. The world, whether it's government, VCs or funds are all seeing that gap and wanting to see innovation thrive. Female founders are some of the most intelligent, driven founders on this earth and everybody else is starting to see that potential too.
Can you describe your award-winning business, Vacayit?
Tourism marketing is predominantly visual and for somebody who is blind or has low vision this makes it hard to make informed and independent decisions before and during travel. What we do is work with destinations, tourism operators and events to create accessible and engaging audio guides that are written by people who are blind.

Vacayit is a free all-accessible app that can be found on Google Play or the app store and it's compatible with assisted technology. Our stories have been listened to almost 200,000 times in the past nine or 10 months and we're growing 30% month on month; our average user return is around 4.7 times each week.

We're working with around 600 operators across Australia with partners including Tourism Tasmania, Destination Gold Coast, Accor Brands and large events.
What impact did winning the Kickstarter Challenge have in helping you develop your business idea?
Winning the Kickstarter Challenge was absolutely fantastic for me, it was a pivotal moment in our career. Firstly it gave us $30,000 in helping develop our product but as importantly was being introduced to government at all different levels, being introduced to policy-makers and being able to be part of their discussions, capitalising on and being mentored by the networks you are given access to; and receiving media support.

One of the things founders struggle with most is getting the business off the ground so having the support from more people in the industry helps a lot and I felt like I was inundated with support from all the sectors I needed to know. And I met wonderful people who were [finalists] in the [competition] who are still my best friends! Being a female founder you get a lot of support and mentorship and that's a really key part in taking the first step.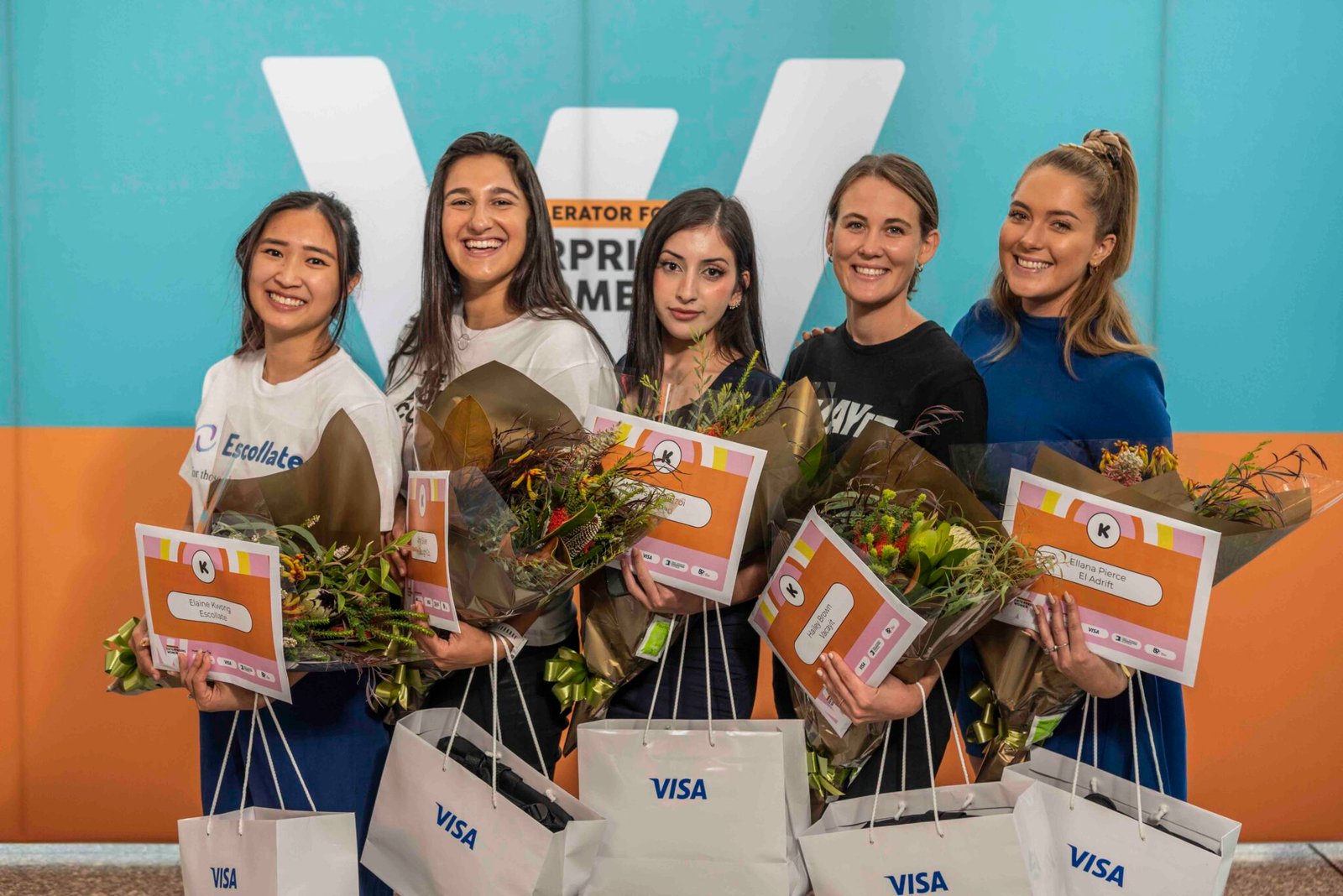 The Womens World Cup has captivated Australia and the world, with television viewer figures for Australia v Denmark breaking records for 2023. Why do you think this is?
I think there are multiple factors at play – the fact that such a large global event like the World Cup has come to Australia helps; but more than that the fact that people are putting funding into media and promoting this event, where in the past there's been a lack of funding in supporting women's sport, means that now it's on the front cover of every magazine and all over social media and has the support it should have had since the start of time. So people are now seeing the high quality of the sport that's out there and no longer saying, 'men's sport is more entertaining.' People going to the games and talking about it and posting about it is creating a movement. We can all say every man and woman on this earth is overjoyed to see the success the Matildas are having, but it's about the whole game itself, not just about supporting our own teams, everyone is going to every game no matter who is playing and that's a change no-one could have expected.
Why have the Matildas garnered such strong support?
I think because of the leadership that's been shown. Even in the last game when Sam Kerr came on after not having played at all and her teammates still gave her the captain's badge – even though Sam wanted [acting captain] Steph Catley to continue wearing it because she'd done such a fantastic job – there's a lot of pride within the team and in each other, and a complete lack of ego on display.

Expanding that out, statistics show that organisations that have female leaders have happier workplaces, which means their employees do more work and are more productive, therefore more profitable. I think there's a big shift [towards female leadership] and I think there should be, it's a smart business decision.
Is the future female?
Of course [laughs]! No, I don't think a sway one way or the other is beneficial for society at all, it's behind the current problem we're fighting – there is such a large number of men in leadership positions. However, I think that by having equal representation between women, men and non-binary people in leadership positions, we will see a huge difference in organisations, in social impact and in effective change. It will be fantastic when we don't have to have this conversation anymore.
You can apply for the Kickstarter Challenge here.