Most smartwatches are high on functionality and low on looks. Fortunately, that's not the case with Withings Steel HR Hybrid Smartwatch which combines both style and the benefits of a smartwatch when it comes to monitoring your health.
On the whole, smartwatches tend to be chunky by design and the face is usually on the large side to accommodate for all the features which effectively shifts the focus towards the tech-side and away from a tech fashion focus.
With the new Withings (formerly Nokia) smartwatches, you can adopt different styles thanks to a colourful range of thin straps to choose from such as blue or brown leather or raspberry silicone band. Personally, I love the grey silicone strap I'm wearing because it's waterproof (up to 50m) and looks sophisticated.
So, how does this smartwatch do so much with its smallish clock face? Well, it's powered by the Health Mate app which helps you track activity, compete with friends, join programs and connect with other devices and partner apps. Yes, you do get info from your watch but tracking the data and other aspects come to play via the app.
Through the Withings Health Mate app you can keep track of activity, sleep, weight, and more. You'll see trends, progress, and get coaching to help you improve over time. For instance, if weight loss is your ultimate health goal then you'll be able to track progress through the app and Withings smart scales (see below).
Withings Health Mate App Features
Goals
You can set your daily step goal, and then also assign activity-related weekly goals to keep yourself on track.
Leaderboard and badges
Link up with friends and family to experience the definition of healthy competition. You'll enjoy seeing the rankings and get rewarded for your progress.
Workout report
After a sport session, get a full report on your activity: Heart Rate zones, duration, calories burned, fitness level via VO2Max and GPS path.
Track your child's growth
From making sure baby is getting adequate nutrition when breast feeding to keeping tabs on weight gain between doctor's visits, Baby Mode helps parents monitor and track the baby's weight simply by stepping on the scale while holding them in your arms.
Get support during pregnancy
Expecting mothers can activate Pregnancy Tracker to easily follow pregnancy weight gain and know if they are on the right track. There's also obstetrician-reviewed content at every stage, so moms-to-be know even more about what to expect.
Assess your sleep patterns
Wake up to what happens when you are asleep with in-depth into on light and deep sleep cycles, as well as sleep interruptions, to feel rested and help improve long-term health.
Sleep score
Every day, wake to your sleep score in the Health Mate app, and learn about the parameters that impact your sleep quality.
Smart wake up
Wake up at the optimal point in your sleep cycle so you feel alert and ready to take on the day. Works with a compatible Withings watch.
Access Vital Information
Blood Pressure
Get a picture of your overall cardiovascular health or monitor hypertension. Colour-coded results and a complete history help you know where you stand. The app also lets you easily share results with your doctor.
Temperature
If you use Thermo, our Smart Temporal Thermometer, the app will track temperature history for up to eight users. You can also track symptoms and medications, get advice, add reminders and share results with your doctor.
Meditation on demand
Petit BamBou means "little bamboo", and it's also the leading meditation app in France. Withings offers this free program right in Health Mate to introduce you to expert relaxation and mindfulness techniques.
Withings Steel HR Hybrid Smartwatch features include:
Heart rate & multisport tracking
Connected GPS: pace, elevation, distance
Water resistant to 50m
Sleep Score, tracking and silent alarm
Smart notifications
Battery: up to 25 days (rechargeable)
RRP AU$299 – this is the price at launch but if you shop around you can find better deals.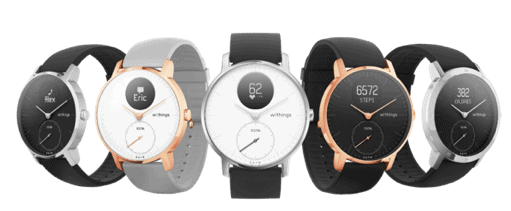 Steel HR Sport
Multisport Hybrid Smartwatch
Steel HR Sport is a hybrid smartwatch specifically designed for your workout, featuring heart rate monitoring, multisport tracking, connected GPS and a Fitness Level assessment via VO2 max estimation.
Key features include:
Heart rate & multisport tracking
Connected GPS: pace, elevation, distance
Fitness Level assessment
Sleep Score, tracking and silent alarm
Smart notifications
Up to 25 days battery, water resistant up to 50m
RRP AU $339
Withings Body +
Body Composition Wi-Fi Scale
Body + is a connected scale that easily integrates with the free Health Mate app to record and track your weight and BMI. High-accuracy weight and full body composition is just the start of what it can do. It also coaches, rewards, and automatically sends all data automatically to the free Health Mate app.
Here you can get a reading of your fat mass, muscle mass, water intake and even bone mass. Perfect for keeping you on track, every weigh-in appears in the Health Mate app automatically via Wi-Fi or Bluetooth sync. This helps you really stay focused on your goals.
Key features include:
Full body composition
Nutrition tracking
High accuracy – Position Control technology
Multi-user friendly (up to 8)
Automatic sync via Wi-Fi or Bluetooth
Battery: lasts up to 18 months
RRP AU $179 (available at JB Hi-Fi and other good tech outlets)
For more info, visit here: https://www.withings.com/au/en/