So, if you're a foodie and love technology, why not combine your passions and download these life changing and FREE food apps!
Here are five of our current favourites.
Epicurious
If you've ever googled a recipe you've most likely come across Epicurious, the mother of all recipe websites. The app's popularity has soared rapidly; it's been downloaded over 10 million times since its launch.
With access to more than 30,000 incredible recipes sourced from publishers like Bon Appetit and Gourmet, you'll never be short on inspiration!
Tell the app what ingredients you have in your pantry and it will give you a list of recipes you can create. Make shopping lists, save recipes, use the smart timer to make sure you don't overcook your meat and even go hands free in the kitchen using your voice to control the app!
Jamie's Recipes
This app must-have is an obvious one. Jamie Oliver is a classic household name and his recipes really showcase just how good he is. A super organised user-friendly app with recipes from ridiculously creative meals to tasty but simple ones, you can't go wrong with a Jamie recipe! It's like having all his gorgeous books inside your phone. Try not to splash tomato sauce all over the gadget though like we know you do with his books – that could be one expensive meal. Bonus: the photography is so stunning it's also a feast for the eyes!
Calorie Counter & Diet Tracker by MyFitnessPal
We are all a bit more health conscious these days, with our weight being a big part of that. Wether you are looking to lose some excess weight, or you just want to keep track of what you're eating, this app is for you! Type in a food you're planning to eat and get the exact amount of calories you'll be consuming. Set personalised goals for yourself, learn how to make healthy choices and track your progress over time for a bit of motivation!
Seafood Watch 
Sourcing sustainable seafood is incredibly important for our environment, maybe more than you think. This amazing app helps you choose ocean-friendly seafood in stores, markets and even restaurants! Locate restaurants that serve ocean-friendly seafood, get up-to-date seafood recommendations, find the best sushi in your area and feel happy about how you're helping the environment and your body.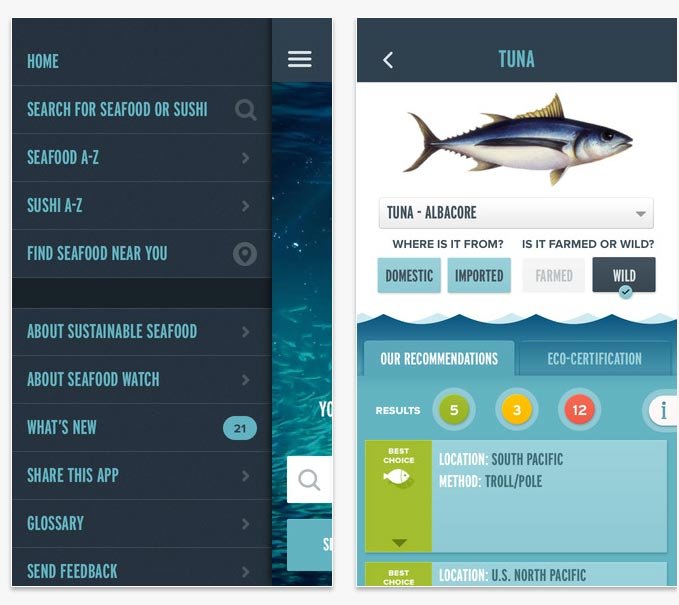 Tastemade 
Last but most definitely not least, a digital company that focuses on food and travel – our two favourite things! From beautiful recipes to travel videos you'll never get bored with this app. To give you a little taste of what you can expect – one show follows two chefs who eat their way through 24 restaurants in 24 hours! Brilliant.