When Melanie Perkins cofounded an online graphic design platform that focused on simplifying the design process and making it accessible to millions around the world, she probably never imagined the achievements she'd accomplish by Canva's 10 Year Anniversary.
In addition to all the tangible milestones the company has reached since its launch in 2013 (among them, growth to a team of 4000 across eight offices worldwide, 135 million monthly users who have collectively created more than 15 billion designs, and a valuation of $40 billion) Canva's 10 year anniversary is an excellent time to reflect on some of the important lessons that the proud female Aussie entrepreneur has passed on to a generation of women who love tech. Here are 10 of the most important ones.
Pursue a passion for problem solving
According to Melanie, Canva's key values are customer-centric – an important ethos for any aspiring entrepreneurs (in the tech space or otherwise) keen to establish a strong and sustainable market presence, with loyal clients who make repeat purchases, and recommend your products or services to others.
"Solve customer problems and make sure that the customer is representative of a large market and then you will have a pretty good formula," says Melanie.
Team work makes the dream work
While Melanie has found fame and fangirl status among other women who love tech, she's quick to clarify her start-up was no solo affair. Her partnership with co-founders Cliff Obrecht and Cameron Adams was a strategic one, designed to allow each individual to bring different talents to the table and build a diverse team with complementary values and well-rounded skill sets.
Self-belief is your super power
In 2018, Melanie Perkins revealed to Smart Company that she treated (regular!) rejections as an opportunity to improve and recommit to her vision. "I tick very few boxes of a typical tech entrepreneur looking to raise investment from US venture firms and create a global company. I'm female, which apparently represents only 2% of venture capital-funded chief executive officers. I'm Australian, and if you look at the likelihood of raising venture capital when you're from my hometown Perth, the stats drop even further. If I were to look at all these discouraging stats, I probably would have shied away from even trying in the first place."
The Lesson: Don't be afraid to think outside the box and be unapologetically you.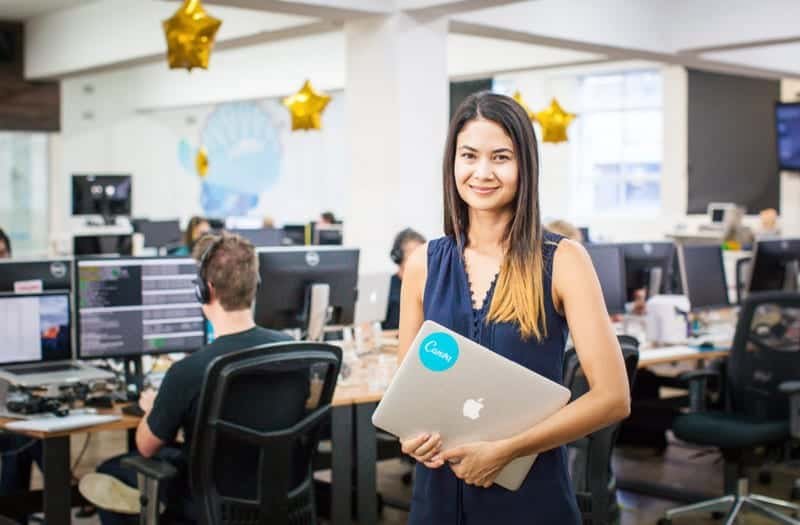 All about accessibility
Canva democratised design, making it accessible to anyone with an internet connection. This inclusivity has benefited women who may not have had access to traditional design tools or education. And, is an important ethos that can be applied to a range of business ventures.
Remote work can really work
While COVID normalised WFH, for year's prior Canva's Cloud-based platform enabled out-of-office employment opportunities. This was a game changer for women in tech, providing flexibility and opportunities that would have been otherwise unavailable in a traditional tech workplace.
Embrace the app
Whether you're an active app user or aspire to create your own, Canva's launch of its accompanying app in July 2016, reinforced the power of making information accessible, educational, entertaining and interactive. Equally impressive was its early embrace of emerging trends. In March 2023, Canva jumped on the generative AI band wagon with its new range of AI Magic Products.
Discover diversity
Culture has always been at the core of Canva. And Melanie has made diversity a priority. A number of women hold key leadership positions within the company, with Canva's commitment to inclusivity setting an example for the tech industry as a whole.
Profit is not greater than people
As a global platform with a community across 190 countries, Canva was quick to shine the spotlight on issues of social justice and sustainability. In December 2019, they joined corporate philanthropy platform Pledge 1% – and committed 1% of their time, product, profit, and equity towards making the world a better place.
Ongoing education is important
Beyond its design features, Melanie has long championed the value of ongoing education. Canva's early design model included educational resources, such as tutorials and courses on design and entrepreneurship, designed to empower women to build their skills and pursue careers in tech. More recently, to coincide with Canva's 10 Year Anniversary, the company opened campuses in London and Melbourne in July 2023.
Women who love tech are amazing!
Melanie's journey from academic (although she actually dropped out of the University of Western Australia!) to entrepreneur offers an example of how determination, vision, and hard work can lead to remarkable success in the business world. And, serve as a source of inspiration for women who love tech, even if they opt to take an untraditional path to get there!